May, 19, 2011
05/19/11
3:23
PM ET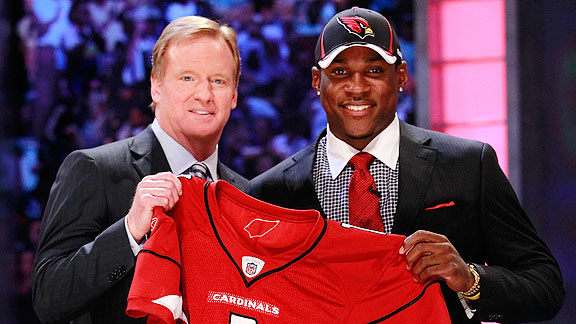 Chris Trotman/Getty ImagesLook for Patrick Peterson to make an immediate impact on the Cardinals ... and "Madden NFL 12."
I've been obsessed with cornerbacks ever since I first saw Lester Hayes dip his hands in a bucket of Stickum.
And growing up in the Bay Area, I've seen some greats run by me backwards, from a young Ronnie Lott to Mike Haynes to even a season of Deion Sanders.
Next in line to go "primetime" is the Cardinals first-round pick, Patrick Peterson. With P-Squared, we're talking ball hawking, blanket coverage, and the type of return skills that make you think back to the days of Deion dripping in jewelry.
But I'm not the only one high on Peterson, as "Madden NFL 12" ratings guru Donny Moore has informed me that Arizona's electrifying corner will be the highest-rated rookie in the game with an 82 overall, including 97 speed, 96 agility, 93 acceleration, 93 jumping, 77 catching (highest for any rookie CB), and 91 return. In terms of his defensive skill set, Peterson clocks in with 89 man coverage, 82 zone coverage, and 90 press.
Not bad for a kid who grew up gaming, dreaming of the day when he'd finally see his face in the "Madden" franchise.
"When I was a kid, my grandmother bought me and my brother every game that came out for PlayStation," he told me at a recent EA Sports event showcasing "NCAA Football 12." "We had like 72 games in our room, and we'd just play everything. My favorite was 'Grand Theft Auto,' but then my grandmother banned us from playing that game once she found out what was going on. So we'd play games like 'Madden' at home, but then sneak over to a friend's house to play 'GTA.'
"I have the PlayStation 1, PlayStation 2, and the PlayStation 3, and when Sony comes out with another system, I'll get that one too. I guess I'm just a PlayStation kind of guy."
ESPN ARCADE
The sequel to our most popular game is here. How's your return?

Run timed routes, beat DB's to the end zone and score.

Hit your receivers, dodge defenders and rack up TDs.