June, 13, 2011
06/13/11
2:02
PM ET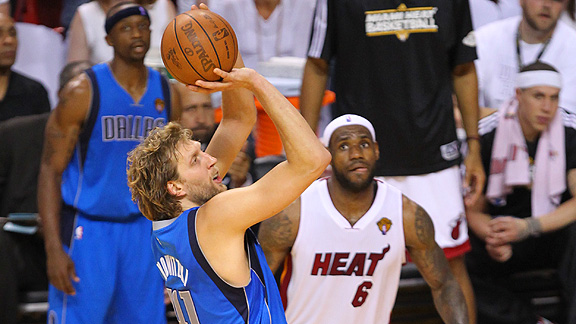 Joe Murphy/NBAE/Getty ImagesExpect a better looking (and better playing) Dirk Nowitzki in "NBA 2K12."
Digital Dirk.
All you need to know about the dedication of the "NBA 2K12" producers is their disgust for the way digital Dirk Nowitzki looked and played in "NBA 2K11" and how they've already fixed a lot of those problems in their new game.
From the first shot I saw during the demo, the difference is staggering as Dirk not only looked more like the Mavs superstar (and less like a polygonal Frankenstein), but the way he shot just looked so smooth, right down to the arc of his rainbow jumper, that I wanted to find any way I could to get my hands on the game and take some fadeaways for myself.
Unfortunately, the game is still a bit early for that, and the E3 demo I was given behind closed doors at the 2K Sports booth was all too brief given that the game already looks bad ass (right down to Jason Terry busting out "The Jet" down court after hitting a three).
"Last year, we had over 5 million units sold and won 21 Sports Game of the Year awards," said producer Erick Boenisch as he started the demo, "but the message we want to get across is that we're not content. A lot of critics, a lot of fans think that we're going to take our foot off the gas and that we're going to rest because we have no competition (EA Sports will not be releasing an NBA sim this year), but us resting couldn't be further from the truth. The way we got here is by working 110-percent. We don't know anything different and we're not going to stop now. We're constantly pushing the envelope, and with 'NBA 2K12,' we're not giving up, we're only trying harder."
And by the quick look I got of the game (the producers played one half between the Heat and Mavs), he couldn't be more right, as even at this early stage, hardcore fans will already be able to notice some of the smoothed out dribbling and increased defender awareness on the court. They'll also be blown away by the new game introductions that play out before every contest. These intros take everything you love about pregame, from locker room shots to Dwyane Wade posing for the crowd to LeBron tossing the chalk into the air, and chops them up into one movie that plays out to bumpin' beats. What's cool is these shots are randomized every time, meaning no two videos will be the same, and when you see all of these great little touches all blown out to music before a game, it really gets you pumped to play.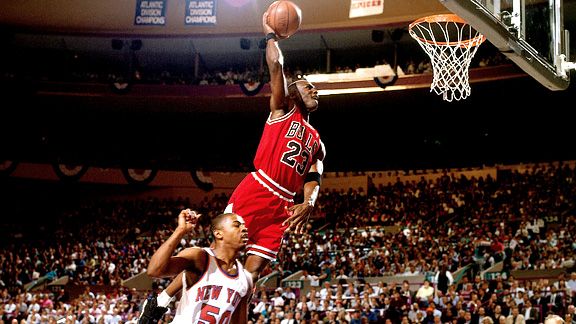 Lou Capozzola/Getty ImagesWith the staggering success of "NBA 2K11," will we see Michael Jordan on the cover again for "2K12"?
"Another thing we added is more of a playoff atmosphere, and that extends right down to our broadcast package," said Boenisch. "You'll even see a unique presentation of the starting lineups. Little things like that go a long way."
Also being tweaked this year is the lighting on the player faces. This year, Boenisch promises that gamers will be able to see more expressions on the court, helping to add to the drama of every dunk and big shot, as evidenced by a big Dirk grin after he busts a three.
"And when it comes to the A.I., we've really done a lot of work when it comes to taking advantage of each player's skills," added producer Rob Jones. "Last year, the user really knew how to take advantage of every player, but the A.I. just wouldn't attack you the same way. This year, the A.I. will play more like the real players out on the court."
Whether or not that means virtual LeBron will disappear in the fourth quarter, we'll just have to wait until October to find out.
ESPN ARCADE
The sequel to our most popular game is here. How's your return?

Run timed routes, beat DB's to the end zone and score.

Hit your receivers, dodge defenders and rack up TDs.