July, 28, 2011
07/28/11
3:11
PM ET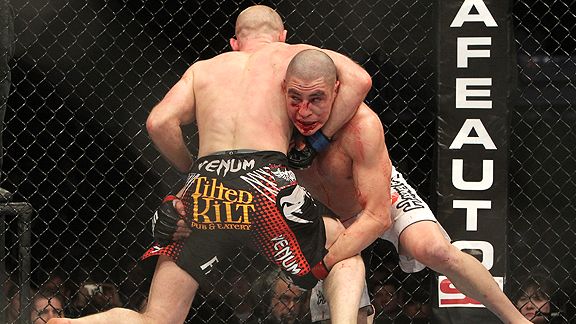 Josh Hedges/Zuffa/UFC/Getty ImagesDiego Sanchez likes to watch himself knock opponents out in the "UFC Undisputed" video game.
I'm watching Diego Sanchez throw punches, knees and elbow strikes for about five minutes, and dude has worked up a serious sweat. Only thing is, it's not a coach or another fighter helping him train. All that's in front of him is an Xbox 360, a Kinect, and a copy of "UFC Personal Trainer."
"This is real sweat, not some sprayed on water just so I can help promote the game," Sanchez tells me after the demonstration as we sit down backstage at the MGM Grand Garden Arena before UFC 132. "This game will give you a good workout. I have to go change my shirt now. I'm soaked."
And Sanchez should know, as it was his character on screen actually encouraging the real "Nightmare" to be more precise with his virtual attacks.
"Your level of intensity is up to you in this game, and that's what I love about it because I'm an intense guy," Sanchez says. "When I shadowbox, I go hard. But now, I have a much more fun way to do it with this game. It's awesome. And what fans might not realize is that you're actually learning the different MMA techniques while you're playing the game because you have real trainers like Greg Jackson in there, I'm in the game, the heavyweight champion Cain Velasquez is in there, and it's almost like getting trained by your favorite fighters.
"Let me tell you, I was freaking out when I first started playing. I was getting trained by myself and it sounded exactly like me and it was freaking me out a little. Luckily, I'm a pretty nice trainer. I'm all about encouragement and positive reinforcement in the game, so I was really nice to myself while I was playing."
But this isn't the first time Sanchez has taken a UFC video game and used it for all it's worth, as the submission specialist whose last two brawls were voted "Fight of the Night" actually uses THQ's "UFC Undisputed" franchise to help him visualize his fights before heading out into the octagon for real.
"When the first UFC game came out ("UFC Undisputed"), I never even dreamed being in such a realistic game," he says. "The game is so realistic looking that I do my late night training by getting on my PlayStation 3 and fighting my opponent 20 times in the game. That way I'm able to see myself knocking him out over and over again. It's a visualization tool for me where you're seeing it, you're feeling it and you can already have that knockout in your mind. As long as you go in and do the work and train, when you get in and fight, you've already seen what can happen, so it's more realistic that it will happen."
But what if you lose in the game, I ask.
"I usually win at least 17 out of 20," Sanchez laughs. "I win most of them, but sometimes I get my butt kicked because I'm tired, so I just turn it off. That's the great thing about the game. If I'm losing, there's always the power switch and I can start over and I never feel any pain."
As for how Sanchez would like to see his character represented in "UFC Undisputed 3," the fighter has only one thing in mind.
"I'd like to see more power in my punches, but that's something I have to show in my fights," says Sanchez. "Maybe if I go out and get a couple of knockouts before the game comes out, they'll give me that power. It's funny, though, because people are always coming up to me and talking about my fights in the game like these fights happened for real. They'll be like, 'Yo, I knocked out GSP as you!'
"THQ gave me skills in the fighting game, now they're making me sweat and helping me train. I love it."
ESPN ARCADE
The sequel to our most popular game is here. How's your return?

Run timed routes, beat DB's to the end zone and score.

Hit your receivers, dodge defenders and rack up TDs.