July, 29, 2011
07/29/11
1:29
PM ET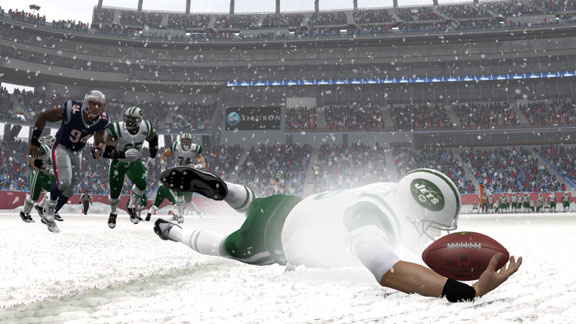 EA SportsWe're breaking down the team overall ratings for "Madden NFL 12," starting with the AFC East.
Which is the top team in "Madden NFL 12"? That's the question we are here to answer as ESPN.com and EA Sports bring you an exclusive first look at the team overall ratings for every team in the game. We'll be leaking them out, division by division, for the next eight days. But we won't stop there. Starting Aug. 1, after we give you the team overall ratings, we will bring out the big guns with an exclusive look at the "Madden 12" player ratings, as well as a breakdown of the top five players from key positions. But let's not get ahead of ourselves. To kick things off, here is a look at the team overall ratings for the AFC East.

Buffalo Bills: 73
The 28th-ranked team in the game, and it's really no surprise when you only have two players on your roster rated an 89 overall or higher and one of those is your punter.

Miami Dolphins: 78
Having two studs at tackle should give Chad Henne plenty of time to hit Brandon Marshall in the open field. But with Henne's 75 throwing accuracy, he might not always find the target.

New York Jets: 87
Tied for the fourth-highest overall rating in "Madden 12," the Jets defense is a force to be reckoned with thanks to Mr. 99 overall Darrelle Revis, not to mention three other defenders rated 90 or higher overall.

New England Patriots: 88
The third-best team in the game, according to the ratings, thanks in part to Tom Brady's 99 overall. But the "Madden" love doesn't stop there as the Patriots feature 21 players rated 80 or higher overall.
ESPN ARCADE
The sequel to our most popular game is here. How's your return?

Run timed routes, beat DB's to the end zone and score.

Hit your receivers, dodge defenders and rack up TDs.