August, 3, 2011
08/03/11
12:33
PM ET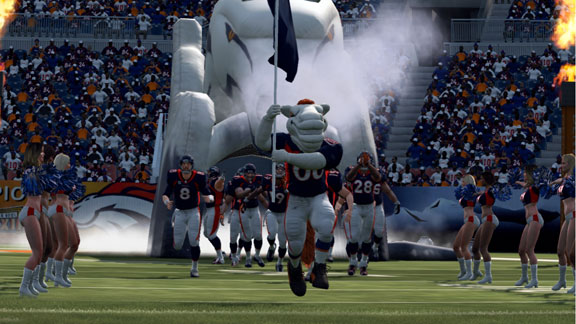 EA SportsMadden fan? Check out the Overall Team Ratings for the AFC West.
As you no doubt know, we are releasing the "Madden NFL 12" Overall Team Ratings over the course of this week and next. We're doing it division by division, and today we've got ratings for the AFC West. And remember, we'll also be breaking down the complete player ratings starting August 1. Until then, Tebow or Orton, who you got?.

Denver Broncos: 74
It's all about who you want as your starting quarterback in Denver. Tim Tebow is 77 overall with 80 speed and 76 throwing accuracy while Kyle Orton is 82 overall with only 64 speed but 85 accuracy. Really depends on how you like to play "Madden." As a guy who likes mobility, I'll take Tebow.

San Diego Chargers: 85
With Philip Rivers clocking in at 96 overall and Antonio Gates at 99, the Chargers are going to be tearing up defenses through the air. The fact that they have three running backs with 90-plus speed doesn't hurt, either.

Kansas City Chiefs: 84
Jamaal Charles was one of the surprises of the "Madden" cover vote, showing strong support throughout his campaign. His reward? EA Sports makes him one of the most feared backs in Madden with 98 speed.

Oakland Raiders: 76
Darrius Heyward-Bey blazes the virtual field with 97 speed but only has a 68 catching rating. That pretty much sums up the team right there. Oh yeah, Shane Lechler is a beast at 98 overall.
ESPN ARCADE
The sequel to our most popular game is here. How's your return?

Run timed routes, beat DB's to the end zone and score.

Hit your receivers, dodge defenders and rack up TDs.