July, 30, 2011
07/30/11
7:56
PM ET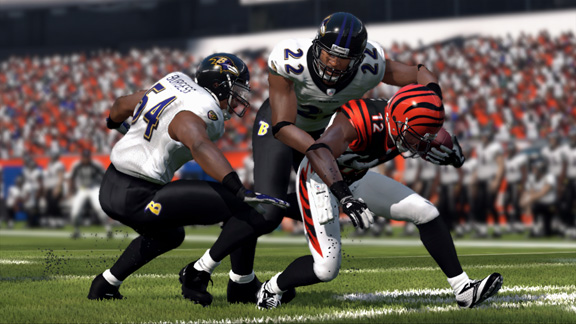 EA SportsThe Ravens D is ready to bring the pain in "Madden NFL 12."
The AFC East and AFC West team ratings have already sparked some great debate, and today, ESPN continues our countdown with a look at the AFC North. Talk about a division of contrasts -- we have the second-highest and second-lowest rated teams in the same post.

Cincinnati Bengals: 71
The second lowest-rated team in "Madden 12," but that shouldn't stop gamers from playing as Cincinnati as this is a team built on receivers who can fly with A.J. Green, Chad Ochocinco, Jordan Shipley, and Jerome Simpson all rated 88 or higher in terms of overall speed.

Cleveland Browns: 74
Peyton Hillis is not only on the cover this year, he's a beast in the game with a 91 overall, 99 toughness and 99 trucking. Talk about a one-man wrecking crew.

Baltimore Ravens: 86
Led by Ed Reed (98 overall), Ray Lewis (95 overall), and Haloti Ngata (97 overall), the Ravens have one of the hardest-hitting defenses in "Madden 12." Ray Rice and his 90 speed should be able to carry the offense, when you're not throwing across the middle to Todd Heap, that is.

Pittsburgh Steelers: 90
The second highest-rated team in the game thanks in part to the dangerous combination of Ben Roethlisberger's 94 throwing power and Mike Wallace's blazing 98 speed. Add to that the 99 overall of former cover athlete Troy Polamalu and you have a team that can do some serious polygonal damage.
ESPN ARCADE
The sequel to our most popular game is here. How's your return?

Run timed routes, beat DB's to the end zone and score.

Hit your receivers, dodge defenders and rack up TDs.