August, 3, 2011
08/03/11
1:24
PM ET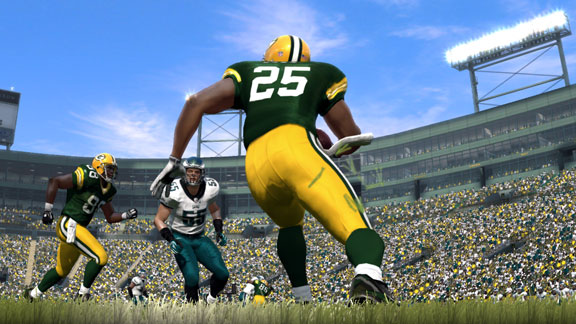 EA Sports
Click here to learn about "Madden 12's" new gameplay features.
The champ is here, but Green Bay isn't the only reason to get hyped about playing as one of these NFC North teams. From Suh to Adrian Peterson to the speed of the Bears receivers, every virtual squad here has something unique to offer.

Green Bay Packers: 92
No surprise here as the Super Bowl champs are the highest-rated team in "Madden 12." Aaron Rodgers falls just one point short of "Madden" perfection, with a 98 overall, while Charles Woodson (93 overall) and Tramon Williams (92 overall) will keep the corners on lock.

Chicago Bears: 85
Combine Jay Cutler's 98 throwing power with Devin Hester (98 speed) and Johnny Knox (97 speed) going deep, and you have a very fun "Madden" team. Throw in the running of Matt Forte, and you have an offense to be feared.

Detroit Lions: 76
The overall team number is a little low, but I can see the Lions being a popular team this year for the simple fact that this defensive line is going to give people headaches. Suh (95 hit power) and Fairley (88 hit power) are going to abuse virtual backs so bad, "Madden" might need to bring back the old ambulance.

Minnesota Vikings: 74
Ever since Adrian Peterson stormed the league, the Vikings have been a popular pick to play as in "Madden." But if you're still playing as them this year, it's really only because you want to run the ball down your friend's throat as All Day. And why not when the back boasts a 97 overall rating with 97 speed, 97 acceleration, and 90 trucking.
ESPN ARCADE
The sequel to our most popular game is here. How's your return?

Run timed routes, beat DB's to the end zone and score.

Hit your receivers, dodge defenders and rack up TDs.