August, 2, 2011
08/02/11
1:28
PM ET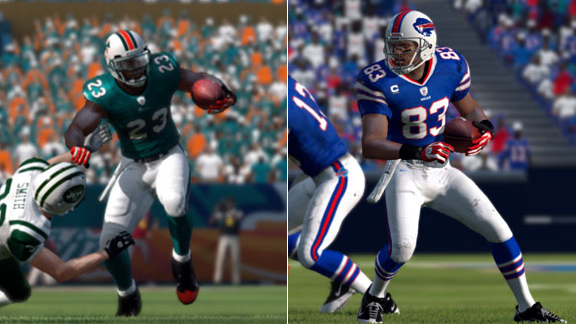 EA Sports
ESPN.com and EA Sports are proud to present the exclusive first look at the official "Madden NFL 12" player ratings. We are going to break down the ratings for all of the players, two teams per business day, starting with the AFC East.
But before you check out the names and numbers and immediately fly off the handle about how outdated the rosters are, I need to explain something. Because of the NFL lockout and the fact that EA Sports needed to cement the rosters in mid-June to get the discs to production on time, the rosters for some teams are terribly wrong. But don't worry -- that's where online gaming comes into play. EA Sports promises that when the game hits stores Aug. 30, it already will have an online roster update ready to transform every squad to its most current lineup (and immediately making the Eagles the most dominant team in "Madden" history).
Unfortunately, not everyone plays online, so it will almost be like a time warp when you go over to your one friend's house who didn't make the update and see him still playing as Donovan McNabb and the Redskins. Then again, it could make for a fun league in a weird, what-might-have-been type of way.
Anyway, here are the numbers for the Bills and Dolphins players and a look at how the rosters will ship with the game.

Ratings: Buffalo »

Ratings: Miami »


For the Bills, Lee Evans is a burner on the outside with 96 speed, 92 acceleration. The problem is hitting him deep as Ryan Fitzpatrick has just 80 throwing power, giving corners that extra second to catch up when the ball hangs in the air.
The "Madden" star of the team and the player every gamer needs to check, however, is C.J. Spiller. The back blazes the virtual field with 95 speed, 97 acceleration. Pitch him the ball wide, throw him a screen, just get the kid in space and he has the potential to score.
For the Dolphins, Brandon Marshall might have the big name, but the key is getting the ball to Davone Bess. With 96 acceleration and 95 catching, Bess has the hands to catch just about any ball, make his man miss and take off down the sideline with the best of them. I like to put him in the slot to create mismatches, then let his playmaking ability go to work.
ESPN ARCADE
The sequel to our most popular game is here. How's your return?

Run timed routes, beat DB's to the end zone and score.

Hit your receivers, dodge defenders and rack up TDs.