August, 18, 2011
08/18/11
6:03
PM ET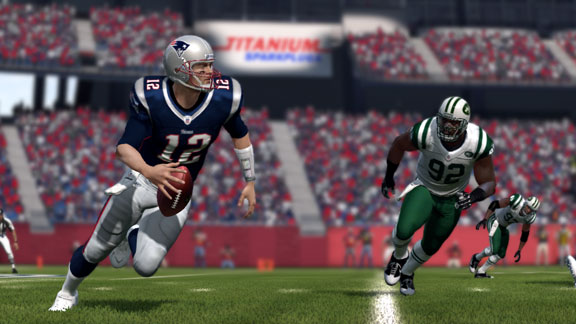 EA SportsTom Brady tops the list of "Madden" quarterbacks with a 99 overall rating.
All this week, ESPN's Gamer Blog, in partnership with SportsNation, is counting down the top five players in "Madden NFL 12" at various positions, from the best quarterbacks in the game to the top-hitting linebackers.
So just who are the best players in "Madden" this year? We kick things off with the guys who get all the glory (not to mention the supermodels), taking a look at which quarterbacks received the highest overall ratings in the game. Let the debate begin.
Tom Brady: 99 overall
Brady is the only quarterback to score a 99 overall this year, also boasting 98 awareness, 95 throwing power, 97 accuracy, 99 stamina, 95 toughness, 98 throwing accuracy short, 96 throwing accuracy middle and 89 throwing accuracy deep. His only weakness? That 58 speed and 57 acceleration will make it near impossible to avoid the virtual sack.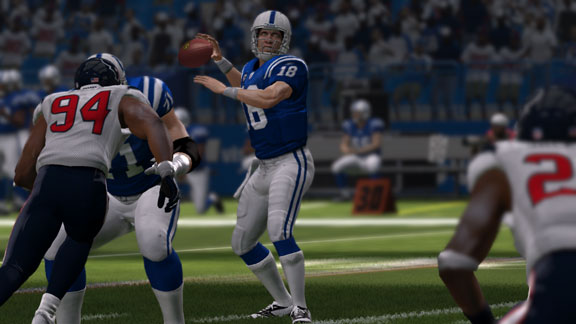 EA SportsPeyton Manning still has the virtual arm to get it done in the clutch.
Peyton Manning: 98 overall
Manning falls just short of Brady in almost all categories, scoring a 94 throwing power, 96 throwing accuracy, 96 throwing accuracy short, 92 throwing accuracy middle, and 86 throwing accuracy deep. Where Manning beats Brady is in awareness (99) and foot speed (60 speed). I'd pay to see that race.
ESPN ARCADE
The sequel to our most popular game is here. How's your return?

Run timed routes, beat DB's to the end zone and score.

Hit your receivers, dodge defenders and rack up TDs.