August, 18, 2011
08/18/11
6:03
PM ET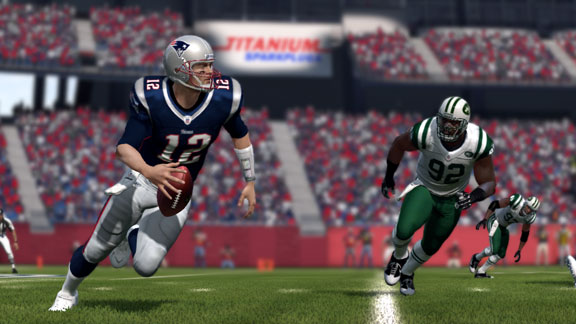 EA SportsTom Brady tops the list of "Madden" quarterbacks with a 99 overall rating.
All this week, ESPN's Gamer Blog, in partnership with SportsNation, is counting down the top five players in "Madden NFL 12" at various positions, from the best quarterbacks in the game to the top-hitting linebackers.
So just who are the best players in "Madden" this year? We kick things off with the guys who get all the glory (not to mention the supermodels), taking a look at which quarterbacks received the highest overall ratings in the game. Let the debate begin.
Tom Brady: 99 overall
Brady is the only quarterback to score a 99 overall this year, also boasting 98 awareness, 95 throwing power, 97 accuracy, 99 stamina, 95 toughness, 98 throwing accuracy short, 96 throwing accuracy middle and 89 throwing accuracy deep. His only weakness? That 58 speed and 57 acceleration will make it near impossible to avoid the virtual sack.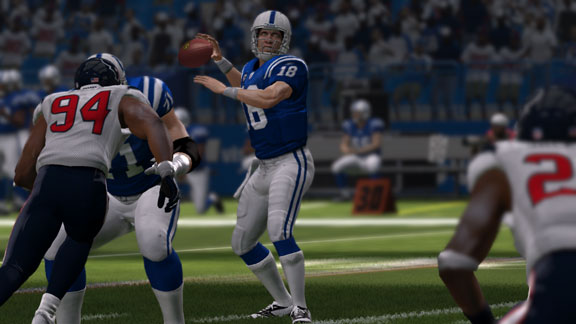 EA SportsPeyton Manning still has the virtual arm to get it done in the clutch.
Peyton Manning: 98 overall
Manning falls just short of Brady in almost all categories, scoring a 94 throwing power, 96 throwing accuracy, 96 throwing accuracy short, 92 throwing accuracy middle, and 86 throwing accuracy deep. Where Manning beats Brady is in awareness (99) and foot speed (60 speed). I'd pay to see that race.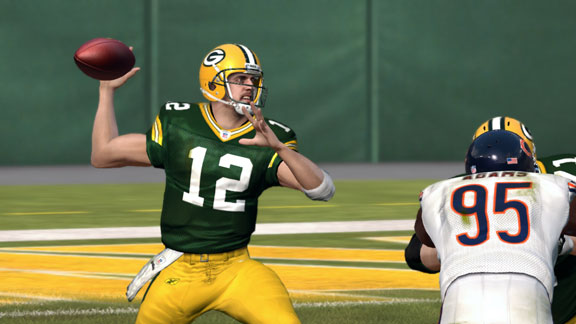 EA SportsAaron Rodgers features the arm and running ability "Madden" gamers love.
Aaron Rodgers: 98 overall
The CM Punk of the NFL, Aaron Rodgers might have the championship belt (and more importantly the Super Bowl MVP), but he still seems underappreciated by the mainstream fans. But to "Madden" fans, the love affair has been going on for a couple of years as Rodgers possesses the big arm and the mobility that gamers are looking for. I'm talking about 79 speed and 84 acceleration to go with that 95 throwing power and 92 throwing accuracy. Only 88 awareness, though, for the champ? No respect.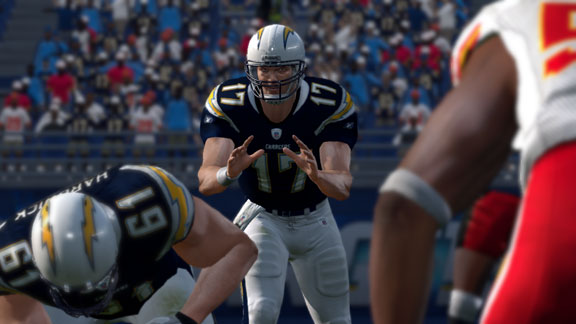 EA SportsPhilip Rivers and that 98 toughness can stare down any defense.
Philip Rivers: 96 overall
While Rivers has more awareness than Rodgers (94 to 88), he doesn't have the arm strength or mobility of the Packers' QB. Rivers' numbers include 63 speed, 90 throwing power, 96 throwing accuracy, and 98 toughness. What else would you expect from a trash-talking gunslinger whom you couldn't get off the field after a big hit even if you had the "Madden" ambulance?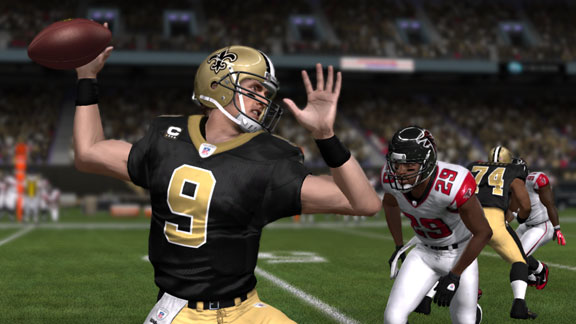 EA SportsFormer "Madden" cover boy Drew Brees is still going strong.
Drew Brees: 96 overall
Playing as the former "Madden" cover athlete is like throwing cyber darts. He's one of the most accurate passers in the game, highlighted by 99 throwing accuracy short, 92 throwing accuracy middle and 85 throwing accuracy deep. Add to that a score of 88 for play-action and 77 for throwing on the run, and Brees' "Madden" character continues to be anything but cursed.
ESPN ARCADE
The sequel to our most popular game is here. How's your return?

Run timed routes, beat DB's to the end zone and score.

Hit your receivers, dodge defenders and rack up TDs.