August, 9, 2011
08/09/11
11:07
AM ET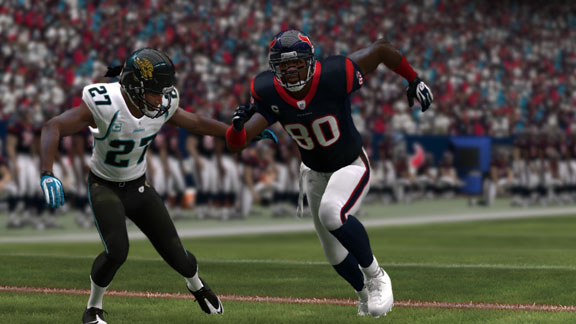 EA SportsAndre Johnson is the top-rated wide receiver in "Madden NFL 12."
When I think about the most dominant wide receivers in the history of "Madden," one name instantly comes to mind: Randy Moss. Even last year, EA Sports boosted Moss' spectacular catch rating to a perfect 100 after "The Freak's" one-handed grab over Darrelle Revis stole headlines (and highlight reels) across the country.
But with Moss retiring, this really is an end to one of the greatest careers in video game sports. That's because wherever Mr. Jet Pack went, "Madden" gamers followed, as he made any virtual team an instant contender with his speed, jumping ability, and Spider-Man-like sticky hands.
So who will step up now that "The Freak" is out?
Take a look as ESPN's Gamer Blog and SportsNation are here to countdown the Top 5 Wide Receivers in "Madden NFL 12."
Andre Johnson: 97
The Texans have a ton of firepower in "Madden 12," and Andre Johnson's ability to beat corners down the field and out-jump them for the ball is a big reason why gamers will be flocking to this team online. Johnson boasts 94 speed, 94 acceleration, 93 agility, 96 catching, 93 jumping, 99 stamina, 98 toughness, 95 route running, 90 spectacular catch, and 95 catch in traffic. Then once he catches the ball, watch out because Johnson also runs corners over with 84 trucking.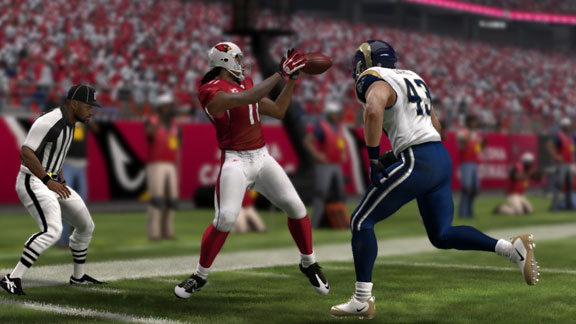 EA SportsLarry Fitzgerald is ready to for the Kevin Kolb era to begin.
Larry Fitzgerald: 96
Larry Fitzgerald is ready to put up some big numbers again now that he has an actual quarterback throwing him the ball. His 87 speed, 89 acceleration are a bit slow for an elite receiver in "Madden," but he makes up for it with 98 catching, 99 jumping, 99 stamina, 97 toughness, 98 route running, 98 spectacular catch, and 95 catch in traffic.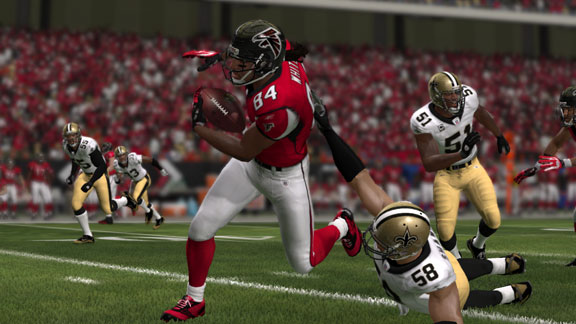 EA SportsRoddy White is a beast in the open field.
Roddy White: 96
When Roddy White gets into the open field, watch out, because his ability to make defenders miss in "Madden" is staggering. Combine 92 speed and 94 acceleration with 95 agility, 92 elusiveness, 87 spin, and 92 juke, and you have a recipe for broken ankles in the secondary.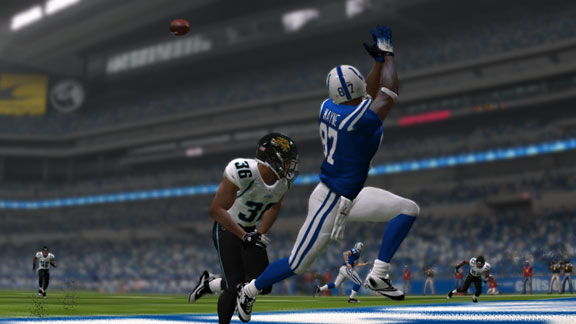 EA SportsReggie Wayne has some of the best hands in the game.
Reggie Wayne: 95
A smart, sure-handed receiver, Reggie Wayne checks in with 99 route running, 98 awareness, and 98 catching. But the greatness doesn't stop there for Peyton Manning's favorite target as Wayne also has 97 spectacular catch and 95 catch in traffic. Basically, throw it to Reggie whether he's open or not and most likely he's going to come down with the ball.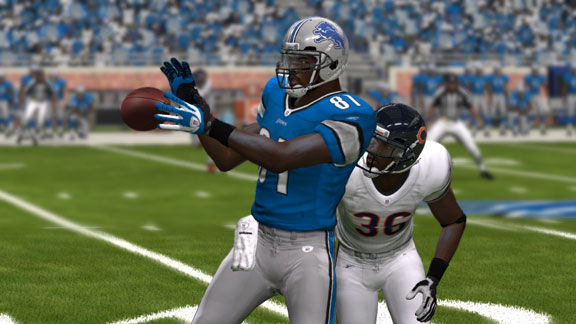 EA SportsIs Calvin Johnson the next video game "freak"?
Calvin Johnson: 93
If there's a young player out there who gamers can look to in order to replace Randy Moss as that freakish receiver in "Madden," it's Calvin Johnson. The kid's numbers are just sick: 95 speed, 94 acceleration, 96 agility, 99 jumping, 97 spectacular catch, 89 catch in traffic, 86 route running, 87 spin, 90 juke. Man, the Lions are going to be fun to play as this year.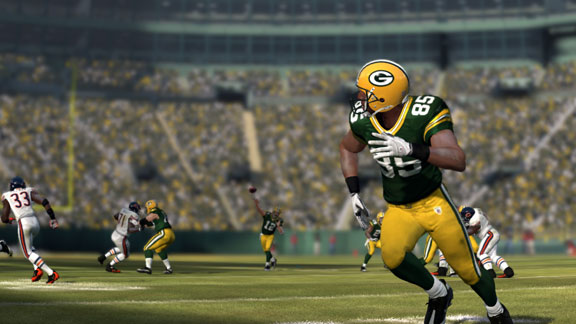 EA SportsGreg Jennings has the ability to score any time he touches the ball.
Greg Jennings: 93
Greg Jennings gives Aaron Rodgers the opportunity to show off that long ball thanks to the blazing fast receiver's 94 speed and 95 acceleration. But Jennings is more than a track star as the Packer deep threat also possesses eye-popping numbers like 95 spectacular catch, 88 catch in traffic, and 93 route running. Throw in 87 spin and 91 juke, and you have a player who will just as likely make you miss as run right by you.
ESPN ARCADE
The sequel to our most popular game is here. How's your return?

Run timed routes, beat DB's to the end zone and score.

Hit your receivers, dodge defenders and rack up TDs.