August, 5, 2011
08/05/11
2:57
PM ET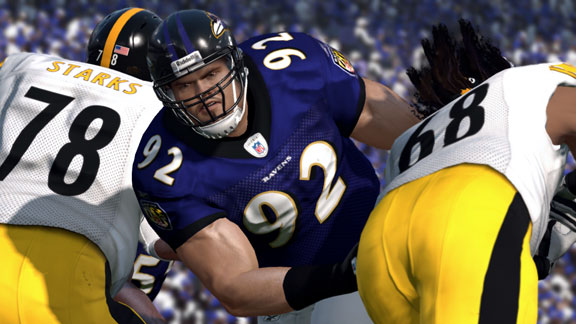 EA SportsGood luck trying to block Haloti Ngata in "Madden 12."
Want to crush the quarterback so bad, EA Sports has to bring back the "Madden" ambulance just to pick up the pieces? These are the guys to do it, as ESPN's Gamer Blog and SportsNation team up to breakdown the Top 5 defensive ends in "Madden NFL 12" according to the raw numbers supplied to us exclusively by the EA ratings guru himself, Mr. Donny Moore.
Haloti Ngata: 97
When Haloti Ngata goes into beast mode, I almost expect the polygonal quarterbacks to break into pieces like when I slice Darth Vader up in "Lego Star Wars." (Hmmm, "Lego Madden," anyone?) Anyway, Ngata hits opponents with 99 strength, 96 tackle, 95 toughness, 95 power moves, 99 block shedding, and 85 hit power. Man, that Ravens D is nasty in "Madden 12."
Julius Peppers: 95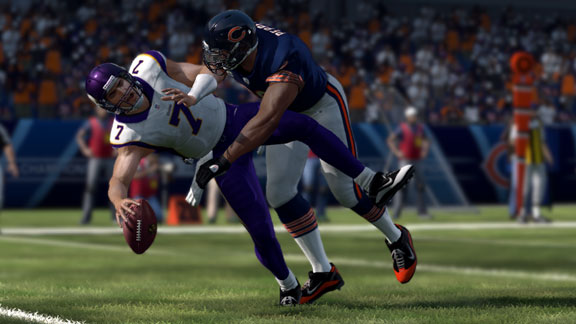 EA SportsJulius Peppers has the kind of speed gamers love from a DE.
With 85 speed, 96 acceleration, Julius Peppers storms the backfield faster than any other lineman in the game (it doesn't hurt that he also has 86 power moves and 96 finesse). And once Peppers gets into the face of the ball carrier, boy does he know what to do, especially with that 88 hit power and 87 pursuit.
Justin Tuck: 94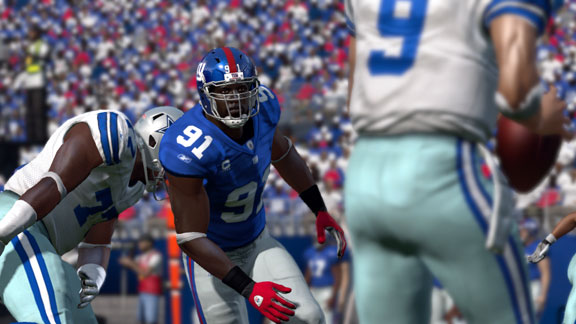 EA SportsJustin Tuck is ready to pounce.
Justin Tuck is a dangerous blend of speed and power, coming off the edge with 84 speed, 92 acceleration, then finishing you off with 88 pursuit and 87 strength. Not bad, especially when you throw in 83 power moves and 93 finesse.
Jared Allen: 94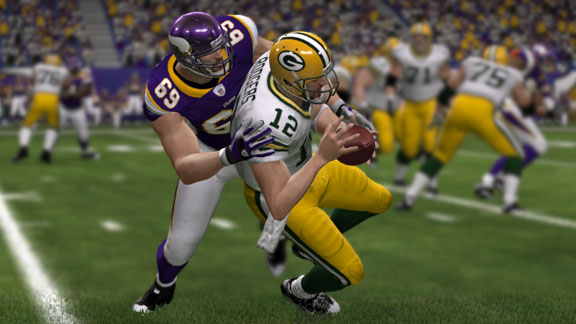 EA SportsTake that, champ.
When Jared Allen was campaigning for the "Madden" cover last year, he told me that if he could just summon the power of the mullet and organize his people, he had a chance to win. "Everyone at some point in their lives has either had a mullet or known somebody with a mullet," he told me. And while the mullet cover takeover didn't happen as planned, Allen is still a madman in the game thanks to 95 power moves, 90 player pursuit, and 93 stamina.
Robert Mathis, Dwight Freeney, Trent Cole, John Abraham: 93 (tie)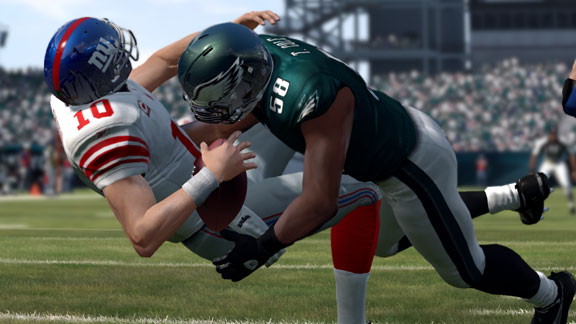 EA SportsEli goes for a ride.
A good mix of size, strength, and athleticism, with Mathis and Freeney both boasting 96 acceleration, Abraham knocking blockers over with 94 power, and Cole putting on some sick moves thanks to 97 finesse. Talk about talent.
ESPN ARCADE
The sequel to our most popular game is here. How's your return?

Run timed routes, beat DB's to the end zone and score.

Hit your receivers, dodge defenders and rack up TDs.