August, 5, 2011
08/05/11
3:03
PM ET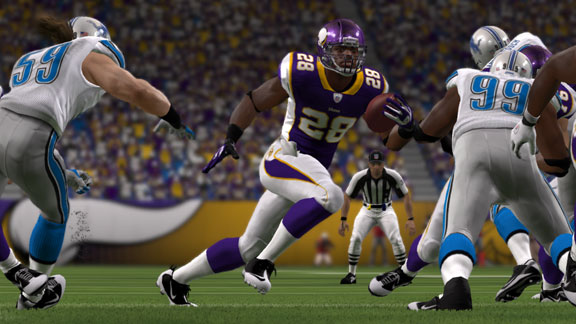 EA SportsAdrian Peterson will run by the virtual defense all day in "Madden 12."
From Barry Sanders and Marshall Faulk to Chris Johnson and Adrian Peterson, the "Madden" video game franchise has long been dominated by running backs. And while plenty of gamers still prefer to throw deep on every play to a tall wide receiver who can out-jump the corner, to me, the real action is pitching to your back, making a tackler miss, maybe even running over a safety, as you then high-step down the field for the electrifying run. That's what you call stick skills right there, and here are the five backs in "Madden 12" that do it the best.
Adrian Peterson: 97
Adrian Peterson in "Madden" is about as close as you get to Bo Jackson in "Tecmo Bowl." What else can you say about a back with 97 speed, 97 acceleration, 98 agility, 96 stamina, 97 elusiveness, 99 ball carrier vision, 97 stiff arm, 95 spin, 98 juke, and 90 trucking. The most fun character you can control in this year's game without being cheap (I'm looking at you, Mike Vick).
Chris Johnson: 96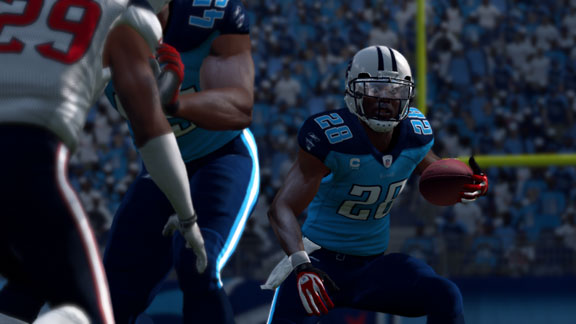 EA SportsChris Johnson is a blur with that 99 speed.
99 speed, 99 acceleration. Life's just not fair for a defense trying to tackle Chris Johnson. In fact, CJ2K runs so fast across the virtual field, I almost expect it to catch on fire, and then when you add 97 spin and 98 juke to the mix, all you're left with are a bunch of linebackers tackling air.
Jamaal Charles: 95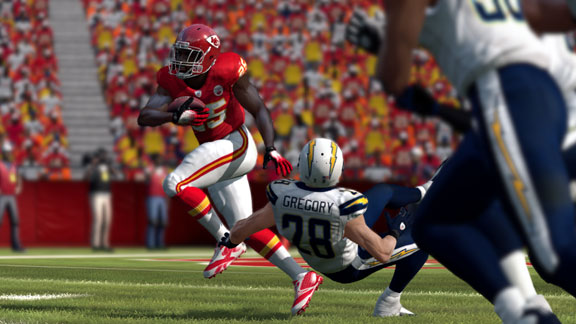 EA SportsJamaal Charles is just the latest Chiefs runner to be a video game sensation.
The Chiefs have one of the best traditions of video game running backs in the history of cyber sports. Think about it: Guys like Christian Okoye, Priest Holmes, and Larry Johnson all dominated throughout the years, and this season, it's Jamaal Charles' turn to take that next step toward video game cult hero status. And why not -- with 98 speed, 98 acceleration, 98 agility, and 99 elusiveness, Charles is right up there with the best backs in the game.
Maurice Jones-Drew: 95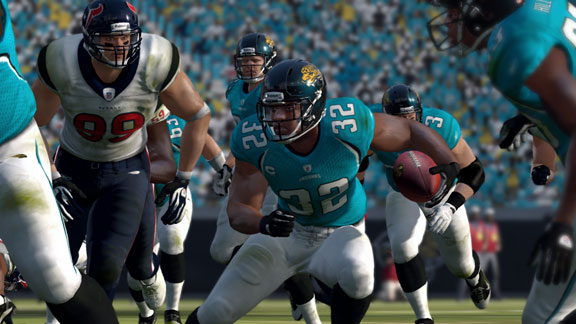 EA SportsMJD isn't just one of the best backs in "Madden," he's one of the best gamers in the NFL.
Maurice Jones-Drew is a former Madden Bowl champ and continues to be one of the most active online "Madden" gamers in the NFL. And MJD should have another great year of handing the ball to his virtual self as the back boasts 94 speed, 95 acceleration, 89 trucking, 97 ball carrier vision, 92 spin, and 94 juke.
Steven Jackson: 94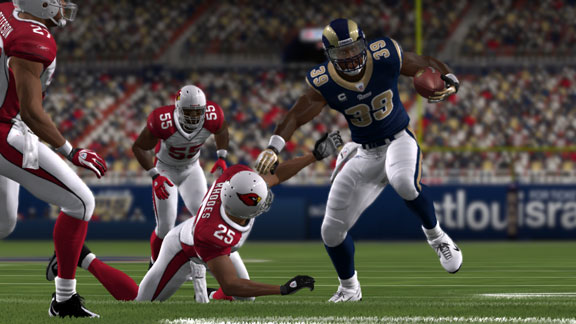 EA SportsSteven Jackson is one of the toughest runners to bring down in "Madden 12."
The slowest back in the Top 5, Jackson's 87 speed, 90 acceleration might scare off some competitive gamers, but it shouldn't as the Rams runner is one of the tougher backs in the game to bring down thanks to numbers like 86 strength, 95 toughness, 95 trucking, and 96 stiff arm.
ESPN ARCADE
The sequel to our most popular game is here. How's your return?

Run timed routes, beat DB's to the end zone and score.

Hit your receivers, dodge defenders and rack up TDs.