August, 31, 2011
08/31/11
4:42
PM ET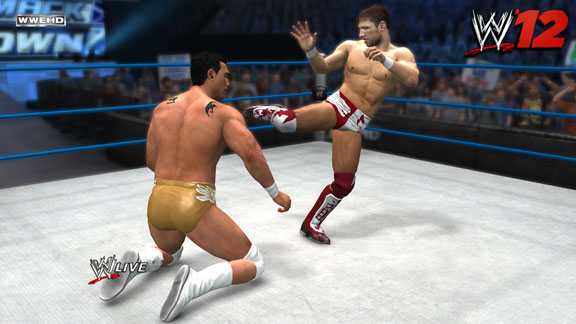 THQThe first image of Daniel Bryan in THQ's upcoming video game, "WWE 12."
I can watch the footage of Daniel Bryan choking out ring announcer Justin Roberts with a necktie all day, and the almost cartoon-like reaction on Roberts' face still never gets old. Unfortunately for Bryan (real name Bryan Danielson) and his fans, that move not only cost Bryan his WWE job for a few months, but it also cost video game players the opportunity to play as the submission specialist in "WWE Smackdown vs. Raw 2011" as publisher THQ was forced to remove Bryan from the Nexus download pack and replace him with Justin Gabriel.
But now Bryan is not only back in WWE, he's promising to cash in his Money in the Bank contract at Wrestlemania XXVIII, guaranteeing his spot in a championship match on a card that will also pit current WWE poster boy John Cena against maybe the greatest showman of all time, The Rock.
Until then, video game fans will finally be able to get their hands on Bryan (at least virtually) as he is set to star in THQ's latest brawler, "WWE 12."
As for his character in the game, Bryan has only two wishes: "I'm hoping he does a lot of submissions," he says, "and I'm also hoping he can do my run up the turnbuckle back flip."
If only there was a secret code to choke the ring announcer.
Jon Robinson: What's it like to be in your first WWE video game?
Daniel Bryan: I'm really, really excited. I don't play a lot of video games, but I started playing a little more recently because the guys on the road are always bringing their Xboxes with them. And seeing the new WWE video games, man, they're so cool because I haven't played video games since I was a little kid, so when I play "WWE All-Stars" and I see the graphics for all of these characters, it's just unreal. I really can't wait to be in my first video game.
Jon Robinson: From NXT to the Nexus incident to winning Money in the Bank and now being in a video game, what has this wild ride been like for you the last year and a half or so?
Daniel Bryan: It's been crazy. I've had a lot of ups and downs. I came to NXT and they called me a rookie and I lost every match. Then we did the first night of Nexus and it went really well but I got let go. Then I got rehired and was in the main event of SummerSlam last year. Then I won the U.S. championship but I wasn't on TV very much, and then I was drafted to Smackdown, and once I got drafted to Smackdown, things have gone really well. Winning Money in the Bank at the last pay-per-view was definitely the highlight of my career.
Jon Robinson: What's it like to be in a crazy match like that with people getting slammed off of, and even through ladders?
Daniel Bryan: It's pretty brutal and I was sore for about the next week and a half, but when you're out there, you have so much adrenaline, especially when you have a crowd like that. That Chicago crowd was just amazing the entire night. They were so amped to see John Cena and CM Punk that it just carried over to the rest of the show. And that adrenaline just helps push you through all of those bumps and falls and being hit with ladders and all of that crazy stuff that happens. It doesn't stop the pain completely, but it makes it hurt less.
Jon Robinson: You were so big in the independent scene before arriving in WWE. How have you had to adjust what you do in the ring?
Daniel Bryan: Everywhere you go is a different style, but the main thing I need to deal with in WWE is that the matches just aren't nearly as long. There was a month in 2006 where I did four hour-long matches ... that's not going to happen on WWE TV. I've had matches in WWE that were literally 15 to 30 seconds and I've never had that before. So it's just adjusting to the different length of matches, and realistically, the guys in WWE are a lot bigger and a lot stronger than the guys on the independents.
Jon Robinson: WWE has always been the land of the big men. As someone 5-10 and 192 pounds, how have you been able to find so much success where other guys your size haven't?
Daniel Bryan: A lot of people my size really emphasize their flying moves, but I try to emphasize my kicks and my submissions because those are two things that I think I do better than anybody. I think that's what is going to take me to the next level: I kick harder than anyone else and my submissions are quicker than anybody else.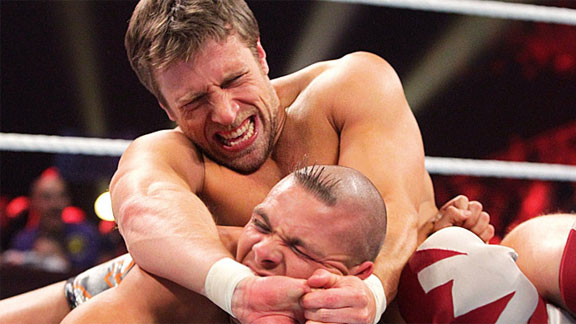 THQDaniel Bryan hopes his unique moveset will help him reach the top of WWE.
Jon Robinson: You've also had more entrance themes than anyone I can ever remember in such a short period of time. What's up with all the different music?
Daniel Bryan: [laughs] When I first came out in NXT, I was coming out to The Miz's music. Then when they brought me back, they had me come out to this really generic rock music. So finally, they asked me what I wanted and I told them I wanted to come out to "Rise of the Valkyries." I thought it would be awesome, but apparently, what I think is awesome is not what everyone else thinks is awesome and they told me, "We really need you to change this music if you want people to like you." So now I just changed my music to something else last week and it debuted on Smackdown.
Jon Robinson: I actually liked the "Apocalypse Now" music blaring as you headed to the ring.
Daniel Bryan: Yeah, I really liked it and what I hoped would catch on is that people would sing it as I came out. I thought they'd all go: "Dun-da-da-dun-dun, dun-da-da-dun-dun!" And that actually happened at a few live events where it started to catch on and it was really fun and interactive with the crowd but it just never happened on TV and it never caught on.
Jon Robinson: Were you always a big wrestling fan growing up? Who were your favorites?
Daniel Bryan: I was a huge wrestling fan. My favorites were The Ultimate Warrior, Jake "The Snake," and Koko B. Ware. Pretty much, I liked anybody who had a pet. If you had a pet, you were my favorite wrestler that week. Remember when somebody stole Matilda, the British Bulldog's bulldog? I was so heartbroken. I'm a big pet person and animal lover, so I liked all those guys, but Ultimate Warrior was my true favorite.
Jon Robinson: That's funny, I don't think you could've picked a favorite wrestler who is more different than how you turned out in the ring.
Daniel Bryan: 1000-percent opposite. [laughs]
Jon Robinson: You have a feud cooking right now with Wade Barrett from your old NXT and Nexus days. Do you wish you could've been a part of the Nexus longer? It seems like you were poised to lead the group, not Barrett, when the angle first started.
Daniel Bryan: I don't ever sit at home and say, "Oh man, I wish this would've happened instead of that." Things happen and you have to deal with it. Being let go actually turned out to be a good thing for me. I went back to the independents and drew some WWE fans back to the independents, which is good for the independent scene. Then when I came back, I was able to be on my own, separated from Nexus, which I think in the end, was better for me in some ways. So I think the whole thing was a positive experience.
Jon Robinson: Do you think from a storyline perspective that original Nexus attack might help set something up between you and John Cena in the future. You did spit in his face and yell in front of the world: "You're not better than me!" Seems like a fun story to revisit one day.
Daniel Bryan: Yeah, I hope it does. I think it will be cool to revisit that at some point. We can also revisit the fact that we wrestled once in 2003. So while we haven't had a match since 2003, we've had our little run-ins.
Jon Robinson: What was going through your mind as you were standing over Cena and you just spit on him like that?
Daniel Bryan: I honestly don't even remember what was going on in my mind. There was so much adrenaline going throughout that whole brawl, and it was so cool and so different that you could actually just see in the people's eyes that they didn't know what the heck was going on.
Jon Robinson: SummerSlam is this Sunday. What do you think of the CM Punk storyline? Does he speak for a lot of the boys in the back when he's on the mic talking about his frustrations with the business?
Daniel Bryan: The thing with CM Punk is he just speaks his mind and he doesn't care if anybody in the back agrees with him. He just goes out there and says what he wants to say. And if this match is anything like his Money in the Bank match, the fans are really going to get their money's worth. SummerSlam is just going to be awesome this year.
Jon Robinson: Are you going to wrestle on the card?
Daniel Bryan: They haven't announced me on the card but I do have my Money in the Bank briefcase that I can cash in at any time. I said I'm saving it to cash it in at Wrestlemania, but I like to hold it over their heads that I can cash it in at any time I want. So I'll be there, and what I'm hoping for is a match with Wade Barrett.
Jon Robinson: You mentioned Wrestlemania. Do you have a dream opponent of who you'd like to cash in that Money in the Bank contract with?
Daniel Bryan: Ideally, I would like Shawn Michaels to comeback and win the belt, then I'd wrestle him at Wrestlemania. But since that's not happening, I'd really like to wrestle Randy Orton for the World Heavyweight Championship. I feel like Randy is the top dog on Smackdown, and even though Christian is the champion right now, I feel like to really prove yourself as a main eventer in Wrestlemania, I need to beat Randy Orton.
Look for THQ to announce the entire roster for "WWE 12" this Saturday, live from WWE's SummerSlam Fan Axxess event in Los Angeles.
ESPN ARCADE
The sequel to our most popular game is here. How's your return?

Run timed routes, beat DB's to the end zone and score.

Hit your receivers, dodge defenders and rack up TDs.