August, 22, 2011
08/22/11
4:59
PM ET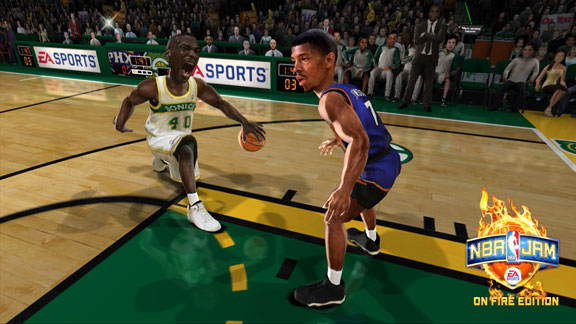 EA SportsNo need for anger, the Sonics are back in 'NBA Jam: On Fire Edition.'
One of my favorite obsessions back in the day was finding random "NBA Jam: Tournament Edition" machines and waiting for the screen to cycle to the "Most Popular" team stats. It was basically just a list to show which squads were the most played on a particular machine, and for whatever reason, I'd study the results and debate them with friends for hours.
The more machines I played, the more the lists would vary from number two on down. One thing that didn't change, however, was the team that was number one. When it came to "NBA Jam: TE," the team that everyone wanted to play as (at least on the west coast) was the duo of Shawn Kemp and Gary Payton.
The Sonics had it all.
Gary Payton was the perfect mix of a speedy point guard who could shoot and steal, while Shawn Kemp probably threw down more virtual dunks than any player in arcade history (not to mention, a sick ability to block shots).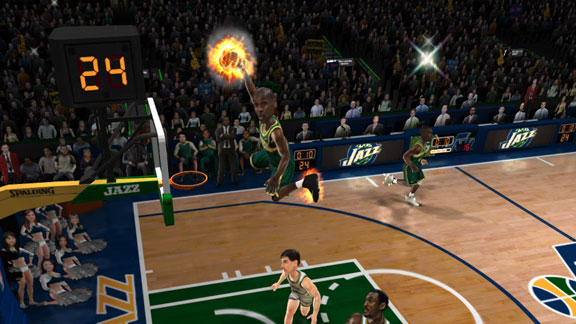 EA SportsPayton and Kemp take on Stockton and Malone in a classic "Jam" battle.
So when EA Sports announced the return of "NBA Jam" to consoles last year, old school gamers like myself couldn't wait to get our hands back on "Glove" and "Reign Man" for one last leap through the rafters.
Only problem was, due to licensing issues, Kemp and Payton weren't included as legends in the game, causing much frustration and outrage among all the die-hard Sonic fans out there.
Thankfully for gamers (and everyone else out there looking for more alleys and less oops), EA Sports and the NBA worked out their differences, and the team of Gary Payton and Shawn Kemp will be included in the upcoming downloadable title, "NBA Jam: On Fire Edition" for the PlayStation 3 and Xbox 360.
"This is an important day for 'Jam' fans," says "NBA Jam's" creative director, Trey Smith. "We tried to get this Sonics team last year but it didn't quite pan out. And this is something the fans were screaming for. This was at the top of their list, and that's a big deal to us. When we were creating 'NBA Jam: On Fire Edition' we wanted to listen to the fans, and everyone who played the game last year had one question: Where are the Sonics.
"They are the quintessential one-two punch in 'Jam,' and if I'm playing hyper-competitively, this is how I roll."
Smith credits the NBA with pushing the deal through to get the dynamic duo back into the game and adds that if you're looking to change up your lineup at the half, you will also have the option to bring in Detlef Schrempf off the bench.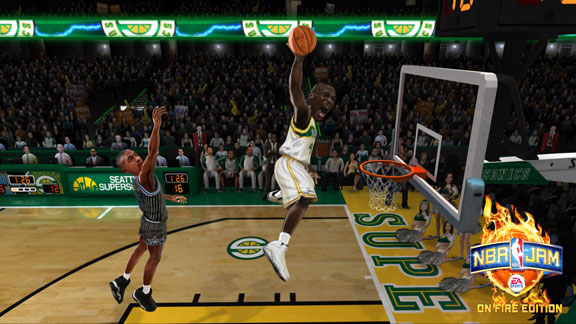 EA SportsThe Reign Man is back and better than ever.
"This time more than any version of 'Jam,' the halftime substitution will really come into play," says Smith. "We did a rebalance on a lot of the stats and how these stats come into play on the court, and the deeper we go, I feel like 'Jam' is almost like a two-on-two fighting game. It's like you're matching up strengths and weaknesses based on who you're playing against and you're trying to counter your opponent's strategy.
"So having Detlef there is something that will be huge. A good example of this is the beast team of Shaq and Dwight Howard. People played a lot of twin towers last year, especially with David Robinson and Tim Duncan, and if you're matching up against a team like that, you need to switch up your strategy in order to hang. Detlef is one of those guys who can hit the outside shot if you need him, but he can also pound the boards better than Payton if you need to go big."
But the return of the Sonics isn't the only new feature being added as the game's online modes have been seriously beefed up.
"Let's be honest, the online experience really wasn't there last year," admits Smith. "It's something we scratched the surface with, but with 'On Fire Edition,' we tried to create the most seamless online and offline experience that we could. And for online, we have three modes. The first is Jam Now. Here you can bring up to four players into a game and you can mix and match between your buddies on the couch and your buddies online. This is for unranked play where you can screw around with things like Big Head mode and one-shot fire and some of that fun stuff."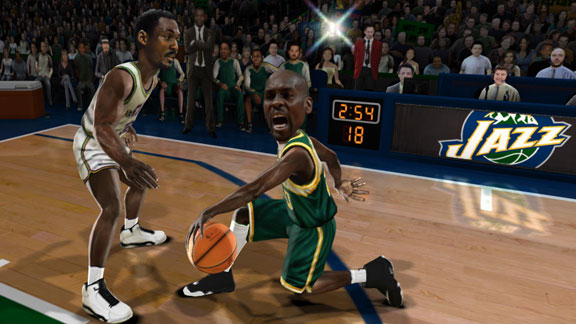 EA SportsThe Glove is still talking trash after all these years.
The second mode is called Road Trip, and this is a co-op online campaign. "This is something else fans have been asking for," says Smith. "We had co-op campaign that was local, but this time we're bringing it online. This allows both players to play on the same team and they both get credit and experience as they progress through each stop. This mode is all about traveling to all 30 NBA locations and completing a series of challenges that become more difficult as you go." Road Trip is also a mix and match of players for each franchise as the bronze challenge might be the third and fourth player on a team, but by the time you get to the gold and platinum challenges, you're going up against the legends and the best two players on the court.
The final online mode is set to scratch that competitive itch for gamers looking to see their names on top of the 'NBA Jam' leaderboard.
"The third mode is called Arena, and this is different because it's a dynamic online tournament that gets progressively more difficult as you go," explains Smith. "It has a seven day clock on it and it's ticking '24' style on the screen. So the goal is to win as many games as you can before that clock expires.
"Everybody starts out in the same pool, but as you win and climb that ladder, your opponents get more and more difficult. Then, if you win enough, you make it to the diamond ring, and here you play the best of the best online."
Gamers even have the ability to play Arena cooperatively, and every seven days, all the rankings get wiped in order to constantly crown a new "NBA Jam" king.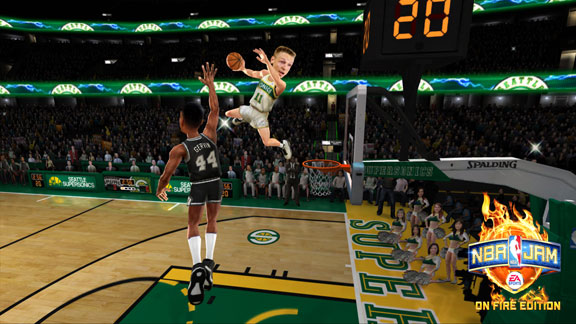 EA SportsDetlef jumps off the bench to add even more firepower for the Sonics.
"Hardcore sports fans are also going to appreciate all of the new kicks we have in the game," adds Smith. "Last year we had generic shoes, but this year, sneaker heads will get a kick out of seeing some of the funny old shoes we have in 'Jam' like the Robinson Pumps.
"To us, it's all about giving the fans what they want. We learned so much last time out, and we knew exactly what we needed to do just based on fan feedback. 'On Fire Edition' is just so much more refined, it's smoother, it's more responsive, and there's so much more depth in the gameplay, that I think the hardcore fans are really going to love what we've done.
"Besides, the Sonics are back. Who wouldn't get excited over that?"
ESPN ARCADE
The sequel to our most popular game is here. How's your return?

Run timed routes, beat DB's to the end zone and score.

Hit your receivers, dodge defenders and rack up TDs.