September, 23, 2011
09/23/11
1:27
PM ET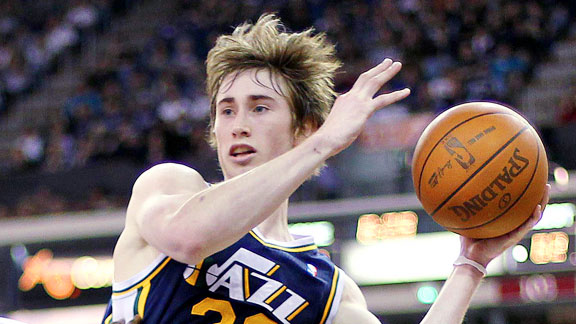 Cary Edmondson/US PresswireGordon Hayward is playing video games for money thanks to the IGN Pro League.
Close your eyes and imagine what a professional video game player looks like. Now open your eyes and stare at the picture of Utah Jazz forward Gordon Hayward.
Not even close to what you were thinking, right?
But with the NBA players locked out from their current jobs on the court, Hayward is destroying stereotypes with his new profession, and it involves playing "Starcraft II" against some of the best gamers in the world.
Hayward is the first professional athlete to join the IGN Pro League, a new gaming organization that refers to their competitions as "eSports." And Hayward's first tournament is no joke as he battles alongside 256 other qualified gamers at Caesars Atlantic City and competes for $100,000 in prizes.
Not bad for an unemployed basketball player.
And his mom thought playing video games would never get him anywhere ...
Jon Robinson: How did you get involved in the professional gaming scene?
Gordon Hayward: I've always been a video game fanatic. It's something I've done my whole life. When I wasn't playing sports, I was playing video games. I'm a competitor, I just love to compete, and playing video games is a way to compete and have fun with your friends. So I started playing "Starcraft" and me and my friend wanted to get better, and the only way to get better is to watch the best, so we started watching people stream online. So we got the bright idea that we should start to stream our games online sometime for fun. I just never thought when we did it, that it would get quite the following that it did. I put it on Twitter and it just blew up. We had 4,000 people watching us the first night, but I wasn't even very good. It was something that was just for fun, but then IGN contacted me and it went from there.
Jon Robinson: Most of the NBA guys I talk to are playing "Call of Duty" and "NBA 2K" and you're online playing "Starcraft." Are you big into PC games?
Gordon Hayward: Don't get me wrong, I'm a big "Call of Duty" player and "Halo" is my game ... I'm a pretty good "Halo" player, but "Starcraft" is just another game that I really like and it has a pretty big following.
Jon Robinson: You said you weren't very good when you first started streaming your "Starcraft" games. Have you gotten any better? You're about to play a group of people who do this for a living and play the game 12 hours a day.
Gordon Hayward: Yeah, I started off and I was probably a bronze/silver player. There are different classes in the game, and I've moved up to platinum and I'm on the edge of diamond, so that's not bad for just playing over the summer. But you're exactly right, these guys are professionals. They play 18 hours a day and take this extremely serious. They play this game for money, they play this game for their job, so they take this as seriously as I take playing basketball for a living. It's fun to watch them play. I'm going to need a couple of miracles to beat them.
ESPN ARCADE
The sequel to our most popular game is here. How's your return?

Run timed routes, beat DB's to the end zone and score.

Hit your receivers, dodge defenders and rack up TDs.