September, 29, 2011
09/29/11
1:53
PM ET
Ever wanted to know what Steve Yzerman would look like as a zombie? How about Tim Horton?
Video game and hockey fanatic Mike Schaaf doesn't need to use his imagination for this one. That's because the 42-year old actually sports a wraparound tattoo on his arm that shows off six NHL Hall of Famers in full fledged zombie mode, inspired by the video game "Plants vs. Zombies."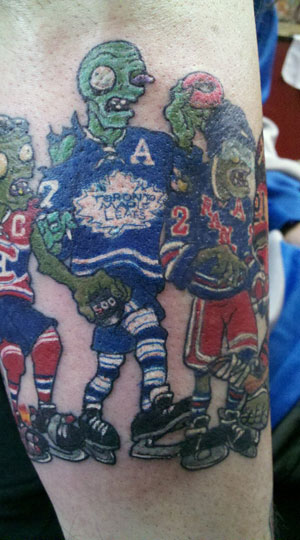 PopCap GamesZombie rink ink.
What, no zombie Zamboni?
"I'm a huge hockey fan and I wanted to get something that would represent the original six on my arm," says Schaaf. "At first I was kicking around the idea of goalie masks, but then I was in the tattoo chair getting a different piece worked on and one of the guys at the counter was playing 'Plants vs. Zombies.'"
Schaaf, who works for a production company that actually makes zombie movies, was instantly hooked.
"Being a combination of the three things I love -- video games, zombies, and hockey -- it seemed like a perfect fit."
The tat (inked by artist Jimmy Singleton at The Parlour Tattoo shop in Eugene, Oregon) cost about $400 and features zombie representations of Steve Yzerman, Stan Mikita, Tim Horton, Maurice Richard, Brian Leetch, and Gerry Cheevers. The tat even includes details like duct taped rockets on Maurice "The Rocket" Richard's skates.
Adds Schaaf: "Tim Horton became well known for his donut franchises, so now I even have one of his donuts on my arm. I love it."
Schaaf even got the chance to show off his tattoo to Bruins Assistant General Manager Jim Benning during a recent tour of the Stanley Cup.
"He thought it was pretty cool," Schaaf says with a laugh. "Now if only I can show it to Yzerman, I could cross that off my bucket list."
ESPN ARCADE
The sequel to our most popular game is here. How's your return?

Run timed routes, beat DB's to the end zone and score.

Hit your receivers, dodge defenders and rack up TDs.