November, 9, 2011
11/09/11
1:06
PM ET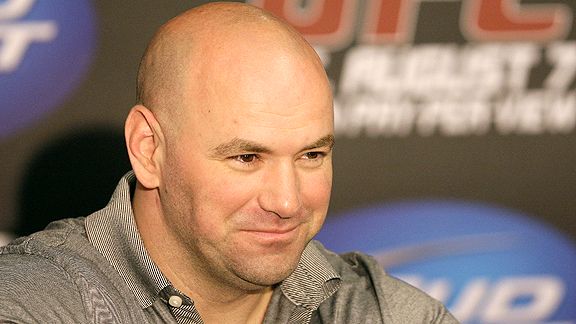 AP Photo/Jeff ChiuDana White knows he has a major hit on his hands with "UFC Undisputed 3."
When EA Sports announced that they were developing a new mixed-martial arts game to compete with THQ's wildly successful UFC franchise, gamers expected a rivalry worthy of main event status. But when "EA Sports MMA" shipped and showed it wasn't ready for primetime, the game bombed on the sales charts at such an epic level, EA was forced to tap out with no signs of a rematch.
One man who takes great pride in this beatdown is UFC president Dana White.
The reason? White led a contingent of UFC executives to EA Sports with hopes of making a video game long before signing a deal with THQ, but according to White, the meeting was anything but friendly.
"When we first went out with the EA guys, they were so pompous, so arrogant it was ridiculous," White tells me as we sit down at the swank Marquee Nightclub inside Las Vegas' Cosmopolitan hotel to talk about the upcoming "UFC Undisputed 3" video game. "They didn't respect the sport, but then after we did our deal with THQ, then they want to come out and talk about how they were going to compete with us. Well, we won. We beat them. We won, and that's the way I play. If you want to come out and you want to fight and you want to compete, let's do it. We did it, and we won.
"I'm not going to sit here and say that I have any hard feelings for EA. Nope. I already kicked their ass, I'm happy."
And with "UFC Undisputed 3" ready to ship February 14 with the addition of Pride mode, complete with old school fighters and head stomps, White feels this game has the potential to be a blockbuster.
Says White: "There is always a dispute with the fans about what the rules should be. Should knees to the head of a downed opponent be allowed? Should there be soccer kicks and head stomps? Now you can do it in the video game under the Pride rules. And the fact that you can drag the UFC guys over to Pride and see how they would do under these new rules is really going to be fun for the fans.
"One of the things that's great about the game is as we continue to grow globally -- and this game has sold millions and millions of copies around the world -- it's a great way for us to educate people on what we're all about. People who don't know a lot about the sport or the fighters, through this game they're learning the names of the fighters, they're learning the moves, and they're learning what the submissions are called. And with this game, we got this thing stacked with fighters from WEC, UFC, and Pride. It's pretty amazing."
Read More »
ESPN ARCADE
The sequel to our most popular game is here. How's your return?

Run timed routes, beat DB's to the end zone and score.

Hit your receivers, dodge defenders and rack up TDs.