December, 2, 2011
12/02/11
6:30
PM ET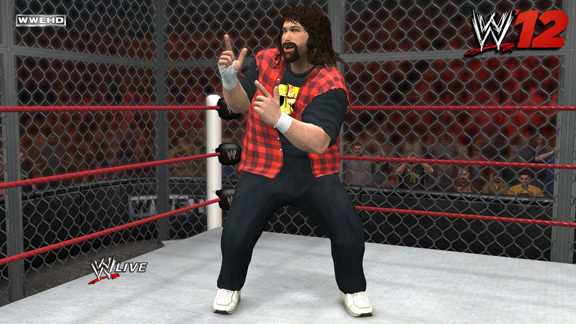 THQBang! Bang! Mick Foley is back in the ring thanks to the new "WWE 12" video game.
About ten years ago, I was sitting backstage at a WWE event when I told wrestling legend Mick Foley how much I loved his Hell in a Cell match against The Undertaker.
"I could watch you get thrown off the top of the cage all night," I joked.
I'll never forget the twisted look in Foley's eyes when I said that. He grinned for a second, then in a tone that seriously freaked me out said: "You're one sick son of a b---h."
So now here I am, almost a decade later, and I get Foley on the phone to talk about his inclusion in the new video game, "WWE 12."
Funny thing is, Foley still remembers the conversation we had back in the day. "You're still sick for loving that match," Foley tells me with a laugh, talking about the devastating bout that made him a household name due to the frightening reality of the violence. From being tossed off the top of the Hell in a Cell roof, to actually being choke-slammed through that same roof only moments later, to the hundreds of thumbtacks that pierced Foley's skin, it's a match that Foley only started to remember recently, piecing moments together in his mind after watching the pay-per-view a short time ago with his family.
"That match is an emotional roller-coaster ride," Foley tells me. "I saw it for the first time in its entirety in about ten years recently because my kids had heard so much about it and wanted to see it. It's one thing to see it in clips and say, "Wow!" But it's something else to watch the entire match and go through that whole experience. It's very emotional.
"I pieced back all of the match in my memory now except for about a 30 second period when I went through the cage and into the ring. There was a point where I saw a pair of sneakers in the ring and I had no idea how they had gotten there. So there were 30 or 40 seconds there that had gone by that I couldn't remember and I'm still not aware of. The day after I had very little recollection of what actually happened."
But that's what being a hardcore legend is all about. Not many guys, if any, could/would take those bumps, finish the match, and then still do a run-in in the show's main event.
"It was perhaps the most pathetic, slowest run-in in sports entertainment history," Foley laughs, "but I still made it out there. I was really hurting. I'm just glad they have that on video because it's not something that I, or anyone else, should ever do again."
Jon Robinson: What do you think of your wrestling legacy living on in video games like "WWE 12"?
Mick Foley: It extends and increases the legacy. It's one thing to have achieved something in sports entertainment, but it's something else to be an entity in a video game. Kids who perhaps never even saw me perform can now get to know me and enjoy.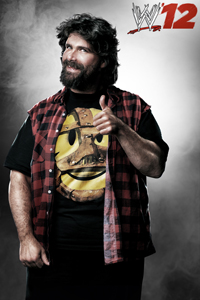 THQThe hardcore legend returns.
Jon Robinson: What do you think of how you look in the game? It's like a virtual time machine taking you back to the younger, more painful days.
Mick Foley: Yeah, I definitely look a little younger there. I look a little thicker in the deltoids, which is good. [laughs] I like the artistic license. I was thrilled to be included in the game. I heard rumors that I was in it, but until I saw the video on WWE.com, I wasn't certain. It means a lot to me for my kids to be able to play as my likeness, and no doubt, making him lose on purpose.
Jon Robinson: I asked about your legacy living on in video games, but when you back throughout your career, what do you think is the legacy you left in the world of professional wrestling?
Mick Foley: Most people would say it's the Hell in a Cell match from 1998. The fact that I'm still being asked about it on a daily basis means that it's not going away anytime soon. But hopefully in the locker room, I'm remembered for treating other people well, and for how inside the ring I was a guy who worked hard and exceeded expectations.
Jon Robinson: Are you excited to be back in the WWE mix and making appearances for the company?
Mick Foley: Yeah, I'm very excited about it. The other night I was on Raw as Santa Claus, then the next night I was hosting Smackdown. I think WWE has a lot of ways to utilize a guy like me without taking up too much television time on a weekly basis or doing any wrestling at all.
Jon Robinson: Are you hoping for one last big match at Wrestlemania, or are you officially done wrestling at this point in your life?
Mick Foley: Well, I've learned to never say never. I said never back in 2000 and realized that's a tough promise to keep. I've noticed, especially in the last few weeks, that there are so many good, young performers in WWE who are all hitting their stride about the same time, and it might be nice to have a match with one of those guys. I would love if I could end up in one of their books down the line when they talk about their favorite matches.
Jon Robinson: I bet Dolph Ziggler would have fun bumping all over the ring for you.
Mick Foley: Man, what an amazing athlete he has turned into. He's specifically one of the guys I was thinking of. He's so good on a weekly basis, and I think the WWE Universe is just starting to realize that.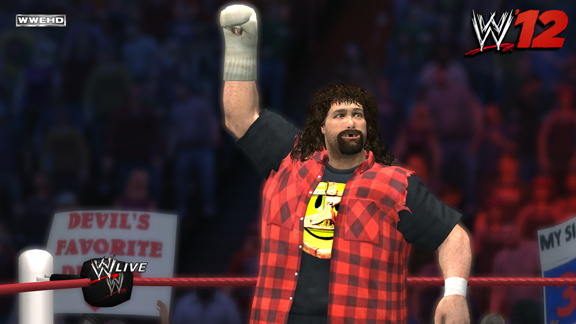 THQMick Foley's character will be added to "WWE 12" as DLC in January.
Jon Robinson: Your old tag team partner, and your old nemesis, The Rock, is back in the ring now as well. What did you think of his performance at Survivor Series?
Mick Foley: He brought the electricity, no question about it. There was a part of me that was a little sad, to be honest, because prior to this match, his last match before this was at Madison Square Garden with me as his tag team partner. So it would've been a great claim to have been in The Rock's last match, but who knows, maybe there will be a true Rock and Sock reunion, and maybe it will end up being the last match for both of us.
Jon Robinson: When you look at the Wrestlemania main event between The Rock and John Cena, do you think John Cena can live up to the match? Is he on the same level as Rock?
Mick Foley: Oh sure, yeah. John has been the face of the company for several years. Even if half the audience verbally dislikes him, the other half is still a larger number of fans than just about anybody in WWE history has been able to get. The thing about John is, he's a workhorse, and he's got such a great attitude. I'll tell you, that reaction he gets from the crowd, that would rattle anybody else in the business except him. The fact that he's able to roll with the punches and not take it personally is a pretty strong testament to the type of guy he is.
Jon Robinson: Speaking of The Rock, do you ever think back to the match where he hit you about a million times in the head with a steel chair? Are you a fan of WWE's new policy where headshots with a chair are no longer allowed?
Mick Foley: I think you got that wrong. I think it was well over a million. [laughs] That was a bit excessive and nobody should ever do that again. But I don't mind not seeing the head shots. There were kendo sticks used on Monday night's Raw and it was used as a striking weapon to the body, and the crowd still cringed and "oohed and awed." I think the more we learn about concussions and their ramifications, the more understanding the WWE Universe is to why guys are not getting hit in the head any longer. I'm glad things have changed.
Jon Robinson: When you first started adding Mr. Socko to the Mandible Claw, how did you convince opponents that you were going to shove a dirty sock into their mouths?
Mick Foley: The first two and a half years of using the Mandible Claw, I didn't use the sock, but it was still dirty fingers being shoved into their mouths. [laughs] I don know that when I added the sock, I made sure that I used a clean sock every night because I do know that I was becoming the least popular guy in the locker room. You have to maintain proper etiquette when forcing your fingers under somebody's tongue. It's the least I can do.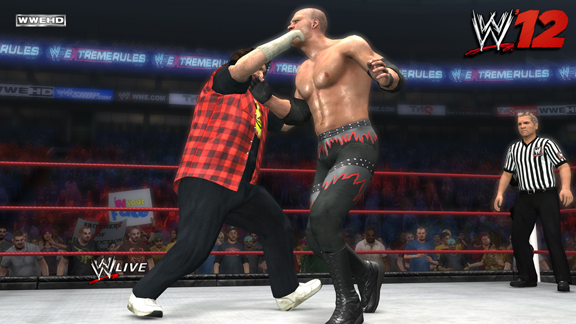 THQWhen shoving a sock down Kane's throat, better make sure it's clean.
Jon Robinson: So for people who go out and buy "WWE 12" and download your character when he's available in January, what strategy would you suggest to win the big one for Mrs. Foley's baby boy?
Mick Foley: If they want to win the game, they probably shouldn't use my character. [laughs] I think my real life win/loss record isn't very good. But if you want an exciting match, be Mick Foley and don't be afraid to take some blows. My character can take a beating, he can overcome adversity just like I did in real life. I think I just might become a gamer just so I can play this game.
ESPN ARCADE
The sequel to our most popular game is here. How's your return?

Run timed routes, beat DB's to the end zone and score.

Hit your receivers, dodge defenders and rack up TDs.