December, 19, 2011
12/19/11
2:49
PM ET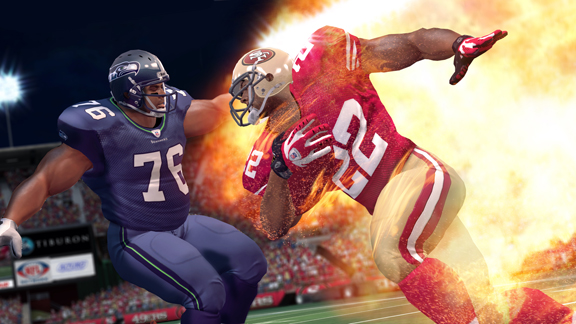 EA SportsThe 49ers are on fire, and ready to do some serious damage in "NFL Blitz."
ESPN started the "NFL Blitz" roster reveal last week with the lineups for every team in the NFC East, NFC South, and NFC North. Today, we continue our look with the NFC West players who will catch fire once EA Sports' arcade revival hits the Xbox Live Arcade and PlayStation Network January 4.
Is Patrick Willis the perfect "Blitz" defender, or what?
ARIZONA CARDINALS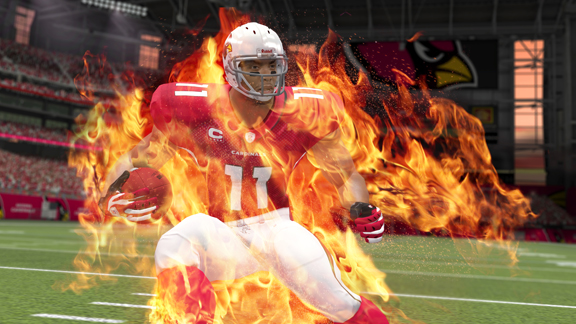 EA SportsLarry Fitzgerald and the Cardinals are one of my sleeper teams in "Blitz."
If you're looking for an exciting "Blitz" team that will throw your buddies off, check out this Cardinals lineup. While everyone is going to be picking the Packers or Eagles to start out with, the Cardinals are one of those teams you could pretend to pick at "random," knowing full well the damage you're about to inflict as you run up and down the field with playmakers like Larry Fitzgerald and Patrick Peterson. Definitely a fun sleeper team.
OFFENSE:
Kevin Kolb: QB
Beanie Wells: RB
Larry Fitzgerald: WR
Todd Heap: TE
Levi Brown: OT
Brandon Keith: OT
Lyle Sendlein: C

DEFENSE:
Calais Campbell: DE
Dan Wiliams: DT
Darnell Dockett: DE
A.J. Jefferson: CB
Patrick Peterson: CB
Adrian Wilson: S
Joey Porter: LB

SPECIAL TEAMS:
Dave Zastudil: P
Jay Feely: K

SAN FRANCISCO 49ERS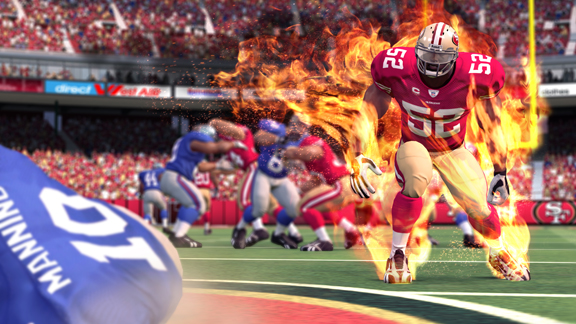 EA SportsPatrick Willis failed to win the "Blitz" cover vote, but he's still one of the hardest hitters in the game.
Patrick Willis hits opponents with about as much violent force as a human being possible can. So when you put his character in a video game that rewards hard hits with turnovers, not to mention, ignites Willis and his teammates on fire in order to give them unlimited turbo, you have the recipe for success in San Francisco. Add in Vernon Davis and Frank Gore on offense, and you definitely have a winner on your hands.
OFFENSE:
Alex Smith: QB
Frank Gore: RB
Michael Crabtree: WR
Vernon Davis: TE
Joe Staley: OT
Anthony Davis: OT
Jonathan Goodwin: C

DEFENSE:
Ray McDonald: DE
Justin Smith: DE
Isaac Sopoaga: DT
Shawntae Spencer: CB
Carlos Rogers: CB
Donte Whitner: S
Patrick Willis: LB

SPECIAL TEAMS:
David Akers: K
Andy Lee: P

SEATTLE SEAHAWKS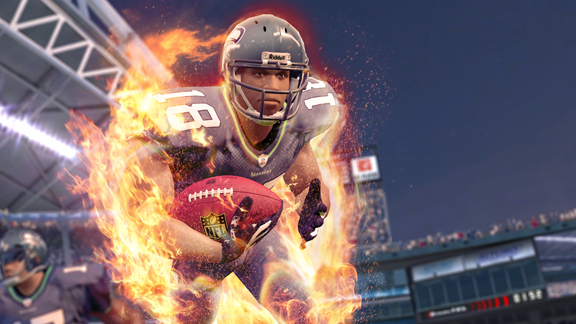 EA SportsThe Seahawks are a more dangerous "Blitz" team than you might initially think.
You've seen what "Beast Mode" does in real life. Now imagine the impact Marshawn Lynch will make in a game like "Blitz," bouncing off and running through defenders while on fire. Add in Sidney Rice and Mike Williams on the outside and the running threat of quarterback Tarvaris Jackson, and this is another one of those surprise teams you can play as to pickup some upset virtual victories.
OFFENSE:
Tarvaris Jackson: QB
Marshawn Lynch: RB
Sidney Rice: WR
Mike Willliams: WR
Russell Okung: OT
James Carpenter: OT
Max Unger: C

DEFENSE:
Chris Clemons: DE
Red Bryant: DE
Brandon Mebane: DT
Brandon Browner: CB
Marcus Trufant: CB
Earl Thomas: S
David Hawthorne: LB

SPECIAL TEAMS:
Steven Hauschka: K
Jon Ryan: P

ST. LOUIS RAMS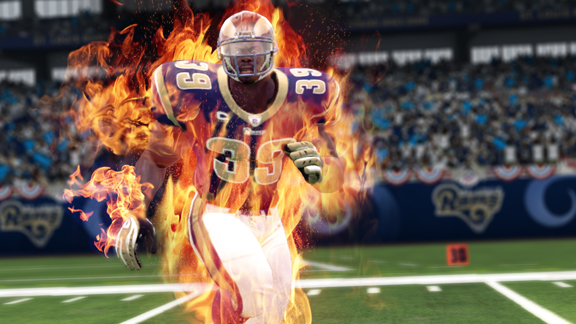 EA SportsSteven Jackson is one of the toughest runners to bring down in "Blitz."
Injuries have decimated the real Rams this year, but when you look at their 7-on-7 "Blitz" team, this is a dangerous group to contend with, especially on offense. Brandon Lloyd is as good as they get at wide receiver, Steven Jackson is a monster out of the backfield, and Danny Amendola has the speed to take those quick screens to the house. Don't sleep on this team.
OFFENSE:
Sam Bradford: QB
Steven Jackson: RB
Brandon Lloyd: WR
Danny Amendola: WR
Jason Smith: OT
Rodger Staffold: OT
Jason Brown: C

DEFENSE:
Chris Long: DE
James Hall: DE
Fred Robbins: DT
Bradley Fletcher: CB
Ronald Bartell: CB
Craig Dahl: S
James Laurinaitis: LB

SPECIAL TEAMS:
Donnie Jones: P
Josh Brown: K
ESPN ARCADE
The sequel to our most popular game is here. How's your return?

Run timed routes, beat DB's to the end zone and score.

Hit your receivers, dodge defenders and rack up TDs.