December, 21, 2011
12/21/11
4:55
PM ET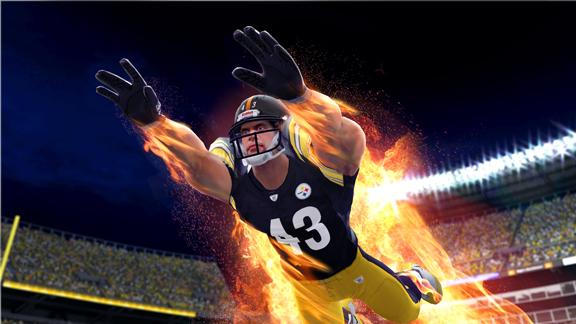 EA SportsTroy Polamalu busts out his best Superman in "NFL Blitz."
The Gamer's "NFL Blitz" roster reveal countdown continues today with a look at the AFC North lineups.
From Troy Polamalu obliterating receivers over the middle of the field to cover star Ray Rice slicing his way to paydirt, this division is packed with players who will look spectacular catching on fire when the game hits January 4.
And in case you missed any of the previous roster updates, be sure to go back and click through the NFC East, NFC North, NFC South, NFC West, and AFC West lineups.
BALTIMORE RAVENS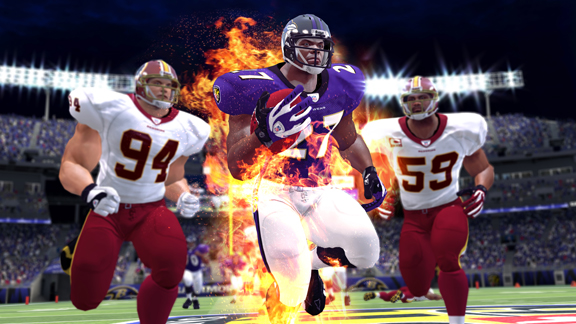 EA SportsRay Rice is not only on the cover of "NFL Blitz," he's a beast in the game.
The Ravens are going to be one of the toughest teams to score on in "Blitz" thanks to Haloti Ngata, Ed Reed, and Ray Lewis. With those three, you have a beast up front, in the middle, and in the secondary, each with the ability to create turnovers and cause havoc. Light the defense on fire, and you'll be lucky not to fumble or throw a pick six. The absence of Torrey Smith hurts the offense in terms of a long-bomb threat, but Ray Rice has the type of speed and versatility you look for in a "Blitz" back.
OFFENSE:
Joe Flacco: QB
Ray Rice: RB
Lee Evans: WR
Anquan Boldin: WR
Bryant McKinnie: OT
Michael Oher: OT
Matt Birk: C

DEFENSE:
Cory Redding: DE
Haloti Ngata: DE
Terrence Cody: DT
Lardarious Webb: CB
Chris Carr: CB
Ed Reed: S
Ray Lewis: LB

SPECIAL TEAMS:
Billy Cundiff: K
Sam Koch: P

CINCINNATI BENGALS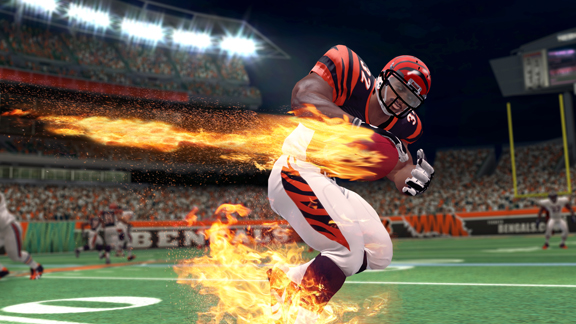 EA SportsThe Bengals have the type of firepower you're looking for in a "Blitz" team.
Looking for a lethal jump-catch receiver? Look no further than A.J. Green. In fact, the rookie combination of Andy Dalton to Green make the Bengals a pretty fun "Blitz" team as you are never out of a game when you have weapons like that who can score on any play.
OFFENSE:
Andy Dalton: QB
Cedric Benson: RB
A.J. Green: WR
Jerome Simpson: WR
Andrew Whitworth: OT
Dennis Roland: OT
Kyle Cook: C

DEFENSE:
Robert Geathers: DE
Michael Johnson: DE
Domata Peko: DT
Nate Clements: CB
Leon Hall: CB
Chris Crocker: S
Rey Maualuga: LB

SPECIAL TEAMS:
Mike Nugent: K
Kevin Huber: P

CLEVELAND BROWNS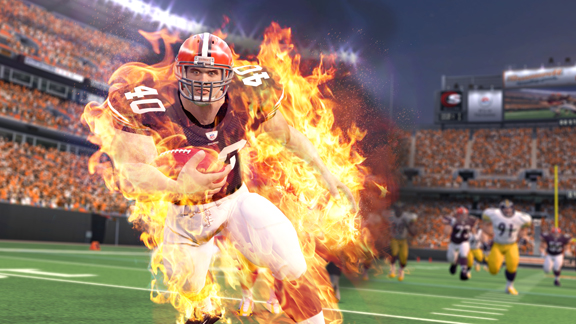 EA SportsThe "Madden Curse" doesn't carry over to "NFL Blitz."
Josh Cribbs has the speed and playmaking ability you're looking for from a wideout, and Peyton Hillis, despite his rough season, is still a video game monster. The Browns aren't as bad in "Blitz" as you might think.
OFFENSE:
Colt McCoy: QB
Peyton Hillis: RB
Josh Cribbs: WR
Benjamin Watson: TE
Joe Thomas: OT
Tony Pashos: OT
Alex Mack: C

DEFENSE:
Jayme Mitchell: DE
Jabaal Sheard: DE
Ahtyba Rubin: DT
Sheldon Brown: CB
T.J. Ward: CB
Joe Haden: S
D'Qwell Jackson: LB

SPECIAL TEAMS:
Phil Dawson: K
Brad Maynard: P

PITTSBURGH STEELERS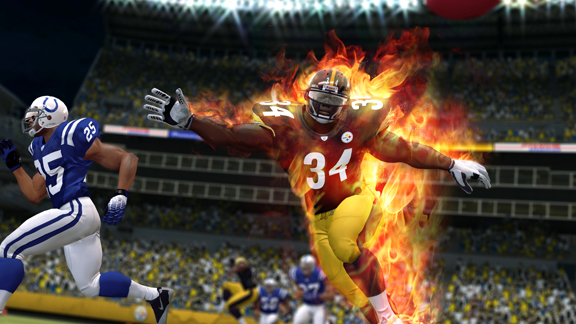 EA SportsThe Steelers should be one of the best teams in "NFL Blitz."
James Harrison can hit fools as hard as he wants, sending them spiraling through the air, and even punching receivers before they cross the goal line in "Blitz." Why wasn't he on the cover? The Steelers used to be unbeatable in "Blitz" back in the day thanks to "Slash," and in the remake, they look to be one of the top teams again, highlighted by a hard-hitting defense, a quarterback who can fire the ball on the run, and one of the fastest receivers in the game. I just wonder if they gave Brett Keisel a virtual beard.
OFFENSE:
Ben Roethlisberger: QB
Rashard Mendenhall: RB
Mike Wallace: WR
Hines Ward: WR
Willie Colon: OT
Jonathan Scott: OT
Maurkice Pouncey: C

DEFENSE:
Aaron Smith: DE
Brett Keisel: DE
Casey Hampton: DT
Bryant McFadden: CB
Ike Taylor: CB
Troy Polamalu: S
James Harrison: LB

SPECIAL TEAMS:
Shaun Suisham: K
Daniel Sepulveda: P
ESPN ARCADE
The sequel to our most popular game is here. How's your return?

Run timed routes, beat DB's to the end zone and score.

Hit your receivers, dodge defenders and rack up TDs.