December, 23, 2011
12/23/11
2:32
PM ET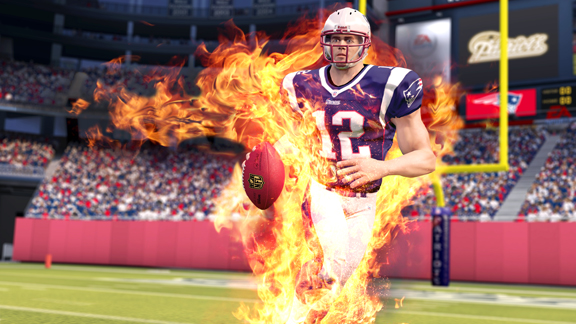 EA SportsTom Brady is on fire, even if some of his favorite targets didn't make the game.
ESPN's exclusive "NFL Blitz" roster reveal countdown concludes today with the AFC East lineups.
From Tom Brady catching fire to Reggie Bush running wild for the Dolphins, here are the virtual ballers who you'll be able to play as once the game hits the Xbox Live Arcade and PlayStation Network January 4.
And in case you missed any of the previous reveals, be sure to click through all of the teams from the NFC East, NFC North, NFC South, NFC West, AFC West, AFC North, and AFC South.
BUFFALO BILLS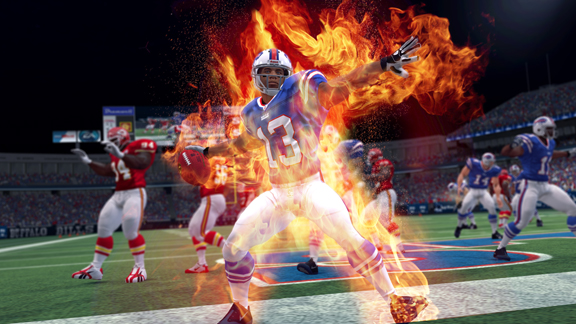 EA SportsTime for the Bills to celebrate, "NFL Blitz" style.
If this was "Blitz: The League," Midway would've already added Stevie Johnson's "shoot myself in the leg like Plax" touchdown celebration. Then again, if this was "Blitz: The League," the game's storyline would also probably revolve around Sam Hurd. Anyway, the Bills are a middle-of-the-road team in the game, with Fred Jackson and Stevie Johnson as playmakers, but not too much else to get excited about.
OFFENSE:
Ryan Fitzpatrick: QB
Fred Jackson: RB
Roscoe Parrish: WR
Stevie Johnson: WR
Demetrius Bell: OT
Erik Pears: OT
Eric Wood: C

DEFENSE:
Marcell Dareus: DE
Dwan Edwards: DE
Kyle Williams: DT
Leodis McKelvin: CB
Terrence McGee: CB
Jairus Byrd: S
Nick Barnett: LB

SPECIAL TEAMS:
Rian Lindell: K
Brian Moorman: P

MIAMI DOLPHINS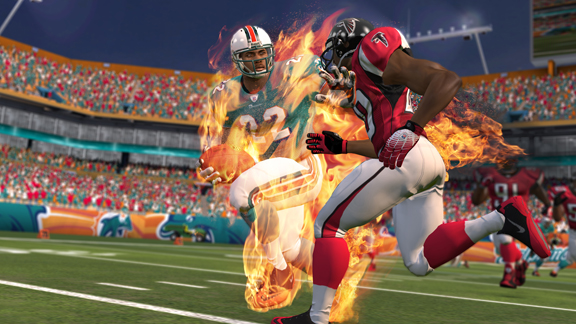 EA SportsThe Dolphins are a quarterback shy of being an elite "NFL Blitz" team.
I love this team. Reggie Bush is a video-game bad ass, Davone Bess has the speed, and Brandon Marshall has the size. If they had a better quarterback, they'd easily be a Top 5 "Blitz" team.
OFFENSE:
Chad Henne: QB
Reggie Bush: RB
Davone Bess: WR
Brandon Marshall: WR
Jake Long: OT
Marc Colombo: OT
Mike Pouncey

DEFENSE:
Kendall Langford: DE
Randy Starks: DE
Paul Soliai: DT
Sean Smith: CB
Vontae Davis: CB
Yeremiah Bell: S
Cameron Wake: LB

SPECIAL TEAMS:
Dan Carpenter: K
Brandon Fields: P

NEW ENGLAND PATRIOTS

Perhaps the most perplexing roster in the game, the "Blitz" Patriots feature two players who aren't even on the team anymore (Haynesworth and Bodden), not to mention, they put Chad Ochocinco in the game over Rob Gronkowski. Gronkowski is such a muscle-popping freak, he should not only be in the game, he should be on the cover. Instead, I'm throwing the ball to Ochocinco and hoping he doesn't drop it.

OFFENSE:
Tom Brady; QB
Danny Woodhead: RB
Chad Ochocinco: WR
Wes Welker: WR
Matt Light: OT
Sebastian Vollmer: OT
Dan Koppen: C

DEFENSE:
Albert Haynesworth: DE
Shaun Ellis: DE
Vince Wilfork: DT
Leigh Bodden: CB
Devin McCourty: CB
Patrick Chung: S
Jerod Mayo: LB

SPECIAL TEAMS:
Zoltan Mesko: P
Stephen Gostkowski: K

NEW YORK JETS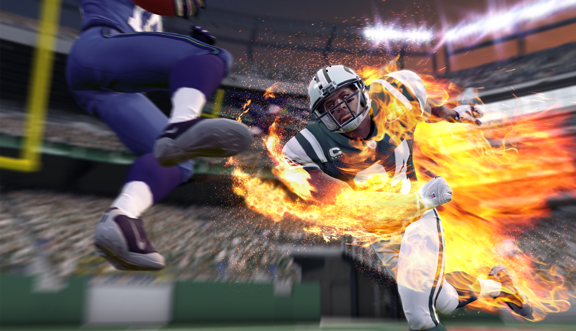 EA SportsThe Jets ferocious defense is looking for a fight.
One of the best teams in the game, the Jets have two receivers who can beat you deep, and a defense that can not only create turnovers, but turn those picks into points. Plaxico Burress can out-leap just about anybody in "Blitz."
OFFENSE:
Mark Sanchez: QB
Shonn Green: RB
Plaxico Burress: WR
Santonio Holmes: WR
D'Brickshaw Ferguson: OT
Wayne Hunter: OT
Nick Mangold: C

DEFENSE:
Ropati Pitoitua: DE
Mike DeVito: DE
Sione Pouha: DT
Antonio Cromartie: CB
Darrelle REvis: CB
Jim Leonhard: S
David Harris: LB

SPECIAL TEAMS:
Nick Folk: K
T.J. Conley: P
ESPN ARCADE
The sequel to our most popular game is here. How's your return?

Run timed routes, beat DB's to the end zone and score.

Hit your receivers, dodge defenders and rack up TDs.