February, 17, 2012
02/17/12
8:28
PM ET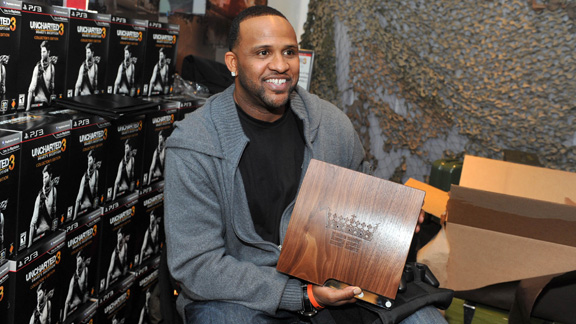 CC Sabathia shows off his customized PlayStation 3.
When Yankee pitcher CC Sabathia hits the road, there's one piece of luggage he never forgets to pack.
"I had a special travel case designed in order to play video games," Sabathia tells me, confessing his love for PlayStation. "I actually gave my first case to Grady Sizemore when I left Cleveland, because he's a big gamer, so when I got to New York I had a new case built. It has a TV, my PlayStation 3, all my controllers, and all my games. I have it delivered to whatever hotel we're staying at when we're on the road."
Sony heard about Sabathia's sweet setup and decided to hook the hurler up with an even more pimped-out system, delivering a customized PlayStation 3 to the Yankee superstar while also letting him get his hands on an early copy of "MLB 12: The Show."
"This system is unbelievable," Sabathia tells me after checking out his eye-popping gift. "It has a 52 on there. There are rubies. It has its own travel case.
"To have a custom PlayStation from Sony, this is every gamer's dream come true."
Jon Robinson: When you bring your PlayStation 3 on the road, what do you like to play?
CC Sabathia: A lot of the guys on the team like to play "FIFA," so I've been practicing that a lot lately so I can get back at these guys once the season starts. We also play "The Show," "NBA 2K" "NBA Jam," and "Madden." I like to play it all. I grew up on video games, and now, it's still a big part of my life.
Jon Robinson: I play a lot of "The Show," and I think it's realistic, but then again, I'm not on the Yankees. As a professional player, do you think the game is authentic to the sport?
CC Sabathia: I think it's very authentic. When I play it, I almost feel like I'm watching a game. You can't just go up there and swing. You can't go up there looking fastball and still hit the changeup. It has all the different pitches, the different pitch speeds, and they way it's presented, it's very authentic. The graphics are sick, and the gameplay is a lot of fun. It's definitely one of my favorite games to play.
Jon Robinson: What do you think of your character in the game? Does he look like you?
CC Sabathia: I think they got me down pat. They actually got me with a sinker in there that's pretty good, so I'll take that, because mine in real life, it's not that good. [laughs]
Read More »
ESPN ARCADE
The sequel to our most popular game is here. How's your return?

Run timed routes, beat DB's to the end zone and score.

Hit your receivers, dodge defenders and rack up TDs.