March, 21, 2012
03/21/12
2:34
PM ET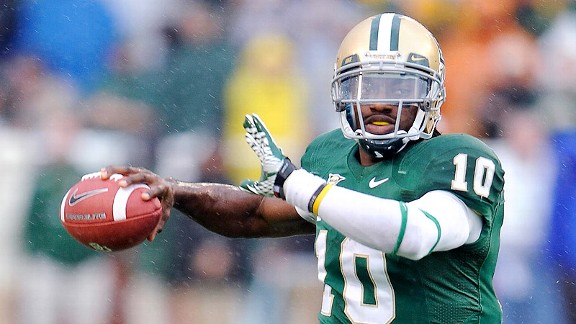 Jerome Miron/US PresswireRobert Griffin III could be the best rookie in the history of "Madden."
Robert Griffin III might end up being the most dominant video game quarterback since Michael Vick.
Don't believe me? Check out what "Madden" ratings guru Donny Moore had to say when I asked him about RG3: "We could be looking at the best rookie in the history of 'Madden,'" said Moore. "It's all about speed in people's minds, and the way RG3 runs, and with his arm strength, he's going to be one of the most fun characters to play as this year."
I tell RG3 about Moore's comments, and the quarterback can't help but grin. "That would be awesome if the 'Madden' guys do that for me," he said. "Sometimes they don't do that for rookie quarterbacks, but with the way I played last year and with the way I performed at the combine, that should shoot my ratings straight through the roof. I'm excited to see my guy in the game.
"I know I have a strong arm, I'm accurate, and my awareness is pretty high out there. My speed will probably be 95 or above and that's pretty sweet. Not many guys can do that, so that's really exciting. From there, I just want to work on getting my speed up to 97 or 98 in 'Madden.'"
But Griffin has more to celebrate these days than a stud "Madden" character as the charismatic Heisman Trophy winner will also be appearing on the cover of EA's upcoming "NCAA Football 13."
Added Griffin: "Fans are going to be able to vote on March 12 for a former Heisman winner to be on the cover along with me. Guys like Herschel Walker, Doug Flutie, Barry Sanders, and Marcus Allen. These are all great players who have all done a lot more than I have, and it's up to the fans to decide what the final cover will look like.
"But my favorite part of the cover so far is how my image shows me throwing the ball. I wanted to emphasize that I'm a quarterback who is also a strong athlete. So me throwing the ball on the cover is only that much sweeter."
Jon Robinson: It seems like your name is all the buzz from the combine this year. Did you accomplish everything you wanted from the event?
Robert Griffin III: It's a job interview and you just try to put your best foot forward. People have said some really good things about my performance, and that's what I'm happy about, what I'm excited about. I was able to go out there, and like I said, I put my best foot forward.
Jon Robinson: Your best foot forward was actually some incredibly fast feet.
Robert Griffin III: [laughs] They have the official time at 4.41, but we're working with the NFL to try and get that adjusted because our on-the-field time was a bit faster than that. At the end of the day, if the 4.41 is the time I get, then I'm not disappointed by that at all, but if we can get the time adjusted to the real time, that would be great.
Jon Robinson: It seems like whenever players leave the combine, they're always shaking their heads about some of the strange questions teams ask them, like if they'd rather be a dog or a cat. Did you get any odd questions this weekend?
Robert Griffin III: I didn't get very many questions like that or any strange questions. The teams I met with and the coaches I met with this weekend were more straight-laced. They want to see who you are as a quarterback and your football mind, not necessarily if you're a dog or a cat. Besides, most people will say dog in that case, anyway.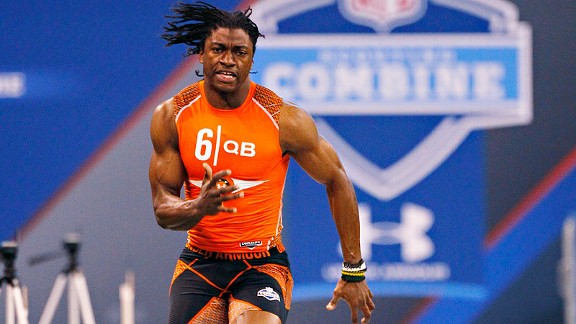 AP Photo/Dave MartinWith RG3's fast combine time, he should be a beast in "Madden 13."
Jon Robinson: When attempting to assess your football mind, what are the types of things they ask you?
Robert Griffin III: They want to know your football IQ. They want to see if you know your X's and O's and if you can get on the board and decipher some of their plays, then run up to the board and design one of your own plays and explain it to them. They want your two-minute offense and how you operate and how you think in certain situations. They also want to see how quick you can think on your feet. All of those things I think I was able to showcase at a high level. I feel good about what I did.
Jon Robinson: So I guess the big question then, is this: If you're the Colts, do you A) keep Peyton Manning, B) draft RG3, or C) draft Andrew Luck?
Robert Griffin III: I think it's A and B, you keep Peyton Manning and you draft myself. As a fan of the game, you want to see Peyton Manning stay with the Indianapolis Colts. I have no preferred team, but everyone wants to go No. 1 in the draft. Even the guy who gets picked last in the draft wants to go No. 1. But I just know that whoever picks me, I'm going to be excited to play for that team, and I can't wait to see myself in "Madden" on that team.
Jon Robinson: Last year, Cam Newton and Andy Dalton both had great success as rookies in the league. Do you see this as a new era in the NFL where rookie quarterbacks can now step in and be immediate stars?
Robert Griffin III: I think the coaches are being smart and are protecting their guys by using plays that they ran in college. Coaches are starting to morph their offenses to fit their quarterback's strengths, and that's smart. Andy Dalton did a great job, and they had a great running game to help him out. He also had his star receiver, another rookie in A.J. Green, and they went out there and did great work together. These coaches are getting smarter about how to use these NFL quarterbacks, and I'm excited to go to a team that will showcase my abilities so I can go out and assist my teammates by going out there and being their quarterback.
Jon Robinson: What do you think it is about your game and your personality that will help turn a struggling NFL franchise around?
Robert Griffin III: I have the experience with helping build up a program. I know it takes more than just one player -- it takes a GM, a coach, an owner, and all the players on that team to buy in -- that's what it takes if you want to change the culture, the mantra of a team. I have the experience in doing that. I want to be one of the guys, but I also want to be the guy, the guy that can go out there and they can rely on in crunch time. I'm going to be the guy that they know will show up every day, every game, every play and show up on a consistently great level.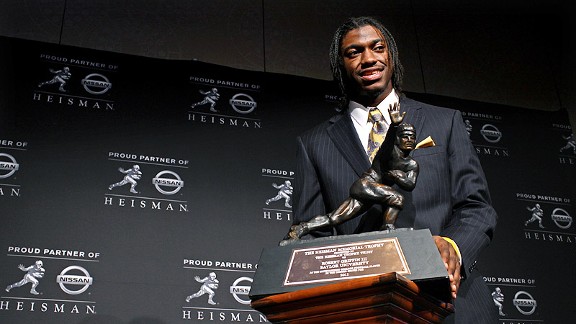 AP Photo/Craig RuttleRobert Griffin III will be sharing the "NCAA Football 13" cover with another former Heisman winner.
Jon Robinson: Getting back to the "NCAA Football 13" video game, one of the things EA Sports really tries to emphasize is tradition, and they try to include everything from cheerleaders and mascots to fight songs. Do you have a favorite tradition from any of the schools?
Robert Griffin III: I didn't have too many favorite traditions just because I try not to buy in to what my opponent's traditions were. We had the Baylor line that we run through before every game, then every player goes to the end zone and we say a prayer before the start of the game. Those are our traditions, and I'm excited to come back and watch the new players continue those traditions at Baylor.
Jon Robinson: Another cool thing they have in the game is the atmosphere from the crowd, where they're cheering wildly for the home team, while making it tough on the road teams to call audibles with all the crowd noise. When you were at Baylor, what was the toughest place for you to play in terms of crowd noise?
Robert Griffin III: The thing that people think is when you go to these big stadiums and they have 80,000 people or 100,000 people, that these are the toughest stadiums to play at, but really, those aren't. When you have that many people, most of the time, the fans are pretty far away from the field. The toughest places to play are the ones that are jam-packed, are really tight to the field, and sit about 45,000 people. When we played at UConn my freshman year, that was the loudest place I've ever been as a football player. The stands are right next to the field, it was packed, and everyone was yelling. That was probably the coolest place for me to play at aside from Texas, Texas A&M, and Nebraska.
Jon Robinson: When the fans get that close, can you hear what they're saying? What's the funniest thing a fan ever yelled at you?
Robert Griffin III: Against Oklahoma State this past year, there was a fan screaming at me and he was telling me all these things like how I'm a bad player, blah-blah-blah. But after the third quarter, he just gave up because I wasn't saying anything back. Then by the end of the game, he said: "You know what, you're one of my favorite players and you're a great guy." [laughs] When you have fans who are hassling you the entire game and you ignore them, they respect you because their job is to try and distract you. And if they don't distract you, that means you're focused on doing your job. And who knows, by the end, sometimes you even win them over.
ESPN ARCADE
The sequel to our most popular game is here. How's your return?

Run timed routes, beat DB's to the end zone and score.

Hit your receivers, dodge defenders and rack up TDs.