March, 15, 2012
03/15/12
8:12
PM ET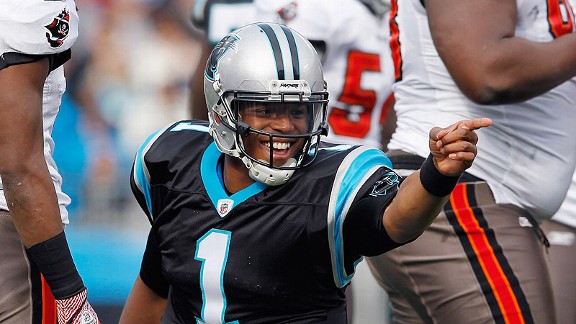 Streeter Lecka/Getty Images)Cam Newton's fans have come out in full force so far for the "Madden 13" cover vote.
Looks like the "Madden NFL 13" cover vote could be Cam Newton's to lose.
That's because with only a week left in the teammate versus teammate play-in round, Newton has already received more votes than any other player in the competition.
But Cam's ability to crush the vote isn't the only storyline being played out right now, as there are already a few surprises (and a few upsets) that might shock some of the higher-profile names in the vote.
First off, "Madden" legend (and last year's cover vote runner-up) Michael Vick, is in serious danger of getting bounced out early by teammate LeSean McCoy.
Another surprise is how close the Tim Tebow versus Von Miller vote has become. Not sure if it's the possibility of Peyton Manning coming to Denver and Tebow becoming a backup or getting traded, but Miller is right within striking distance for the upset.
Add to that the fact that Brandon Marshall and Brandon Lloyd are both leading their team's vote even though neither one is currently on the team they are representing, and we could see both the Dolphins and Rams without representation when the vote narrows down from 64 to 32.
One other player to keep an eye on is Victor Cruz of the Giants. Cruz is killing it right now in the vote, and his massive swell of support could mean big things (and a curse) in Cruz's future if he wins the cover.
Don't like the results so far? Cast your vote now and let your voice be heard.
ESPN ARCADE
The sequel to our most popular game is here. How's your return?

Run timed routes, beat DB's to the end zone and score.

Hit your receivers, dodge defenders and rack up TDs.