March, 21, 2012
03/21/12
10:30
AM ET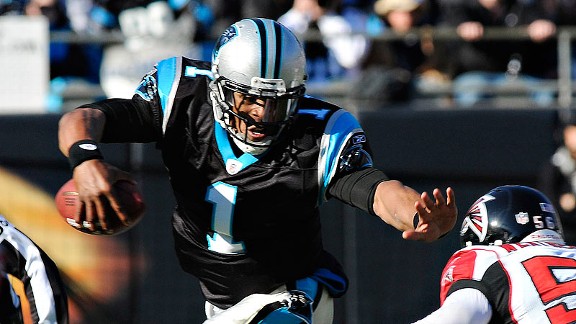 Sam Sharpe/US PresswireAfter receiving more votes than any other player in round one, Cam Newton is the favorite to win the "Madden 13" cover.
Last year's "Madden" cover vote finals featured Michael Vick versus Peyton Hillis.
One year later, Hillis' career has been cursed to the point where he wasn't even invited back to defend his cover, and Michael Vick already got bounced out of the tournament by teammate LeSean McCoy.
What a difference a year makes.
And actually, what a difference a month can make in trying to predict exactly who will end up on the cover of "Madden NFL 13." What started as a 64-player tournament with everyone picking Tim Tebow to win it all, is now down to 32 players, and even though Tebow has already advanced over Von Miller in a tight first-round race, I really don't see a guy who is about to be booted out of Denver winning a popularity contest anytime soon.
Then again, when the vote is open to the public, you never know, as maybe Tebow's fans will vote by the millions in order to help lift their fallen quarterback when he needs them most. Or maybe, just maybe, enough people will come out and support Sebastian Janikowski just so we can see the first kicker on the cover of the game.
Voting for the final 32 competitors is bracket-style, with each player given a seeding based on a variety of factors, including on-field performance, marketability/popularity, and the amount of votes they received to advance in the teammate-versus-teammate round of 64.
"Most fans look at the seeding from a straight on-field performance perspective, but what people need to realize is that the winner represents EA Sports, he represents 'Madden NFL 13,' and there are a lot of factors that we consider," explains Anthony Stevenson, the marketing director behind the "Madden" franchise. "It's fun because we created this tournament thinking about March Madness and everything that goes along with it, from Selection Sunday to the brackets. Any time the committee gets together, there's always teams that get snubbed, there's always the teams that people think are overrated or underrated, and that's the same type of thing that makes the 'Madden' cover vote fun. That's what sparks debate.
"Look at what happened with Tim Tebow. Before Peyton Manning joined the Broncos, Tebow would've been one of the higher seeds in the tournament. But now, there's so much uncertainty surrounding him -- will he be traded, will he be a starting quarterback somewhere else, will he even still be a quarterback -- that now he's a 14-seed. Just like March Madness, you just never know what will happen next."
Round of 32 voting kicks off today on ESPN's official SportsNation "Madden" Cover Vote page.
But before you click for your favorites (or the player you most want to curse), here are some of my initial thoughts and predictions on the upcoming round after getting a first look at the bracket.
THE NEWTON OR BUST BRACKET
(1) CAM NEWTON vs. (16) LEGARRETTE BLOUNT
Newton received the most votes of any player in the round of 64, and I don't expect him to have any problem beating Blount here, even if I can watch Blount hurdle defenders all day. Cam seems like he's on the fast track to the cover, but will any type of sophomore slump be escalated by the curse?
(8) ANTONIO GATES vs. (9) DWIGHT FREENEY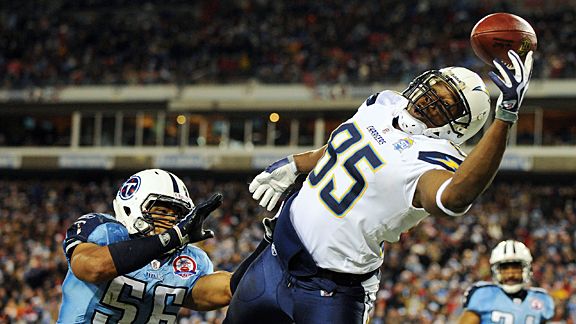 Don McPeak/US PresswireAntonio Gates has been a beast in "Madden" for years.
Throughout the years, both these guys are known as much for what their characters do in "Madden" as they are for how they perform in real life. And while Gates barely beat Philip Rivers in the first round, I think all of the uncertainty surrounding the Colts will help Gates get past the former "Madden" Bowl champ.
(5) LESEAN MCCOY vs. (12) REGGIE BUSH
Little known fact: Bush was going to be on the cover of "Madden NFL 08," becoming the first player ever to earn the cover of "NCAA Football" and "Madden" in back-to-back years. But because of the controversy surrounding the USC scandal at the time, EA made the last-minute switch to Vince Young. This is Bush's chance to finally claim a "Madden" cover of his own, but judging by the numbers McCoy was able to generate against Vick, it doesn't look promising.
ESPN ARCADE
The sequel to our most popular game is here. How's your return?

Run timed routes, beat DB's to the end zone and score.

Hit your receivers, dodge defenders and rack up TDs.