March, 30, 2012
03/30/12
5:11
PM ET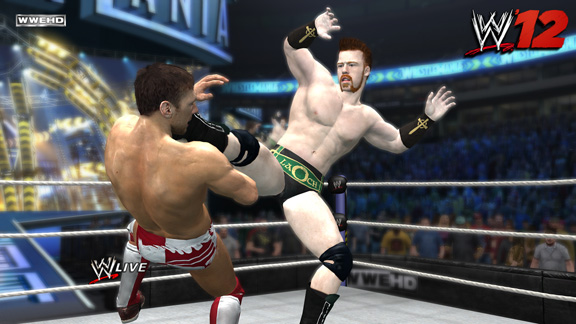 THQLook for Sheamus to kick Daniel Bryan in the grill this Sunday at Wrestlemania.
I asked THQ to simulate the upcoming Sheamus versus Daniel Bryan WrestleMania match, and after 50 "WWE 12" slugfests, Sheamus won 52 percent of the championship bouts thanks to a series of thunderous Brogue Kicks to Bryan's smug mug.
"Only 52 percent, fella?" Sheamus says after I tell him the results. "I think there must be something wrong with your Xbox. I think I should win 100 percent of the time."
And with Sheamus continuing to explode in popularity, both in the WWE ring and online in the latest WWE video game, the man who makes even mayonnaise seem colorful might be right.
In fact, when I asked THQ to pull the numbers for the past few months, gamers have used the Sheamus character across 303,654 online matches, making him one of the most popular superstars in the virtual ring.
"That's crazy," Sheamus says with a laugh. "The fact that I'm even in a video game blows me away, but 'WWE 12' is even more special to me because they have a whole storyline around Sheamus in the game. It's really, really cool. Being in a video game was one of my dreams; I just hope I can win some of those matches for people online. Just remember to use the Brogue Kick, and you should be fine."
Jon Robinson: So many characters seem to come and go in WWE. What do you attribute to your success and your sustainability as a performer so far?
Sheamus: Don't get me wrong, I've been lucky and I've been given some amazing opportunities, but this is something I've always wanted to do. I feel like a broken record sometimes, saying that this is all I ever wanted to do, but it's true. To be honest, though, the best thing that could've happened to me is when I was moved down on the card. When something like that happens to you, it reasserts your hunger and makes you realize that you can never take anything for granted. You can never be happy, you can never be satisfied with what you have. You always need to have that want to achieve more, and I definitely want that success.
Besides, having that pasty Irish tan has really helped me out. I stand out from the crowd. When I was a kid, I always had the red hair, the white skin and freckles. Back then, I wanted to look like everybody else, but now I realize that being different is definitely a major help.
Jon Robinson: I think you have the ability to become a great heel again with an all-new look. You can always disappear for a few months, go hang out with the cast of "Jersey Shore," and show up out of nowhere one night on SmackDown with tan skin and slicked back hair. People would freak out.
Sheamus: [laughs] It would be funny if I could show up with a tan, but honestly, I try to stay out of the sun as much as I can. I like that I can stand out from the crowd.
Jon Robinson: WrestleMania is this Sunday. As a fan, besides your match, of course, which bouts are you most looking forward to watching?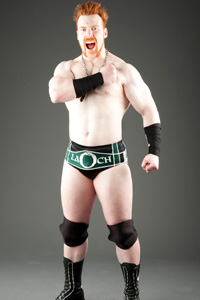 WWESheamus stays out of the sun.
Sheamus: As a fan all my life, I can't wait to watch them all. I was a big fan of The Rock back home in Ireland, and he's just such a tremendous icon and a tremendous superstar that I can't wait to see what happens when he gets in the ring with John Cena. The Rock will always be remembered as a WWE legend, and John Cena has literally been pulling the WWE wagon for the last eight to 10 years. These are two superstars going head-to-head in a once-in-a-lifetime match, and I can guarantee you that every superstar in the back is going to be watching along with all of the fans at home. We can't wait to see what happens.
Then you have Triple H going up against the Undertaker in Hell in a Cell, with Shawn Michaels as the special guest referee. Hell in a Cell is a match Undertaker started, but Triple H has become a master in, and then when you add Shawn Michaels, the guy Undertaker retired, you have quite an exciting story. I thought the match Triple H had against the Undertaker last year was the best match I've ever seen in my life, and I think this one has the potential to be even better.
Add to that Chris Jericho versus CM Punk and Randy Orton versus Kane, and the show is stacked with some epic matches. I can't wait, and I'm so excited to be a part of WrestleMania 28 because it's going to be the best WrestleMania ever.
Jon Robinson: There are a lot of rumors going around about wrestlers being jealous of The Rock and hating on him for taking up the main event spot when he's not a full-time performer, and how he's not even talking to the other wrestlers backstage. What are your impressions of how The Rock has been behaving behind the scenes? Has he been cool to you?
Sheamus: Rock's been nothing but cool to me. I haven't said too much to him, we're all so busy backstage doing stuff for WrestleMania. But I'll be honest with you, Rock came over to me, shook my hand and introduced himself to me from day one. When I see him on Mondays, I ask him how he's doing, and he asks the same of me. I have no problem with him at all. He's been nothing but cool to me. I have no problem with The Rock. He's as cool as ice.
Jon Robinson: Plus, he's going to bring so many more eyeballs to WrestleMania; a guy like you, who maybe the older fans don't know too much about, can really make a name for yourself when Rock brings some of the people who maybe haven't been watching lately, back to WWE.
Sheamus: Absolutely, I think it's great. There are a lot of people who stopped watching after The Rock left, for whatever reason. Maybe they have different priorities now or have different interests, but The Rock has brought a huge amount of media to WrestleMania 28. Everybody wants to see The Rock versus John Cena, and I think it's great the way it's going to bring back some of those older fans, while at the same time, it's fresh and new to the current audience that we have. This match was announced a year ago, and that's a hard thing to do, to keep interest in a match throughout an entire year, but if anything, I think the match is gaining momentum by the day.
Jon Robinson: You were originally supposed to fight Daniel Bryan at last year's WrestleMania, but then you got bumped from the card. Are you excited to finally get out there and show what you guys can do?
Sheamus: Absolutely, it's poetic justice. That was an incredible low for me last year. I went from WrestleMania 26 against Triple H, to being a two-time WWE champion and King of the Ring, to not even being on the show. That was a hard pill to swallow. But in a way, when I look back, that was great because when I walked out of that building last year, I was more determined than ever to start fresh the next day and come back in the top spot. Things happen for a reason, and maybe at the time, that's not the reason you want to hear, but you need to use it as motivation. If people are unhappy about The Rock stepping in, they need step up their game and use it as motivation to get back next year. If you show what you can do during the course of the year, you can grab one of the top spots at next year's WrestleMania.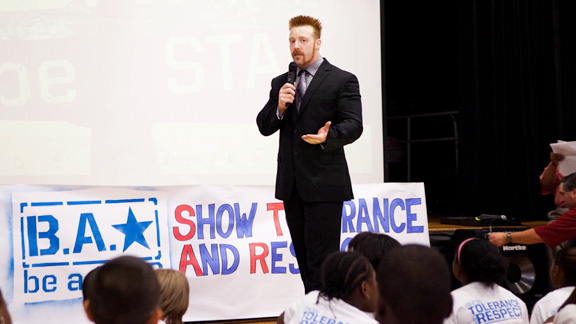 WWESheamus speaks out against bullying in WWE's Be a Star campaign.
Jon Robinson: You've been one of the main wrestlers involved in WWE's Be a Star campaign against bullying. Were you bullied as a kid?
Sheamus: Yeah, it's true. I was a chubby kid with red hair and freckles. I was an introvert, and I was an easy target for those bullies. It's tough being a kid, so when I heard about the Be a Star campaign, I wanted to be a part of it. This campaign is very important to me and to the other WWE superstars, and it has truly become a global phenomenon. It's funny, because when I tell people I was bullied, they all shake their head. They're looking at me now and can't believe Sheamus was bullied, but I took a bad dose of the old bullying. One thing about it, though, it made me stronger and gave me thicker skin. And for all those nonbelievers, it gave me courage to follow my dream. We're doing everything we can to put an end to bullying. A lot of bullies don't understand the damage they're doing to these kids because they've never been in their shoes. They're popular, they're trying to be cool, and they're not realizing what they're doing to the kids they are picking on. A lot of kids are starting to realize this now, and the positive response we're getting from the schools and the parents and the kids has been great. I'm really proud to be a part of it.
Jon Robinson: You talk to the kids, then they see you at WrestleMania, and it shows them that things aren't always going to be this bad. Your dreams can come true.
Sheamus: If a fat, chubby kid from Dublin, Ireland can become a WWE superstar, it just shows that if you put 100 percent into everything you want, you can achieve the kind of success that people never thought you could. Especially in this country. America is the land of opportunity, and while that sounds cliché, it's true. This country has given me a tremendous opportunity, and when I'm out at WrestleMania in Miami in front of 80,000 people, you're seeing a success story, you're seeing my dreams come true, and it's something I hope kids will see and realize that if you work hard enough, you can achieve your dreams too.
ESPN ARCADE
The sequel to our most popular game is here. How's your return?

Run timed routes, beat DB's to the end zone and score.

Hit your receivers, dodge defenders and rack up TDs.