April, 13, 2012
04/13/12
6:46
PM ET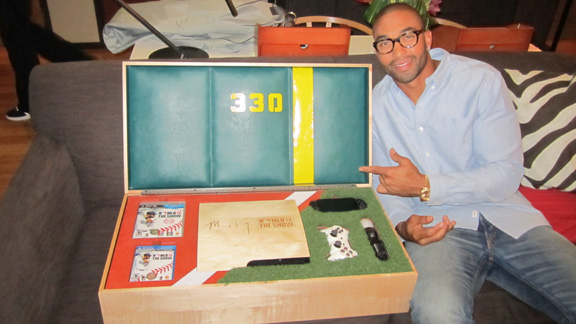 SonyMatt Kemp boasts one of the sweetest customized video game setups I've ever seen.
Matt Kemp sees himself in Sony's "MLB 12: The Show" and all he can do is grin.
"They have my batting stance down perfect. They have my swing. It's me in that game," Kemp tells me with a laugh. "And he's a pretty good looking dude ... at least I would say so."
And when Sony found out that Kemp and his Los Angeles crew of gamers have been playing "The Show" since the game hit last month, the company presented Kemp with his very own, customized PlayStation 3 that looks like it was made out of the slugger's wood bat, complete with baseball-themed controller, a new Vita, and a sweet PlayStation case that even features its own foul line.
"This thing is so pretty, I don't even want to take it out of the box," Kemp says, still in awe by the lavish gift. "It's wood grain with my signature on it. It's one of the coolest systems I've ever seen. This thing even has grass and fake dirt surrounding it. It's unbelievable."
Jon Robinson: Are you a big video game player?
Matt Kemp: I used to be bigger into playing, but I still play a little bit. It's tough during the season to find as much time as I want to play video games, and when I do get some free time, I like to sleep. But there are a lot of Dodgers who are into that new Vita system. They're playing "MLB 12: The Show" all the time. They're always playing against each other.
First time I went on "The Show," I couldn't believe how accurate they have everything. From the stadiums to all of the batting stances, it feels like you're actually watching a game.
Jon Robinson: Did you play a lot of the baseball video games as a kid?
Matt Kemp: I did, but my mom and my grandma used to make me go outside and play a lot. So I'd have to go over to my friend's house to play video games. If I was at my house, my parents and my grandparents made me go out and play, and I'm glad they did that because it helped make me who I am today, playing big league baseball, so I'm good for that.
But I remember how much I loved the Sega Genesis and "Sonic The Hedgehog" and Nintendo with "Super Mario Bros." Those were my games. My favorite game that I used to love was "NBA Jam." That was the Sega Genesis game I couldn't get enough of. With all the players jumping so high and doing flips and dunking, that was my game. "NBA Jam" was so dope. He's on fire! [Laughs.]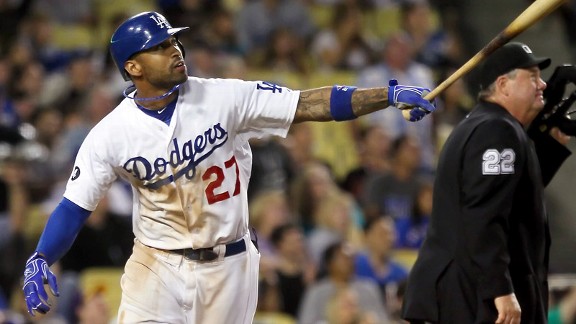 Harry How/Getty ImagesKemp loved "NBA Jam" so much, I wonder if he shouts "Boom-Shackalacka!" when he goes deep.
Jon Robinson: Speaking of "NBA Jam," Magic Johnson is now one of the owners of your Dodgers. How cool is that having someone you used to watch, and even played as in various video games, now owning your team?
Matt Kemp: I can't believe it. He's someone who is so well-known in L.A., everybody loves him out here, so for him to be part-owner of our team is unbelievable. To have him around the clubhouse makes it exciting.
Jon Robinson: Do you have a favorite Magic Johnson moment from when he was playing?
Matt Kemp: He was such an unbelievable player, he could do it all out there. I remember how he was this 6-9 point guard who could go out and do so many exciting things. He was an original. Magic's the man.
Jon Robinson: I'm actually from San Francisco, so I don't know if I should even be talking to you right now because of the rivalry.
Matt Kemp: It's all good, man. It's all love. We're going to beat ya'll this year, though. [Laughs.]
Jon Robinson: When it comes to Giants/Dodgers, is it still a big rivalry to the players?
Matt Kemp: Oh, definitely. It's always exciting to go to San Fran or for them to come to us and play. The fans love it. It's been a rivalry for years, so it's always exciting to play.
Jon Robinson: So if I pop in "MLB 12: The Show" right now and play as the Dodgers, what advice do you have for me to hit as you in the game?
Matt Kemp: Wait for the ball to get deep and drive the ball to right center. It's hard to hit on that game, but it's fun.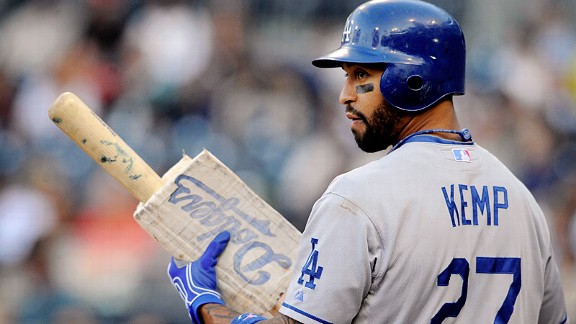 Christopher Hanewinckel/US PresswireWhen Matt Kemp isn't at the stadium (or sleeping), he's probably playing "MLB 12: The Show."
Jon Robinson: Is there a pitcher who you can't wait to hit against in "The Show" because he owns you in real life?
Matt Kemp: I'm not even going to tell you who gives me trouble pitching, because as soon as you write it down and they read it that will give them the edge next time I play against them. That's going to be my little secret.
Jon Robinson: How about the secret to the Dodgers' success this season. What's the key for you guys to win the West?
Matt Kemp: I think the key is scoring runs. We need to score runs for our pitching. We didn't really do a good job of that last year, so this year we definitely need to get some more run support for our starting pitchers and our bullpen and just go out there and ball-out, baby.
Jon Robinson: How about you? You had such a sensational season last year, do you feel pressure to try to top it? Do you set goals for yourself before the season?
Matt Kemp: I definitely set goals for myself. I just want to be a complete player and help my team win in any way I can. For me, that's being a leader on this team and drive in runs and do whatever it takes for my team to win.
Jon Robinson: What does it mean to you to be the face of the Dodgers, one of the most storied teams in the league?
Matt Kemp: Everything happened so fast. I just remember being a kid back in Oklahoma playing tee ball and thinking about being a professional baseball player but never knowing if that dream was going to come true. For my dream to actually come true is just such a blessing.
Jon Robinson: Did you have a favorite player as a kid?
Matt Kemp: My favorite player was Frank Thomas. I was a bigger kid growing up, and they used to call me "The Little Big Hurt." I had to represent for him. He even had his own video game back then, "Big Hurt Baseball." I remember how cool I used to think that game was and how I could play the game as him. Now to think kids are playing "MLB 12: The Show," and they're playing as me, like I said, it's just a dream come true.
ESPN ARCADE
The sequel to our most popular game is here. How's your return?

Run timed routes, beat DB's to the end zone and score.

Hit your receivers, dodge defenders and rack up TDs.