NY Giants 27, New England 24
Manning leads Giants to Super Bowl glory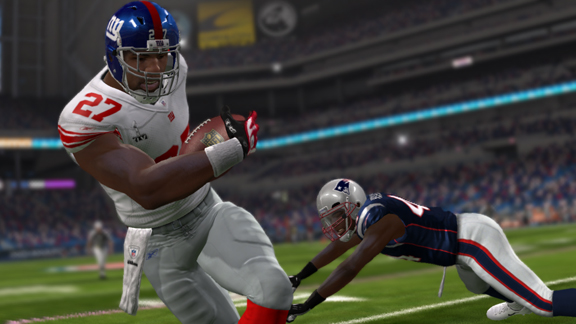 EA Sports
Manning
The New York Giants captured their fourth Vince Lombardi Trophy, defeating the New England Patriots 27-24 in Super Bowl XLVI, according to the annual EA Sports "Madden NFL" Super Bowl simulation powered by Xbox 360.
Kicker Lawrence Tynes kicked a game-winning 40-yard field goal as time expired to lift the Giants past the AFC champion Patriots, bringing home the Giants' second Super Bowl championship in four years.
The exciting ending was reminiscent of what took place in the title game four seasons ago when the Giants stunned the Patriots 17-14 after a heroic game-winning touchdown late in the fourth quarter of Super Bowl XLII.
Giants Quarterback Eli Manning was named Super Bowl XLVI MVP, completing 25 of 39 passes with two touchdowns and an interception. New England's Tom Brady also had a big day, throwing for 327 yards and three touchdowns with an interception.
Most of Brady's best moments came late in the game.
Trailing 24-10 with less than 10 minutes remaining in the fourth quarter, Brady led New England on a furious rally, scoring two touchdowns to tie the game at 24, the second score coming on a 14-yard pass to wide receiver Wes Welker with 1:50 left on the clock.
Unfortunately for New England, there was still plenty of time left for Manning and the Giants' offense.
Mixing short passes to wide receivers Victor Cruz and Hakeem Nicks with key runs by running back Ahmad Bradshaw, Manning drove New York down the field and into New England territory, setting up Tynes' second game-winning conversion in their two games.