[Continued | 2 of 3]
2. Road to the Show 4.0
One of the most appealing hooks of the "MLB" series has been its stand-alone "Road to the Show" mode, in which gamers create their own players and try to not only earn their spot on the roster, but become the next Tim Lincecum or Derek Jeter. And while the mode has been groundbreaking, it still felt somewhat limited in terms of the things you could do. For instance, in "MLB 09," you could train your hitting and base-running skills, but not your pitching or fielding. "We always had it in mind to hit all four areas of training," explains senior designer Eddy Cramm. "But last year we decided to concentrate on just the two and doing them right. So this year, we're finally able to incorporate the rest.
"With pitching training, we actually have two ways to train. Your Road to the Show player basically has two different attribute areas you can affect. You have his individual pitcher attributes, which are his Ks per nine, his stamina and things like that. Then there are his attributes that are based more on his individual pitches. So we actually have two different training methods that focus on the two different areas.
'MLB 10: The Show'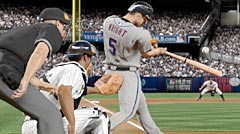 Get an exclusive look at the first screenshots from Sony's upcoming "MLB 10: The Show." First look gallery »
"The sim game training lets you go in and pitch three innings of a simulated game. Here, you're presented with base running and situations like guys stealing and having to field your position … everything you'd need to do if you were really pitching on the mound, and you're judged by how well you actually work your way through the game. Do you get a ground ball in a situation where your team needs a ground ball? Do you keep your pitches to a minimum in order to help your stamina? All of this factors into your pitcher's individual attributes. Then the other training is called 'Knockout Training,' and it's almost like a mini-game where you need to hit all of the different spots of the strike zone as quickly and as efficiently as you can using your different pitches. And depending on which pitch you use in a certain area, you will affect the accuracy, the break of the pitch and the speed of that pitch through this mode. Both of these modes will also be available in practice.
"In addition, we have fielding training, and this is one that I think is actually a little more interesting because we always had a little bit of trouble trying to figure out what we would do, fielding-wise, because basically the game and the animations field the ball for you. It's not like you need to move your glove in a certain spot. So we focused more on the different areas of fielding that are just as important as catching the ball, and those are your reactions, what route you take under a fly ball and the decisions you make with the ball once you have it. Do you throw to the right base? Do you hit the cutoff man?"
But that's not the only improvement to Road to the Show. This year, instead of starting out in spring training, your character actually starts his career in Double-A. Getting that coveted invite to spring training is something you need to earn. "This will also help gamers who are playing for the first time," explains producer Aaron Luke. "Now you don't have to face major league pitching right away when you start the game. Going against Double-A players and working your way up will give you a much better feel for the game."
Other additions include an option called "Game Watch" that finally enables you to watch every single pitch in the game if you want, both offensive and defensive, and not just the plays your virtual athlete is involved in. There is also an option called "All Fielding" that enables you to skip out on your teammates' at-bats, but lets you watch all the pitches from your fielding position. That way the game feels more realistic, as you never know when a ball is going to head your direction. You can even trim all these options down to just the last pitch of each at-bat so you don't have to watch the computer take pitches out of the strike zone. Turn these options off and the game defaults right back to the mode of previous years, in which you only see the plays your player is actively involved in. "On the back end of that there is something called 'Game Completion,'" Luke explains. "If you're a starting pitcher, you now have the choice to see how the rest of the game plays out once you're removed."
Throw in the Home Run Derby (in all season modes as well as standalone), the Futures Game, pregame batting practice in the cage, a green-light system in which players must now earn the right to steal bases at will, and a new stat tracking system that keeps stats for every pitcher or batter faced throughout your career, not to mention mistake tracking that penalizes you for not playing right (a pitcher not covering first on a bunt) while at the same time attempting to make you a good teammate and not just pile up stats, and Road to the Show looks to have beefed up so much that if I could ask the disc to pee in a cup, I'd check it for PEDs.
3. Not so fast
Ever since I used to play as the Cardinals in "RBI Baseball," I've been driving my friends crazy with the rate at which I steal bases in video games. My days are numbered now that "MLB 10" is introducing a new way for pitchers to pick off baserunners.
"Last year, it was really confusing to people if you were playing from the pitcher's view on how you were supposed to pick off runners," Cramm says. "To the eye, the buttons were the opposite of how they should have been, because [the] circle was always first base no matter what view you were in. So this year we made a really important change to where pickoffs are now performed using the shift. Hold it down and all the buttons will map according to the view you are in. That avoids a point of concern and confusion that to me was more like a bug last year.
"The next thing we added is the ability to choose different kinds of pickoffs. There are three different pickoff types: casual, where a guy steps off and throws over to the base. You have a quick move and you have a deceptive move. We also have the third-to-first move now, where a right-hander fakes the throw to third then looks back to first. The new button configuration allows us to add all of this. And what's great is these moves only work in the right situations. Like, you can't do a deceptive move if you're a right-hander and there's only a runner on first; those are only for lefties. But if you're a right-hander with runners on first and third, you can do a deceptive, and that's your fake throw to third, throw to first."
As for the button controls: tap for casual, double tap for the quick move, press and hold for deceptive. "For deceptive, the entire situation is going to look like a pitch," Cramm says. "The pitch meter is going to go and everything is going to stay in that camera until you make your move to the base. And the A.I. is going to do this to you, too. So as a base runner, now, you can't just take off on the first move. And this really makes things fun, especially in two-player games, because this adds a new level of cat and mouse as the pitcher tries to change his looks so that the runners aren't just taking off at will."
« Previous | 1 | 2 | 3 | More »