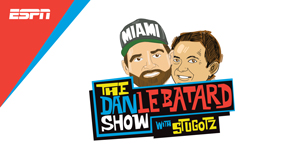 Hosts: Dan Le Batard and Stugotz
Weekdays 10:00 AM - 1:00 PM
Twitter: @LeBatardShow

@Stugotz790

Dan Le Batard and Stugotz bring their unique blend of self-deprecating humor, insightful guests and thoughtful conversation to a national audience from Miami Beach's Clevelander Hotel. Rotating guest co-hosts, including Miami Herald writer Greg Cote, provide listeners with a different experience each day.
PODCASTS
ESPNs daily afternoon show, featuring a "questionable" approach to sports commentary from a variety of ESPN personalities from across the country.

Stugotz and Mike Golic Jr. kick off ESPN Radio's football coverage on Sunday mornings.