QB Stock Game
Updated:
November 6, 2014, 5:06 PM ET
SVP and Russillo on ESPN Radio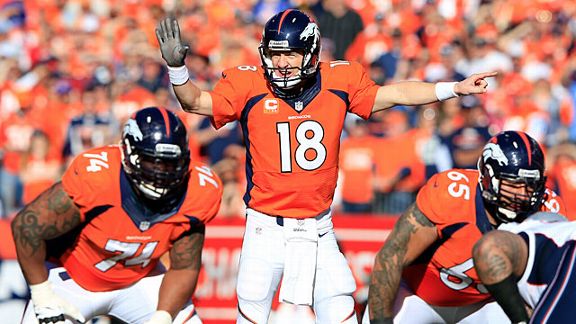 Jamie Squire/Getty ImagesHow much Peyton Manning stock will you buy?
Each QB has been assigned a price based upon their record and QBR (it's QBR divided by 10 plus win differential divided by four). You get $1,000 to spend and must select one QB from every tier. QB prices will be adjusted after the first four weeks of the season. Please note that any QB who isn't listed below is a $3 IPO.
Week 10 - Listen

| Tier No. 1 | Price |
| --- | --- |
| Peyton Manning | 9.69 |
| Tom Brady | 8.83 |
| Tony Romo | 8.78 |
| Aaron Rodgers | 8.66 |
| Philip Rivers | 8.56 |
| Carson Palmer | 8.26 |
| Ben Roethlisberger | 8.18 |
| Andrew Luck | 8.04 |
| Tier No. 2 | Price |
| --- | --- |
| Drew Brees | 7.44 |
| Nick Foles | 7.22 |
| Matthew Stafford | 7.05 |
| Eli Manning | 6.78 |
| Joe Flacco | 6.73 |
| Russell Wilson | 6.59 |
| Ryan Tannehill | 6.55 |
| Andy Dalton | 6.48 |
| Alex Smith | 6.24 |
| Ryan Mallett | 6.00 |
| Tier No. 3 | Price |
| --- | --- |
| Brian Hoyer | 5.87 |
| Jay Cutler | 5.76 |
| Jake Locker | 5.57 |
| Mark Sanchez | 5.34 |
| Colin Kaepernick | 5.27 |
| Kyle Orton | 5.11 |
| Matt Ryan | 4.85 |
| Mike Glennon | 4.84 |
| Teddy Bridgewater | 4.66 |
| Charlie Whitehurst | 4.61 |
| Austin Davis | 4.54 |
| Cam Newton | 4.52 |
| Robert Griffin III | 4.41 |
| Ryan Fitzpatrick | 4.28 |
| Tier No. 4 | Price |
| --- | --- |
| Kirk Cousins | 3.93 |
| Derek Carr | 2.60 |
| Blake Bortles | 2.49 |
| Zach Mettenberger | 1.73 |
| Geno Smith | 1.01 |
Week 5 - Listen

| Tier No. 1 | Price |
| --- | --- |
| Derek Anderson | 9.18 |
| Peyton Manning | 8.82 |
| Philip Rivers | 8.75 |
| Tony Romo | 8.58 |
| Carson Palmer | 8.24 |
| Aaron Rodgers | 8.21 |
| Matthew Stafford | 8.20 |
| Joe Flacco | 8.12 |
| Andrew Luck | 8.07 |
| Eli Manning | 8.00 |
| Tier No. 2 | Price |
| --- | --- |
| Matt Ryan | 7.99 |
| Drew Stanton | 7.85 |
| Teddy Bridgewater | 7.63 |
| Mike Glennon | 7.45 |
| Brian Hoyer | 6.96 |
| Drew Brees | 6.94 |
| Nick Foles | 6.73 |
| Austin Davis | 6.67 |
| Jay Cutler | 6.60 |
| Andy Dalton | 6.41 |
| Ben Roethlisberger | 6.34 |
| Kirk Cousins | 6.21 |
| Ryan Fitzpatrick | 6.04 |
| Tier No. 3 | Price |
| --- | --- |
| Charlie Whitehurst | 5.89 |
| Colin Kaepernick | 5.82 |
| Cam Newton | 5.76 |
| Blake Bortles | 5.68 |
| Russell Wilson | 5.67 |
| Alex Smith | 4.90 |
| Tom Brady | 4.65 |
| Ryan Tannehill | 4.23 |
| Tier No. 4 | Price |
| --- | --- |
| Josh McCown | 3.96 |
| Derek Carr | 3.79 |
| Jake Locker | 3.72 |
| Robert Griffin III | 3.61 |
| Matt Cassel | 2.64 |
| Geno Smith | 2.26 |
| EJ Manuel | 1.98 |
| Chad Henne | 0.86 |
Week 1
| Tier No. 1 | Price |
| --- | --- |
| Peyton Manning | 10.79 |
| Colin Kaepernick | 8.86 |
| Josh McCown | 8.76 |
| Nick Foles | 8.65 |
| Drew Brees | 8.55 |
| Russell Wilson | 8.39 |
| Tom Brady | 8.11 |
| Tier No. 2 | Price |
| --- | --- |
| Andrew Luck | 7.70 |
| Philip Rivers | 7.67 |
| Cam Newton | 7.62 |
| Aaron Rodgers | 7.62 |
| Andy Dalton | 7.08 |
| Alex Smith | 6.69 |
| Jay Cutler | 6.39 |
| Carson Palmer | 6.19 |
| Jake Locker | 6.06 |
| Tier No. 3 | Price |
| --- | --- |
| Tony Romo | 5.95 |
| Brian Hoyer | 5.50 |
| Ben Roethlisberger | 5.43 |
| Matt Cassel | 4.87 |
| Ryan Fitzpatrick | 4.83 |
| Matthew Stafford | 4.75 |
| Joe Flacco | 4.67 |
| Ryan Tannehill | 4.58 |
| Matt Ryan | 4.11 |
| Tier No. 4 | Price |
| --- | --- |
| EJ Manuel | 3.73 |
| Geno Smith | 3.59 |
| Eli Manning | 3.15 |
| Matt Schaub | 2.73 |
| Robert Griffin III | 2.26 |
| Chad Henne | 1.94 |
Scott and Ryen's Week 1 picks
| Tier | Scott | Ryen |
| --- | --- | --- |
| No. 1 | Tom Brady (25 shares at $8.11) | Drew Brees (20 shares at $8.55) |
| No. 2 | Aaron Rodgers (25 shares at $7.62) | Aaron Rodgers (50 shares at $7.62) |
| No. 3 | Matthew Stafford (105 shares at $4.75) | Matthew Stafford (40 shares at $4.75) |
| No. 4 | Robert Griffin III (70 shares at $2.26) | Robert Griffin III (169 shares at $2.26) |