Fantasy Focus Glossary
Updated:
May 7, 2015, 1:12 PM ET
PodCenter
Unless you've listened to literally every episode of the Fantasy Focus podcast, baseball and football, there's a good chance that somewhere along the line you've wondered what a certain term means. This is our first effort to catalogue all of the commonly-used terms. With significant help from listener "K.C. from Cincinnati," hosts Matthew Berry and Nate Ravitz and producer Daniel Dopp have compiled the glossary you see below. If we've left something out that you think is imperative, please send an email to fantasyfocus@espnradio.com -- that's fantasyfocus@espnradio.com -- and we will do our best to update.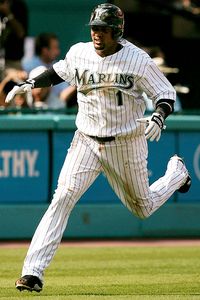 Doug Benc/Getty ImagesEmilio Bonifacio is a part of podcast history.
Bona fide or Bonifacio? -- A debated centered around whether a fast-rising player is a legitimate star or simply a journeyman on a hot streak. Named after Emilio Bonifacio, who became one of the hottest fantasy baseball pick-ups after a red-hot start to the 2009 season only to fade into obscurity.
Brrrr! -- Nonsense catch phrase that began as part of the mailbag production and soon found its way into regular use and listener emails.
Closer Carousel -- A discussion about pitchers moving in or out of closer roles.
Chuck -- A rumored alter ego for Jay, he helped answer emails in the 2008 football season as part of a Charles Schwab sponsorship deal. The voice of Chuck continues to approve board wagers.
Combo Meal -- A game in which a baseball player has a home run and a stolen base.
Comedy Goalie -- A term used to describe Nate when he insists on editing out Matthew's attempts at humor that cross the line.
Company Man -- Phrase used by Matthew and Nate (and sometimes listeners) anytime they promote ESPN or any Disney product. The phrase is followed by a SportsCenter music sound effect.
Dirty Fuentes -- A save in which the reliever of record allowed multiple baserunners and/or earned runs.
Double Thumbs -- Matthew and Nate's frequently-used method of self-acknowledgement. Performed when one points his own thumbs at himself and says "two thumbs pointing at this guy," despite the fact that no one can see them on an audio-only podcast.
Email So Nice, You've Gotta Say It Twice -- A reference to the fantasyfocus@espnradio.com email address, which is almost always said twice in deference to the fact that listeners often complain they don't know how to send questions in to the podcast.
Factually Correct -- A phrase adopted by Matthew after he received numerous complaints about overusing "very true." Ironically, "factually correct" is now used far more often than "very true" ever was.
Fantasy Goat -- A player who is guilty of either greatly underperforming, or, more likely, is the lone person on a team to not perform in a big game. (e.g. if the Phillies have 18 hits and score 12 runs but Ryan Howard is 0-for-5, he's a Fantasy Goat.)
Fantasy G.O.A.T.S -- The name of the podcast softball team that challenged, but lost to, the Jonas Brothers, under shady circumstances. (Editor's note: Let it go, guys.) In this case, G.O.A.T stands for "greatest of all time."
Fantasy Kryptonite -- A term coined by Bill Simmons, Matthew Berry uses it to describe a player one drafts every year, despite the fact that player disappoints year after year.
Fantasy Whack-A-Mole -- A player that is good, but inconsistent.
Fantasy Werewolf -- The one week you play against a player who has done nothing all season, he goes off an has a career game.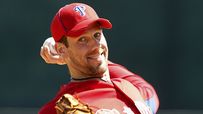 AP Photo/Gene J. PuskarGreatest fantasy zombie ever?
Fantasy Zombie -- A once-great fantasy player who returns to relevance after a prolonged period of being completely worthless. For instance: Cliff Lee in 2008.
Friend of the Podcast -- Title given to athletes, celebrities and sometimes ordinary people who have appeared on the podcast. Originally used to differentiate guests who chose the Fantasy Focus podcast over Football Today, but that's no longer a prerequisite.
F.W. Dale's -- Fictional bar and grill owned by substitute podcast producer Frank W. Dale.
Halifax -- The capital of Canadian province Nova Scotia. In the early days of the Fantasy Focus podcast, an inordinate number of emails originated from Halifax, prompting Matthew to declare that he and Nate cannot walk the streets of Halifax without being mobbed by adoring fans.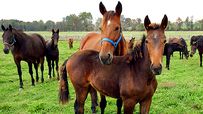 AP Photo/Carolyn KasterHorses.
High Horse -- An elevated place from which one looks down on others. Any time Matthew feels that Nate is being condescending, he declares that Nate is "up on his high horse."
Hutch Head -- A fan of International Recording Superstar Eric Hutchinson.
Man's League -- A very deep league. For example, a 13-team NL-only fantasy baseball league or a 16-team fantasy football league with an auction draft.
Matt Restivo -- ESPN.com programmer who was the long-time keeper of the board until he was relieved of his duties in 2011. A member of the ESPN.com softball team from which Matthew is excluded.
Matty Sweet -- The "Jersey Shore"-themed nickname given to Matthew.
Megan Fox vs. Anne Hathaway -- In a 2008 column (and subsequently repeated on the podcast), Matthew controversially declared that Hathaway was the more attractive of the two Hollywood starlets. He has since recanted this position.
Nate the Hate -- A nickname for Nate that refers to his propensity for skepticism, particularly about unheralded players suddenly performing.
Negative Nate -- Another nickname for Nate referring to his negativity.
Neil Revitson -- An alias for Nate which came from a local newspaper incorrectly printing his name in high school tennis box scores.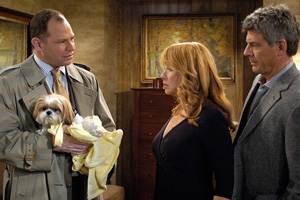 Steve Fenn/ABCPhotographic evidence of Matthew Berry's soap appearance.
Neil the Jewelry Appraiser -- The character portrayed by Matthew in his soap opera debut on the Nov. 3, 2008 episode of "One Life To Live."
Phone-In Friday -- Special edition of the podcast that occurs when Matthew is not present in the studio, but rather by phone. Can also refer to episodes in which both hosts are present but both could be said to be "phoning it in."
Put it on the Board -- The phrase that both Matthew and Nate must yell in order for a bet to count on the season-long wager board.
Ronan from Ireland -- The most famous Fantasy Focus podcast listener, who once guest hosted the podcast in Matthew's absence. Some have claimed this to be the actual benchmark for worst podcast ever.
Starphania Bell -- Affectionate nickname given to Stephania Bell by Matthew and Nate after she became the darling of many other ESPN and non-ESPN media outlets.
Steffy Bad News -- The "Jersey Shore"-themed nickname given to Stephania Bell. Later adapted to Stephon Baadknews for her appearance in EA Sports' Madden NFL 2011 video game.
The 06010 -- The zip code for Bristol, Conn., where the podcasts are recorded and produced. Also a "Beverly Hills 90210"-inspired nickname for the podcasts.
The Board -- A complete listing of the wagers made between Matthew and Nate during the course of a baseball or football season.
The Buzzsaw -- Nickname given to Los Angeles Dodgers pitcher Chad Billingsley by Nate for his ability to cut through opposing hitters.
The Curse of Stephania Bell -- Mysterious phenomenon where players who are touted by Stephania Bell and/or end up on her own fantasy teams are struck down by injury. Dun dun dun!
The Greatest Fantasy Analyst Alive -- A sound drop generated from the Dave Bush vs. Barry Zito wager, a.k.a. "The War by the Shore" where Matthew -- accompanied by angels singing -- declares that "Nate Ravitz is the greatest fantasy analyst alive."
The Jimmy Rollins Rule -- This edict states that the podcast hosts must discuss any injury, no matter how slight, that strikes a top-shelf player. Originates from a time early in the 2010 season when Philadelphia Phillies shortstop Jimmy Rollins suffered a calf injury in a game and wasn't expected to miss even a single game. Because of that, Nate was angered by the mere suggestion it be discussed. Rollins subsequently went on the disabled list and sidelined for most of the next two months.
The Kraken -- Nickname for Atlanta Braves outfielder Jason Heyward. In a sound drop, Matthew screams "Unleash the Kraken!" followed by a thunderclap.
The Lost Podcast -- A 2007 episode recorded in Las Vegas that was never aired for reasons never made public.
The Name Game -- A method of comparing a series of players. When faced with the choice of two players, each analyst declares whom he likes best. Each segment is preceded by a drop, usually composed by a listener.
The Say Nay Kid -- Another nickname for Nate, referring to his tendency to adopt the negative side of an argument.
AP Photo/John BazemoreYes, we gave Xavier Nady a nickname.
"The" Stephania Bell -- Name for an actual bell kept in the studio that a listener gave to the podcast.
The Talented Mr. Roto (TMR) -- Nickname for Matthew that began with his weekly fantasy columns in his pre-ESPN career.
The Un-Tier -- Nickname for outfielder Xavier Nady, created by ESPN producer Ed Eck in 2008, based on Nady's knack for breaking tie scores in late-game at-bats.
The War by the Shore -- A season-long controversy and debate about whether or not the Dave Bush/Barry Zito wager of May 12, 2008 was an official board wager or self-contained exception. The name, created by Nate, was entirely nonsensical, as nothing about the debate involved a shore.
Weasel -- A person lacking conviction who backs away from challenges or agreements. Can be applied to many people, but Jesse "The Body" Ventura famously declared Nate to be one.
Witty Repartee -- An arguably redundant phrase often used to describe the non-fantasy conversation on the podcast.