Russillo on the Road: Eugene
Updated:
October 7, 2010, 1:42 PM ET
By Ryen Russillo
The Scott Van Pelt Show on ESPN Radio
Russillo on the Road: Eugene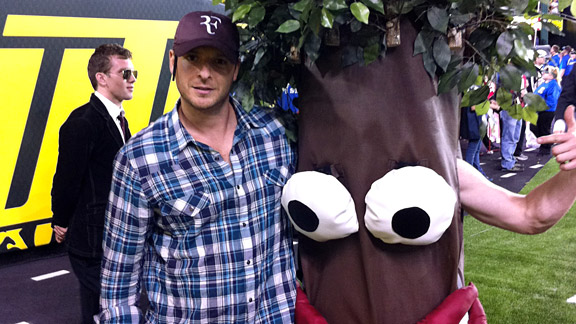 Ryen bonds with the Stanford Tree.
As part of his responsibilities for College GameDay on ESPN Radio, our own Ryen Russillo will be spending a lot of time on the road again this fall. Ryen documents his trip to Eugene in the second edition of the second season of "Russillo on the Road."
Foreword
It's my second trip to Eugene, Oregon in the last 12 months. On Halloween night in 2009, Oregon ran all over USC and later won the Pac-10. That trip was one part anticipation, one part infatuation and a dash of humiliation. This year is different: I'm a little older, and like a returning sophomore who grew a soul patch over the summer, I'm ready for what lies ahead.
Thursday, 9/30 - 3:45 a.m. ET
I'm tired. For some reason, I can't fall asleep the night before these early flights. I'm looking at three different planes today and about 11 hours of travel ahead. Knowing that the same schedule is waiting for me on Sunday is taking away from some of the joy of the next four days. That probably sounds kind of stupid considering I'm going to see my favorite team play football but it's kind of like a trip to Vegas with your buddies. I'm going to have a great time, but at some point on Sunday I'm going to feel terrible, tired and ashamed. Later in the day, I'll contemplate internet dating, buying Rosetta Stone to learn Italian and signing up to volunteer with a youth program. Then on Tuesday I'll realize that internet dating isn't for dudes on TV, Rosetta Stone costs like $250 and I would be the worst mentor ever.
Around 1:00 p.m. PT
Flying into Eugene was a good move. Staying in Corvallis is not. Luckily, I changed my hotel situation to Eugene for the last two nights. I ask the rental car guy for the "fastest car you got." He doesn't laugh. I'm turning into my father, messing with counter people for my own amusement.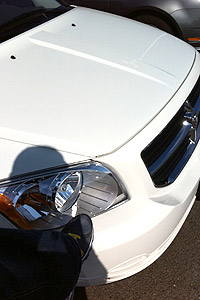 Ryen Russillo/ESPN RadioJust me looking sweet in front of my ride.
1:10 p.m.
Sweet, a Dodge Avenger.
1:40 p.m.
Stanford Steve (this is a big week for the kid) and I are on campus eating at Rennie's and planning the night. Thursday used to be the big night for us, but this trip will be all business until Saturday evening. Oregon reminds me of UVM a lot, except for the top-five football team.
3:15 p.m.
Now in Corvallis, which is actually the home of Oregon State. The town is a little slow, and the surrounding areas are beautiful and depressing at the same time. It's probably how a parent would feel about a really ugly child.
6:30 p.m.
Get a nap in, shower and head out for dinner. I've been told I'm a fussy eater. I guess it's true. I don't like meals that suck.
7:00 p.m.
We settle on Mexican. It's not bad and we decide to eat a taco for every Jerrod Johnson turnover for Texas A&M.
7:42 p.m.
OK, no more tacos. A&M blows the game, Oklahoma State is undefeated and I'm not sure they are any good.
8:22 p.m.
Since we are only a couple of blocks from campus, we decide to check out Reser Stadium, home of the Beavers.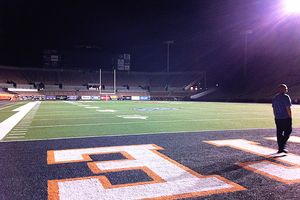 Ryen Russillo/ESPN RadioStanford Steve, always open in the end zone.
8:32 p.m.
It's actually pretty nice (lots of upgrades) and we are now on the field. No one stops us, which is shocking. We just walk in and check it out. Coming from the Northeast, I always expect to get thrown out of everything, but the Pacific Northwest is laid back.
10:14 p.m.
Back at the hotel and I'm getting caught up on
Jersey Shore
. Question: how terrible would it be to end up on that show because you went home with Snooki? You would kind of have to do it, right? For the story? Now, you would forever be "the guy that went home with Snooki," but I could see it helping someone searching for the spotlight. You may even get to go on
First Take
.
---
Friday, 10/1 - 6:00 a.m.
It's dark out and I'm all over the place mentally. I can't tell if I'm tired or jet-lagged, but I'm on the air with Van Pelt in a few hours so we drive back to Eugene, which is about 45 minutes away.
9:00 a.m.
Our setup is great, just like
last year
(I don't want to recap all of this stuff again so click the link if you want the backstory).
9:45 a.m.
Head over to practice and the stadium has been upgraded a little with new turf, new signs and a new contract for coach Chip Kelly. I've met Kelly a few times, and I'll be completely honest: I think he's great. Sometimes I feel guilty that if I like a coach or player, I may be reluctant to criticize someone on the air. But the truth is, I'm not going to filter my opinion because I like a guy if you screw up or I think you are going to lose a game.
11:11 a.m.
Andy Staples, a great college football writer from SI.com, stops by. The developing storyline for this game is the speed of Oregon against the strength and size of Stanford. It feels like more people are going with Stanford to get the upset on the road.
1:05 p.m.
Chip stops by with an autographed poster from the dance team. My admiration of the team is well-documented, and I'm not going to bother with an inspirational speech again after last year's debacle. The poster will be as close as I get to them.
I notice that none of the dudes in the poster signed it.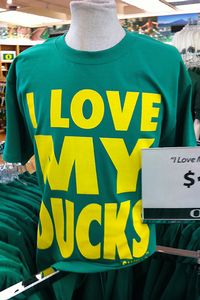 Ryen Russillo/ESPN RadioThis shirt gets more girls than "The Situation."
1:33 p.m.
We head over to the Duck Store. This season, I am trying to cut down on purchases at all of these schools. I've realized I don't need 40 different golf shirts. My BYU gear is not getting a lot of run. I do grab a "Pre" (Prefontaine) T-shirt that is so terrible, it's great. Just a picture of his face with a full mustache.
4:22 p.m.
Check into the other hotel in Eugene. So happy I don't have to drive back and forth to Corvallis all weekend. Get a nap and some food and start studying for tomorrow.
7:00 p.m.
I'm at the Stanford hotel, waiting on coach Harbaugh for an interview. Stanford Steve and his guys start telling some stories about their playing days. This is the stuff you wish you knew about at the time it happened. Apparently, when they played at Autzen, the coach at the time told them during pre-game, "We are going to defer, make 'em go three and out, get the ball and score."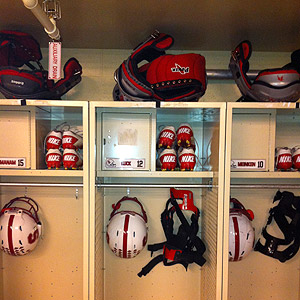 Ryen Russillo/ESPN RadioThe locker of the future No. 1 pick.
Sounds good, except one former player says, "So they get the ball, score on the first play, we fumble the kickoff and they score immediately. We were down 21-0 about two minutes in." Another guy adds, "I was on kick return 10 times."
8:10 p.m.
We are meeting with Harbaugh and he's bigger in person than you would think. I guess that always happens with QBs. When you ask him a question, he stares right at you like he's thinking about tackling you. The guy has done a great job, so good that a lot of people wonder how long he'll be at Stanford. Who is more likely to get the Raiders job: Harbaugh or Kiffin once Al Davis forgets that he already hired and fired Kiffin?
10:12 p.m.
Back at the hotel, study a little, get a workout in and then immediately eat a terrible hotel pizza. Kind of counter-productive. I'm also getting some texts from other media guys telling me to meet them out. I'm not even going to make up an excuse. I have to be up at 5 a.m. and I treat the texts like a request for free tickets: no response.
---
Saturday, 10/2 - 5:30 a.m.
Up.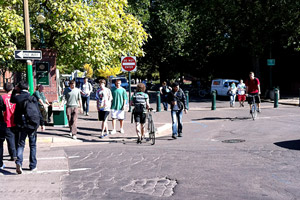 Ryen Russillo/ESPN RadioJust an old guy walking around campus and taking pictures.
7:37 a.m.
Game time. Each site presents challenges. In Eugene, they don't have room for us to park near the show site and even though the game doesn't start for about 11 hours, a lot of the access roads are already closed. I always feel that something can be worked out if you talk to the right guy. My co-host Brad Edwards mentions to security that we are ESPN Radio. I take pride in working for ESPN Radio, just not when I'm trying to get past security. I'd tell someone I was Erin Andrews if I thought it would get me special treatment. Men in vests with walkie-talkies are never impressed with "radio."
10:44 a.m.
The show is rolling along and tonight's game is really the biggest contest of the day. Florida-Alabama isn't as big of a deal because one team could lose and still be alive for the national championship and Oklahoma-Texas has lost its luster due to the beating the Longhorns took from UCLA last week. The loser of Stanford-Oregon is out of the national title picture, which means Eugene is the biggest game of the week.
1:12 p.m.
We are on-set finishing a segment and some people standing in front of the stage are trying to talk to us. I'll never understand this. We have to ignore them because people become even more engaged if we don't. When we do ignore them, they think we are jerks. What are we supposed to do? Stop a national radio show to debate the BCS with a dude dressed as a duck? I guess it would go like this:
"It's College GameDay on ESPN Radio, presented by Progressive Insurance. In a few minutes, we will be talking to Pac-10 commissioner Larry Scott, but before we do that I would like to stop the show so I can have a one-on-one conversation with a man dressed as a duck with throw-up on his shirt. He really wants to talk about Nevada's schedule, so excuse me for a moment."
2:49 p.m.
Speaking of day drinking, like a white kid with cornrows, nothing makes you stand out from the crowd more than being hammered during the day. It really is one of the easiest ways for people to lose respect for you. You kind of blend in late at night. Staggering into a 7-Eleven at 2 p.m. with your shirt ripped, one shoe and dying for cigarettes? That will get people to notice.
3:17 p.m.
The dance team stops by to say, "Hi, Ryen." Funny thing is that they actually say it to Trevor, and he seemed to enjoy it.
3:29 p.m.
We are actually hoping Erin Andrews will stop by to join us on set. I'm a little worried people will boo us after she leaves. No matter what we do after that, the show will go downhill.
3:40 p.m. - Les Miles
As the show is finishing up, LSU wins another game it has no business winning. Late-game penalties, poor substitutions and after it looks like they are going to lose at home to an 18-point underdog, a late penalty calls for one more play, a TD for LSU, of course. They are 5-0 and no one thinks they are any good. If I was Miles, I wouldn't even be able to cheer.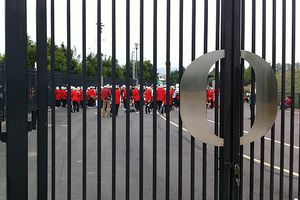 Ryen Russillo/ESPN RadioThe Stanford band behind bars.
3:59 p.m.
Once again, both of my co-hosts pick against the Ducks and go with Stanford. I go with Oregon and then screw up the toss to the next show. Seven hours on the air and I'm teasing GameNight.
5:22 p.m.
Oregon gets three on the first possession, but Stanford puts together a long drive and is up 7-3. Drives like this can take a lot of crowds out of it, but not here.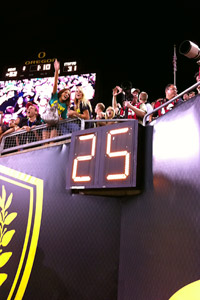 Ryen Russillo/ESPN RadioNot needed when Oregon is on offense.
5:49 p.m.
OK, now Stanford is up 21-3 and I'm running up to the press box to grab some rosters and stop off in the bathroom. The locals are mad. I watch one guy come walking in and he yells, "Chip !&%*-big-game Kelly!" Really? He's been head coach here for 17 games. Take it easy.
7:01 p.m.
The game is all Oregon now. I switched to the Stanford sideline and Stanford Steve and I aren't talking much. Part of me feels for him. If Stanford wins, we are headed to Palo Alto for USC-Stanford. That would be great for him: back on campus with your famous buddy that no one knows is famous. Great, right? Steve also knows that at no point does it feel like Stanford can stop Oregon. The Ducks play at a pace that a lot of other teams talk about but rarely pull off. They try and line their offense up within three to five seconds of the end of the previous play. It's insane, and they run right up the middle of Stanford's defense. LaMichael James may be small but he runs tough.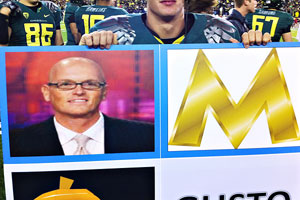 Ryen Russillo/ESPN RadioThis is SVP's greatest accomplishment.
8:10 p.m.
I run into Erin Andrews. She comments on how good I look (not true, but I sensed it), tells me that the Oregon play cards (these big signs) have different SportsCenter anchors on them and one has a picture of Van Pelt. I have to get a picture of it.
8:14 p.m.
I run over to the Oregon sideline. This is going to be tough. There is a minute left in the game and, as much as I think the program likes having me around, I doubt they will enjoy me asking for a photo. The sideline is hectic. I start looking around and the play card is right in front of me. A player looks over and asks me what I'm doing. I explain and he actually recognizes me and holds up the card for a picture. Of course, it doesn't work right away and then he's like, "Hey man, hurry up. I'm going to get yelled at." If coach Kelly is reading this, I'm sorry, but you were up three scores.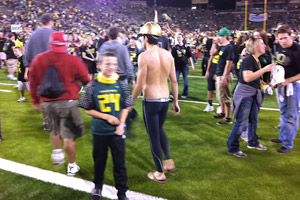 Ryen Russillo/ESPN RadioFive minutes from being arrested.
8:23 p.m.
Game over and the kids that have been up since 5 a.m. are rushing the field. It's chaos, but not nasty. There is one dude I notice who is wearing black tights and no shirt with something written on his chest and a gold construction helmet. I can't stop watching him. He's walking around like Brock Lesnar punched him an hour ago. This isn't going to end well.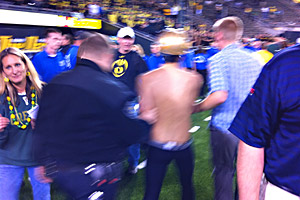 Ryen Russillo/ESPN Radio"Why are you hassling me?"
8:28 p.m.
And now he's getting arrested.
9:30 p.m.
We are at a dinner with a bunch of the Stanford guys. The mood is mellow. They are bummed but handling it well. I get the feeling that everyone is so impressed with Oregon that guys aren't even disappointed.
10:22 p.m.
OK, enough of that. We head into town to get the full experience. We bribe the door guy, again (like last year), and head right in.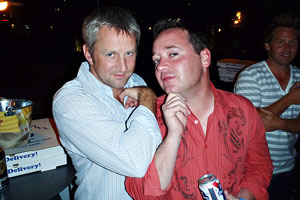 Ryen Russillo/ESPN RadioThese dudes love Zoolander.
10:39 p.m.
Some other media guys are out. We recap the game and do our best to not fit in.
11:04 p.m.
Greg Oden is in the house. Where will I go here?
1. Joke about his health?
2. Joke about everyone seeing him naked?
3. Debate with him about the flaws in the coaches poll?
Or none of the above. How about this: he's actually a really good player when healthy and he provides a unique skill set, so leave him alone, Cowherd.
1:15 a.m. - Insults
I'm dangerously approaching the age when I will be too old for this. Some would say that was five years ago, but it's for the blog, right? A girl bumps into me and starts dancing around me. Then she looks up and says, "Wow, are you losing your hair? Looks good." I tell her it's just had a bad haircut that I haven't fixed in eight years. Besides, my mom says it looks fine. Time to call it a night.
---
Sunday, 10/3 - 9:00 a.m.
Looking at a long day of travel. I'll be back in Hartford around midnight ET, but I'm praying that the flight gets delayed in Denver so I'll be stuck and get a few days in Colorado.
Next stop: Gainesville, I can't wait to talk to Les Miles. My first question? I'll just look at him, shrug and say, "So..."
Stay tuned for the next edition of "Russillo on the Road." Got any questions or suggestions for Ryen? Please comment below and let us know what you think.