Russillo on the Road: Dallas
Updated:
September 9, 2009, 12:15 PM ET
By Ryen Russillo
The Scott Van Pelt Show on ESPN Radio
Russillo on the Road: Dallas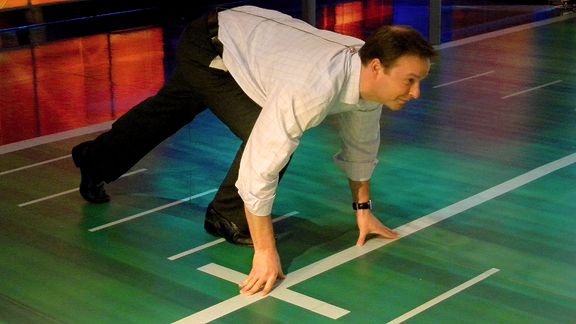 Ryen has been preparing for football season for months.
As part of his responsibilities for "College GameDay on ESPN Radio," our own Ryen Russillo will be spending a lot of time on the road this fall. Ryen documents his trip to Dallas in the inaugural edition of Russillo on the Road.
Thursday 9/3, 12:30 p.m. - Leaving Hartford
Living in Hartford, Connecticut has few positives. My friends call me Dr. Robert Neville, Will Smith's character in "I Am Legend," because there may be fewer people in Hartford than were in the movie (even if you include the zombies). It does make it an easy "city" to fly out of. I'm headed to Dallas for BYU-Oklahoma and the first road show for "College GameDay on ESPN Radio."
12:58 p.m. - Boarding
I have a middle seat. Sweet. Is there anyone that chooses to sit in the middle? Can we all agree this is something that no one prefers? It's like choosing to get a cast for fun. As bad as my setup may be, our producer Amanda Gifford (also the producer for "The Herd with Colin Cowherd") is sitting in front of me between a couple with a baby. Suddenly my middle seat doesn't seem as bad. I'm laughing on the inside.
1:00 p.m.
Mistake. The couple with the baby is in my row. Karma. The in-flight movie is "The Proposal." Does every movie on a plane have to be a chick flick? I had to watch "The Devil Wears Prada" on a flight from Boston to Denver, and it was the same movie on the way back. There should be a law against this.
3:45 p.m. - Landing
Got a lot of work done on the plane. During the week I read every ESPN.com conference blog, Bruce Feldman's blog and a lot of other stuff. Brad Edwards will be replacing Todd McShay on this year's show. Brad prepares about 30 pages of notes for the games each week. These notes are invaluable (I try to memorize them before each of our shows), but now that Brad is a co-host, it probably doesn't make any sense to recite facts to the guy who writes them. There may not be a person at ESPN that knows more about college football than Brad Edwards.
Additional Note on McShay
We have known one another for six years and he got me my job at ESPN. It would be fair to say we had a good time traveling to college campuses last year. Now that he is gone, I don't think I will break my record of six missed Sunday flights (set last season).
11:56 p.m. - The Punch
I love Oregon. I love their uniforms, dance team and offense. Every time I interview someone from Oregon, I ask about the dance team. They make the USC Song Girls look like the Oklahoma band. The Ducks replaced four on the o-line and three on the d-line. It shows, as Boise State is more physical and the fast-break offense under new head coach Chip Kelly looks like Gene Hackman is calling the plays. LeGarrette Blount goes nuts, punches a guy and worse, gets into it with a teammate. I'm surprised this doesn't happen more often. No Autzen for Halloween.
---
Friday, 9/4 - 8:22 a.m. - Got it
I have now seen the Blount punch 200 times.
10:00 a.m. - Gas Face
Hotel workout. Dudes make fun of me for saying that I like to listen to Rage Against the Machine on a heavy bench day. Today, Third Base gets the rotation. In Chicago, Van Pelt handed me his phone, which said "Missed call - MC Search." I thought it was funny that he put a contact's name under search because I used to do that with famous people after the Bill Buckner incident (when I had his cell phone number listed and my boys called him at 3 a.m. to apologize for wanting him dead for 18 years). It was actually Search, as SVP is huge with white rappers.
1:00 p.m. - A-Rod, T.O. and Favre
Just thought they should get a mention.
2:00 p.m. - ESPN Dallas
I have to do the SVP Show on the road now, so I'm doing it from Dallas this week. The studios here are amazing. They are seriously the best that I have ever seen. Michael Irvin is doing his show in another studio. Would I get on "First Take" if I tackled him?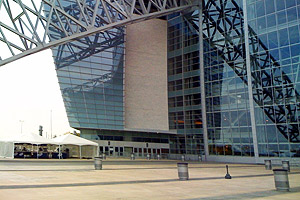 ESPN Radio"District 9" was filmed in Dallas.
4:00 p.m. - Leave
Take a cab over to the new stadium. It looks like the village from "District 9" has landed. Walk down to the field to see the OU walkthrough. We get to do this every week and I get the chills every time. Jealousy can be a great thing. I honestly get jealous of these kids every time I see them walk on a field. The video board is definitely lower than I thought, but no one is going to hit it in this game. Also, the whole "a QB is going to throw the ball at the video board to get a do-over on 3rd and long" is stupid. That throw will get you killed.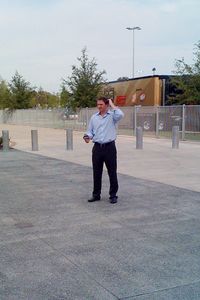 ESPN RadioMy interview with Bob Stoops. Only thing missing is Bob Stoops.
6:30 p.m. - Stoop Off
We talk to the head coaches every week on "College GameDay," except this week. Friday is a stupid prep day for me because I'm trying to get ready for 50 games (it's a seven-hour show). Bronco Mendenhall of BYU couldn't be nicer, while Bob Stoops of Oklahoma goes through the walkthrough, says hello and blows us off. To be fair, this is the part of being in the media that bothers me. I never really wanted to do this and I could never be a beat writer. The players generally don't like you because they think you know nothing about sports, but the trade-off is having every girl want you and never paying for a meal. I don't blame Stoops. I had a great one-on-one interview with him prior to the Texas Tech game last year and he was great, but the coaches generally don't want to do it. Except for Tommy Tuberville. We were in his office for Auburn-LSU last year and Ivan Maisel from ESPN.com walked in wearing a black and white striped cardigan. Tuberville said, "Hey Ivan, you officiating the game?" The point is that we waited almost three hours for nothing.
8:00 p.m. - Slow Night in Arlington
We are staying just a few minutes from the new Cowboys stadium, which is across the street from where the Rangers play in Arlington. Remember when Texas signed Alex Rodriguez and it was supposed to revitalize the area around the Rangers' ballpark? Didn't happen. There are a lot of empty buildings and a theme park that appeared to be closed but was actually open. Did an interview in Pittsburgh with 10 questions about the Oregon punch. Went to a steakhouse near the hotel. Really sick right now. I can't believe I picked the bad steakhouse in Texas. It's like going to Mexico and picking the worst taco place. Such a bad call. Spent the night throwing up and I didn't even drink. I never go out on Fridays before a show. In fact, I only did it once last year.
---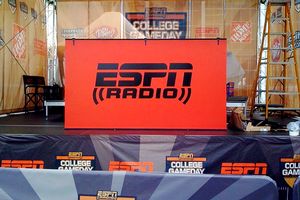 ESPN RadioCome see your favorite "College GameDay" host sit behind a giant red box.
Saturday, 9/5 - 8:00 a.m. - Heading to the Set
Last year's first show was in Los Angeles for Ohio State-USC. The set for "College GameDay" is huge and so impressive that I was surprised I was hired to do the show the first time I saw it. I remember telling someone, "I didn't realize this was such a big deal. How come Cowherd isn't the host?" We have a new set this year with an interesting twist: you can't see any of us onstage.
2:00 p.m. - Boomer Sooner
For the first show, things are going better for us than the Big Ten. It's a seven-hour program, so the challenges are keeping the energy up, staying on top of the games (we have two flat screens showing eight games at a time) and ignoring the death threats from OU fans when all three of us pick Texas to win the Big 12 South.
7:00 p.m. - Kickoff
The stadium is loud and I'm kind of surprised. We all have field passes, which is another perk of hosting this show. Memories from last year include running in the opposite direction of 50,000 people after Texas Tech's win vs. Texas and watching Lee Corso work the sidelines like he was calling the plays. Oklahoma can't move the ball against BYU. Last year, OU set a record for the most points scored in a season, but they can't move the ball against a d-line that may average 240 pounds a man.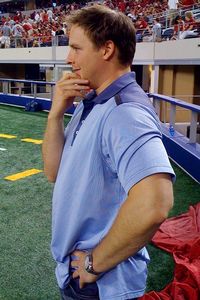 ESPN RadioShould I have this much concern for a kid I don't know?
8:40 p.m. - Ouch
OU QB Sam Bradford is down. The title hopes of a team and the No. 1 pick in 2010 NFL Draft are lying on the turf in Dallas. Bradford looks like he hurt his shoulder. Place got real quiet.
9:30 p.m. - Mustache Rule
Bradford is out of the game and Landry Jones is the backup. Jones has a mustache. I think all backups should have a mustache. Also, we have been asked to leave the field. It is the only time this has happened to "College GameDay." We have field passes and are not cheering. Can I blame Jerry Jones for this?
10:20 p.m. - BYU: BCS Buster
I only root for a couple of teams but BYU was fun to watch tonight. None of us thought they had a shot to win this game. The Cougars have a chance to make a national title run with their schedule if they go undefeated. Last year, when OU was putting up points but the defense was the worst it had ever been under Bob Stoops, people kept saying it was "the great Big 12 offenses." Maybe it was, but a non-Big 12 team threw for 329 yards on them tonight.
---
Sunday, 9/6 - 12:00 a.m. - Celebrate
Back at the hotel, BYU fans celebrate with hugs and an early bedtime. OU supporters look around for Longhorn fans to yell at.
1:00 a.m. - Long Night
I'm tired, bored and want to make my flight tomorrow, but I am getting texts from guys back home telling me to make a run at it. Done. Change shirts (into something a rodeo clown might wear) and head out. Meet up with some guys from Lubbock that hate OU and Texas, so at least now I know everyone will hate us and we won't have to choose sides. It's now after hours and the rules in Texas are a little different. In New Jersey, you can buy a case of beer on your way out. Thank God this wasn't an option in college. In New Orleans, you get yelled at if you buy one beer at a time. We bought a cooler full of beers outside, walked into this place and sat around handing out bottles. No problem. When the door guys looked at us, I thought we were scammed, but they were actually telling us that we couldn't go up to the VIP balcony. Apparently these guys don't watch ESPN2. The price was $50 a guy just to sit down, so I went McShay on them. When Todd was living in New York City on a couch and making about $18K a year, he was out with his boys and ordered a Grey Goose and Red Bull. The bartender looked at him and said, "Hey, just so you know, they are like $15 a drink." McShay replied, "Give me 20 of them." I was paying for homeless people to get in. My beach house fund took a hit. That was the night. The only thing we were told was "keep the bottle below eye level." I still don't know what this means.
12:30 p.m.
Made my flight and upgraded to first class for $80 more. It's funny, but I never miss Hartford. Sometimes I wish we have to get re-routed to Philadelphia, and I don't really even like Philly.
Tune in next week for the Columbus edition of Russillo on the Road. Got any questions or suggestions for Ryen? Please comment below and let us know what you think.