Since Serena Williams announced she was pregnant in April 2017 -- and subsequently made a run at the Wimbledon finals just 10 months after having her daughter -- she has brought motherhood among women athletes to the biggest stage. She has spoken openly about the complications that threatened her life after giving birth, the difficulty she had returning to tennis shape and her struggle with postpartum depression.
All the while, she has remained honest, straight-forward and perfectly Serena when talking about her tennis career: "Maybe this goes without saying," she told Vogue in January, "but it needs to be said in a powerful way: I absolutely want more Grand Slams."
Becoming a parent is a monumental step for anyone. But for women athletes, the decision can be substantially more complex. We wanted to hear from the women who became mothers during their careers, so we surveyed 37 athletes anonymously who reached or returned to professional competition after having children. We spoke to mothers across different sports, races, ages and sexual orientations -- asking them questions that are unique to motherhood, but also those that could apply to any parent. (For more on our methodology and presentation, scroll down or click here.) Here's what they had to say:
---
When you announced you were pregnant, did you feel sufficiently supported by your teammates?
Yes: 87%
No: 13%
Your coaches?
Yes: 87.5%
No: 12.5%
Your partner?
Yes: 89%
No: 11%
Your fans?
Yes: 94%
No: 6%
What the athletes said:
"I did; it was strange because I thought, 'Wow, this will take me out for so long,' but the time flew by. I got more support than I did backlash for coming back to pursue my career. More curious questions from fans than anything."
"From an outside perspective, because of the timing, it was like, 'Why would she want to have a baby now?' because it was going into the Olympic year. In my sport, if you're planning a family, that's not the year you plan it."
"I kept it a secret for a pretty long time; a couple of the girls that I told first were either moms themselves or I knew they eventually wanted a family, so I confided in them. It's definitely accepted, but not easy."
"I thought fans were awesome; you have these rogue elements who are like, 'What are you doing? Your body will change and your life is ruined,' but it's like, 'No, my life is just beginning.' It was so fun to share the journey with others."
---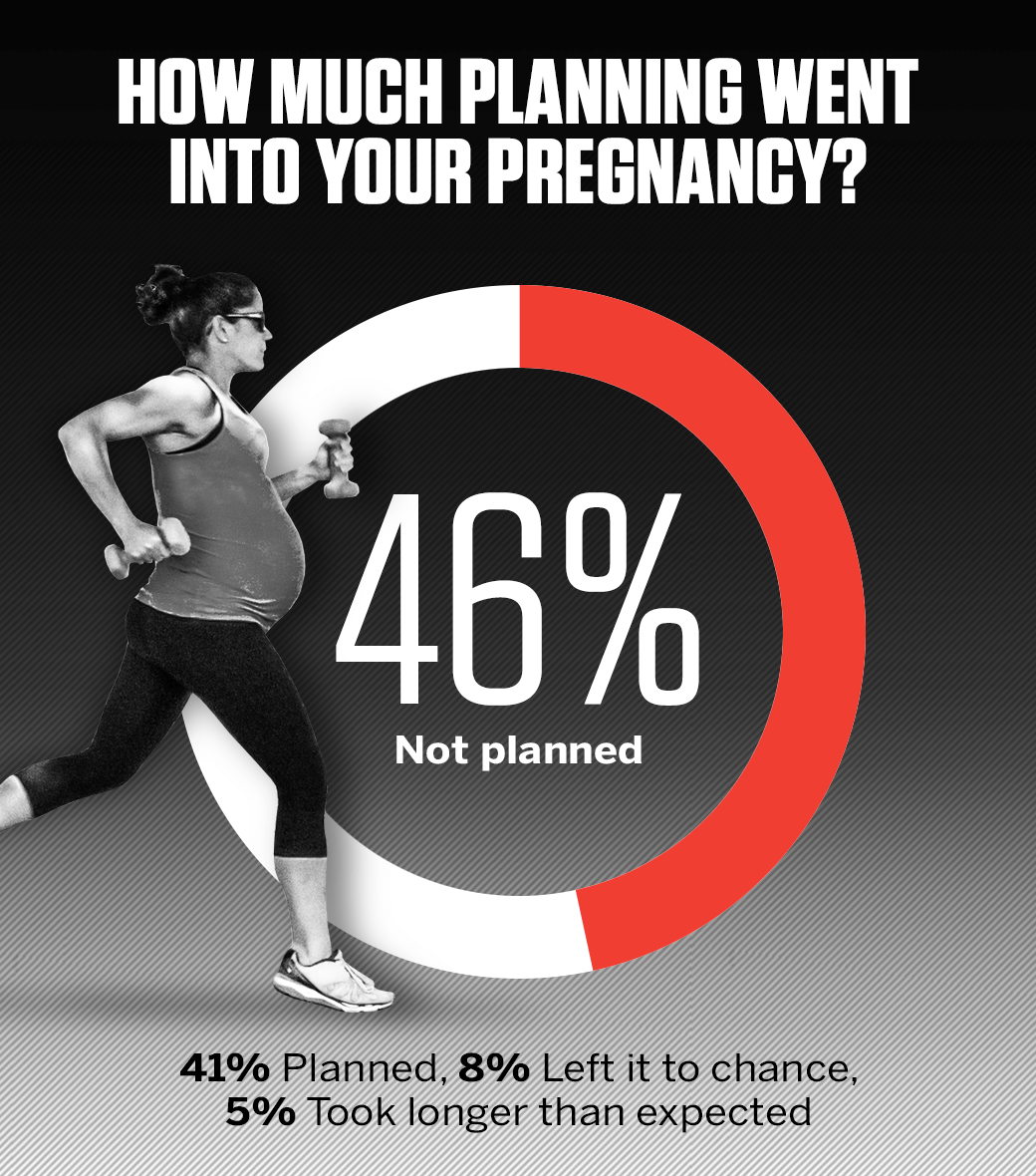 What the athletes said:
"As an athlete, I'd already had an irregular period anyway, so to not have a period was normal to me. But something was off. I kept having to go pee, my boobs were swollen, I remember going on a run and it took me forever."
"The only planning in my pregnancy was planning not to get pregnant."
"I think because I am so Type A, it was almost like, 'This is like a training cycle, how will I make [pregnancy] happen?' It was definitely planned."
"It was just a good time in our lives, where we were, and I knew I wanted to play again, so I think we started trying right as the season ended or a month before it was over. ... It was kind of an emotional time. I guess I could say I was a little naïve. I think I thought because I was healthy, I worked out -- not that it would be easy, but you don't think about all the other components that go into it. Hormones, how this level affects that, and I guess I learned a lot during it and it was an interesting process."
"The only planning in my pregnancy was planning not to get pregnant. Not trying to be negative -- I love my daughter so much, and I can't imagine life any other way. But it was the furthest thing from my mind."
---
What was the most significant change to your body?
What the athletes said:
"The biggest shock initially was how turned off my internal core muscles were, those muscles that always have been there and been strong. I didn't realize the stability and frame that they provide for everything else. ... I decided to start working with a physical therapist on specific postpartum exercises, and I started doing Pilates three days a week in addition to my other workouts."
"My hair on my head had always been straight, but it got super curly; I got little hairs on my chin that I'd never had before. My boobs got destroyed after breastfeeding for 11 months -- flapjacks hanging from thumbtacks. But what changed in the most awesome, positive ways was that I felt so physically strong. Emotionally strong, too -- it just gave me a drive of 'I want to see what I can accomplish.' It's competitive; to me, it was like, 'What can I do and what am I capable of,' because having him gave me this crazy strength."
"As any athlete knows, staying sharp is a daily thing for someone playing throughout the year, even someone who isn't pregnant."
"Other than my boobs? I really don't know if it's everyone, but I breastfed and I didn't see it coming. You have all this milk, you're voluptuous, and then slowly but surely, the harder I trained, the flatter they got. And then it looks like how dogs look after birth and are giving milk to their pups, and I'm like, 'I don't think this is right!' ... Physically, my fast switch felt like it was gone. I had no fire."
"During the pregnancy, just the amount of weight on my hips and my knees. I felt that for months afterward. I gained 58 pounds -- no, I lied; I gained 60 pounds. I definitely gained 60 pounds. My hair got so thick and curly, too. ... This is probably TMI, but the whole entire pregnancy, I didn't have to wear deodorant. My body odor went away; but two weeks after I gave birth, that came back."
"The hardest thing about coming back is starting from ground zero and having to retrain your entire body, to get your basic fitness back. Then, once I got that back, I had to train my sharpness in my sport. As any athlete knows, staying sharp is a daily thing for someone playing throughout the year, even someone who isn't pregnant. It's really difficult."
"Speed; I relied on that, and then after I came back from having a baby, I was like, 'My mind is working, but my body is not catching up.'"
"The biggest thing I noticed was I felt like I got a mom butt. My butt got really flat, so the last couple of weeks, I've been working hard with a physical therapist to get my butt and my glutes back. I looked in the mirror after having her, and it wasn't my stomach I was concerned about, but it was my butt -- it was so flat. I was so worried about it."
---
Did you breastfeed/pump?
Yes: 77%
No: 23%
For how long?
0-3 months: 4%
>3-6 months: 17%
>6-9 months: 17%
>9-12 months: 48%
>12 months: 13%
What the athletes said:
"I did it for as long as I could, I didn't put pressure on myself."
"It was extremely hard to breastfeed and train and get enough nutrition for me and for him. I had to supplement with formula. ... I figured it out that he just needed more food than I could supply for him."
"I didn't breastfeed; I'm not breastfeeding, because of my schedule. I wanted to get back to playing. I knew I'd be traveling a lot and it's almost impossible."
"I did breastfeed, just because I've heard that that's the best thing for your baby and I just love that bonding that it allowed us to have. I made it eight months, which I was pretty proud of myself for."
"I breastfed with each of them, each child for three months. My milk was literally nonfat; I got medical grade pumps and I'd pump for 45 minutes and I'd get less than an ounce and be devastated."
"I'm not breastfeeding; I knew that I wanted to come back as quickly as possible. I had a great pregnancy, great birthing experience, rebounded quickly, so I knew I had a pretty good chance of coming back quickly, so I chose not to because I thought it'd be difficult to try and do that and play."
---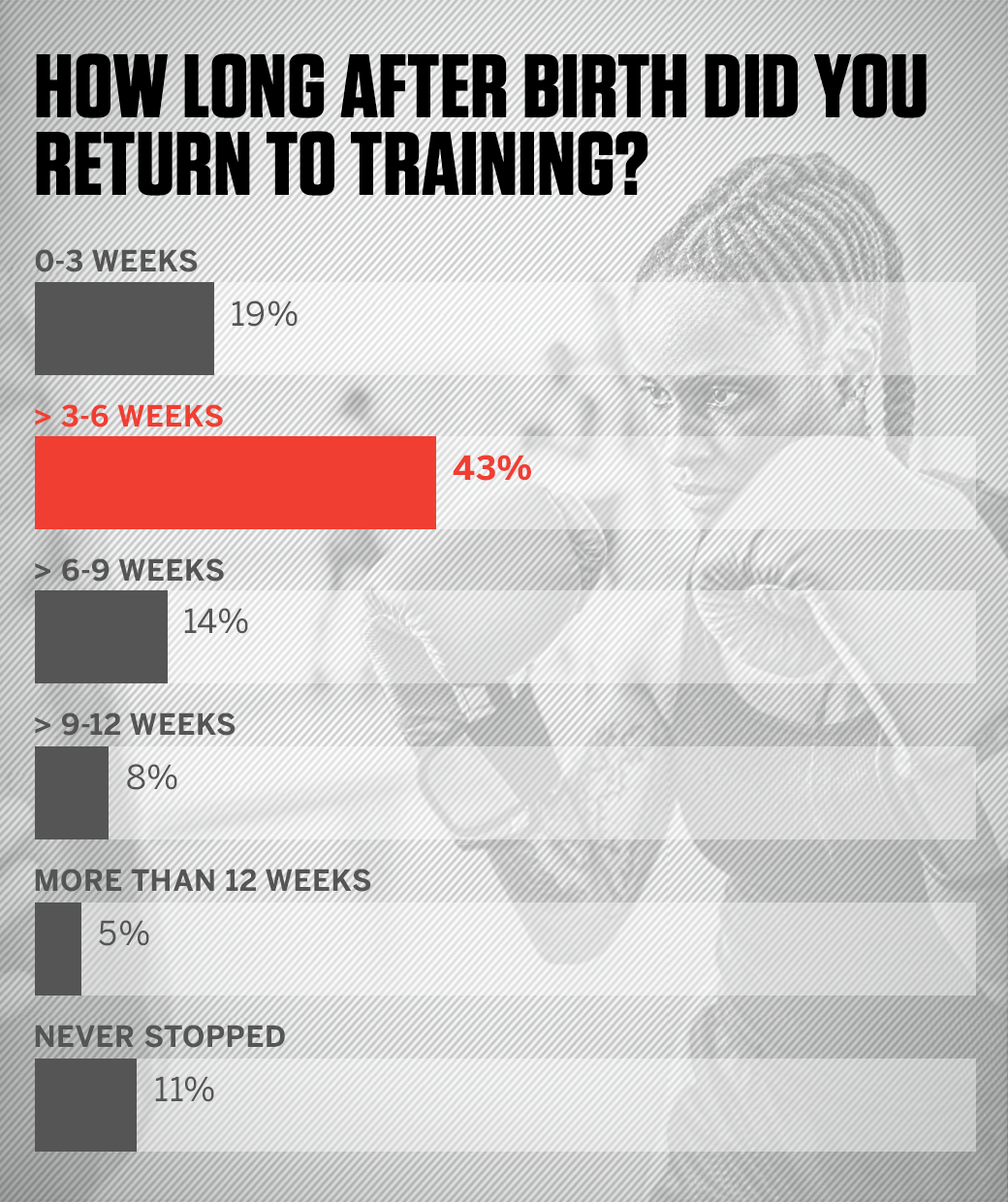 ---
Did you consider retiring at any point before, during or after pregnancy?
Yes: 28%
No: 72%
What the athletes said:
"As long as I can pay my bills and I can swing it and I don't neglect her, I'm going to do it, as long as I'm able."
"I think both my husband and I were pretty excited for the experiment of it all. We went in with the frame of mind that I'd had an amazing career up until that point, and the ultimate goal was a healthy baby. We were optimistic I could return to competing, but if something came up along the way, we would be ready to be satisfied ending my career and focusing on the baby."
"I was three years into motherhood and I definitely considered, 'Is it worth taking the kids on the road? Is it worth it to my body?'"
"Yeah, it was just a huge unknown. Your career is short-lived as it is. I was 25 -- I thought I was in the prime of my career, and being away from the sport for that long, in my mind, I was falling behind and everyone was getting better. And I wondered, 'Can I catch up? Will I want to? Will I have time to? Will my body be able to?' It was unfinished for me; I felt like I would resent myself for the rest of my life if I didn't keep pursuing my career."
"No, I didn't. I feel like it kind of made me hungrier to do it. I have two little [children] watching me, I didn't want to quit."
"I was planning on retiring, and [my child] gave me a new fresh outlook on determination, dedication and being able to see myself back playing at a very high pro level after gaining that kind of weight. Everything was super heightened, so I pushed harder to get back, to prove to myself that I could. I can do this."
"I didn't consider any of that after my first one; the second one, afterwards, it was more when she was a year old. That's when I considered it. I was three years into motherhood, and I definitely considered, 'Is it worth taking the kids on the road? Is it worth it to my body, to miss their dad pretty often because he has a full-time job here at home?' A lot of things go into it."
---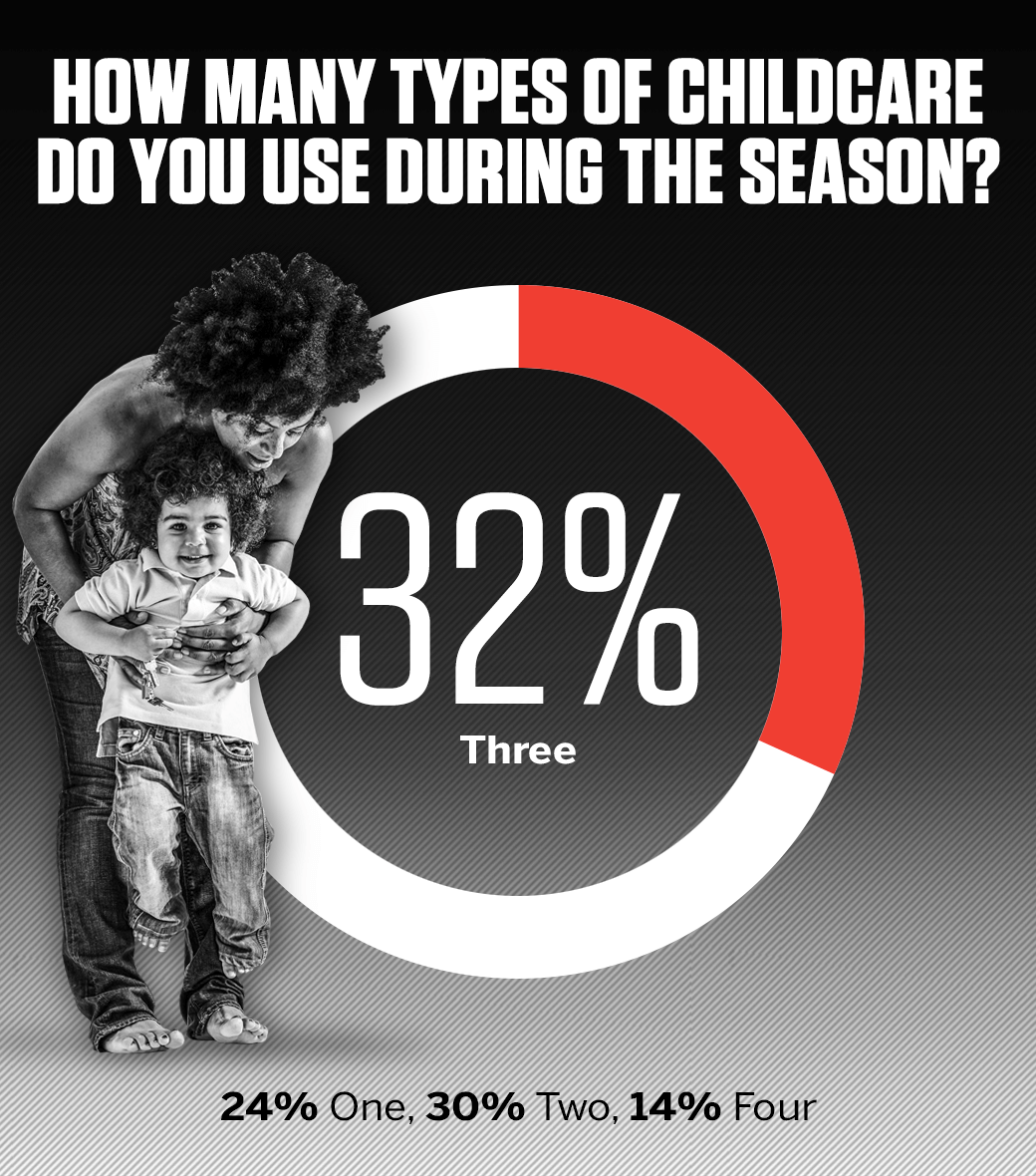 What the athletes said:
"The team was really supportive; they helped me plan a lot of logistics. It was really incredible to have that kind of support."
"They are basically gym babies -- they've basically grown up in the gym."
"The hardest thing to do is juggling childcare."
"It was -- oh geez. What I had to do, I didn't have a nanny, because I couldn't afford one, so at times, he would just sit in his stroller at training, just hanging out on the sidelines with his snacks and toys. Sometimes, our trainer or equipment manager would kind of help with him. And then they'd say, 'Oh hey, your son pooped,' and I'd leave training to change him. I had days where I'd hire babysitters who would come to training and go on walks with him or be there with him. It was very hard to afford, but I got it done, and traveling, when he was on the road with us, I have enough friends on each team to reach out to to help watch him. I am pretty lucky; he was traveling with me while he was in preschool."
"The hardest thing to do is juggling childcare. I have an awesome husband who would watch the kids in the early morning or late at night when I would be training. When I'm here with my team, I hire a nanny; when I'm back at home, I hire a nanny a few days a week, but we kind of juggle between family, nanny and then myself, each other. My parents. My older one has preschool, too."
---
Did you experience symptoms of postpartum depression?
Yes: 32%
No: 58%
Don't know: 10%
What the athletes said:
"He was definitely a form of strength for me, but I felt tired, depressed, sad and all those things -- but he gave me purpose, so it was something easier to get through."
"It was more of a, 'Whoa, this is a real thing now,' so it was that and not being able to get back as fast as I wanted to. I wanted it to happen overnight, so I dealt with a little depression there. From seeing yourself as a pro athlete to what it looks like afterward, so I had a little bit of an issue with my self-confidence."
"No, but I don't think I give myself enough credit realizing how hard it was. As an athlete, we're tough, so we don't really know any different. I feel like you have the baby blues initially, but I had a really good support system, and I was so busy because of [my sport]."
"When we finally made it back home, I couldn't get a hold of myself in a way. I started to think, 'Is this PPD?' And probably one of the hardest but smartest things I could've done was I called the doctor. It's one of those things where it's hard to think that you have something like that, but whether I did or didn't, I know I needed to get to the root of it."
---
Are you a better parent or a better athlete?
Parent: 54%
Athlete: 22%
Equal/neither/don't know: 24%
We realize we asked this question in a way that plays into the narrative that moms must choose between their children and their career. We don't subscribe to that stereotype, but we at espnW know that this is a real question that women are asked every day, and we wanted to understand how female athletes respond. The conversation it generated was eye opening.
What the athletes said:
"So far, I'd say I'm probably a better parent. Just because I feel like parenting is, in some ways, not as competitive, it's not a competition. It's just: love them, feed them, make sure they're not too dirty. In athletics, you can always do better, even the minuscule things."
"I don't think that's really a fair question; I'd say I'm good at both."
"I think I know what classifies someone as a great athlete, but great parenting comes in so many different forms -- there's no textbook. A lot of people have some form of natural ability when they started their training for whatever sport, so it's just like, practice, practice, practice. With parenting, no matter how much practice, there's always something that you just don't know or you miss. I try to give even more of an effort in parenting than I do [in my sport] because I know I have to work that much harder."
"With parenting, no matter how much practice, there's always something that you just don't know or you miss."
"I think I'm a better parent, probably because it all circles around patience. With athletes, we are so strict on everything and we want everything so fast. With babies, you can't force them. So I think my patience, because of what I've learned from my son in a small amount of time, I'm a better athlete now, but I had to be a better parent first."
"Being a parent is a 24-hour job, so I don't have time to do the recovery that my teammates are doing or to put the extra hours into the field or to have time to make myself a healthy meal. Being an athlete is also a 24-hour job if you want to be the best athlete you can be."
"I can't be good at both? I think I'm great at both."
"I'd like to say I'm a better parent, but I think everyone would like to say that. I've been an athlete a lot longer. I'm still trying to juggle a lot of things; some days, when I do go to work, I think to myself, 'Oh man, I feel like such a bad parent,' but my husband keeps reminding me, 'You're showing her that you can raise a family and work and have a career.'"
---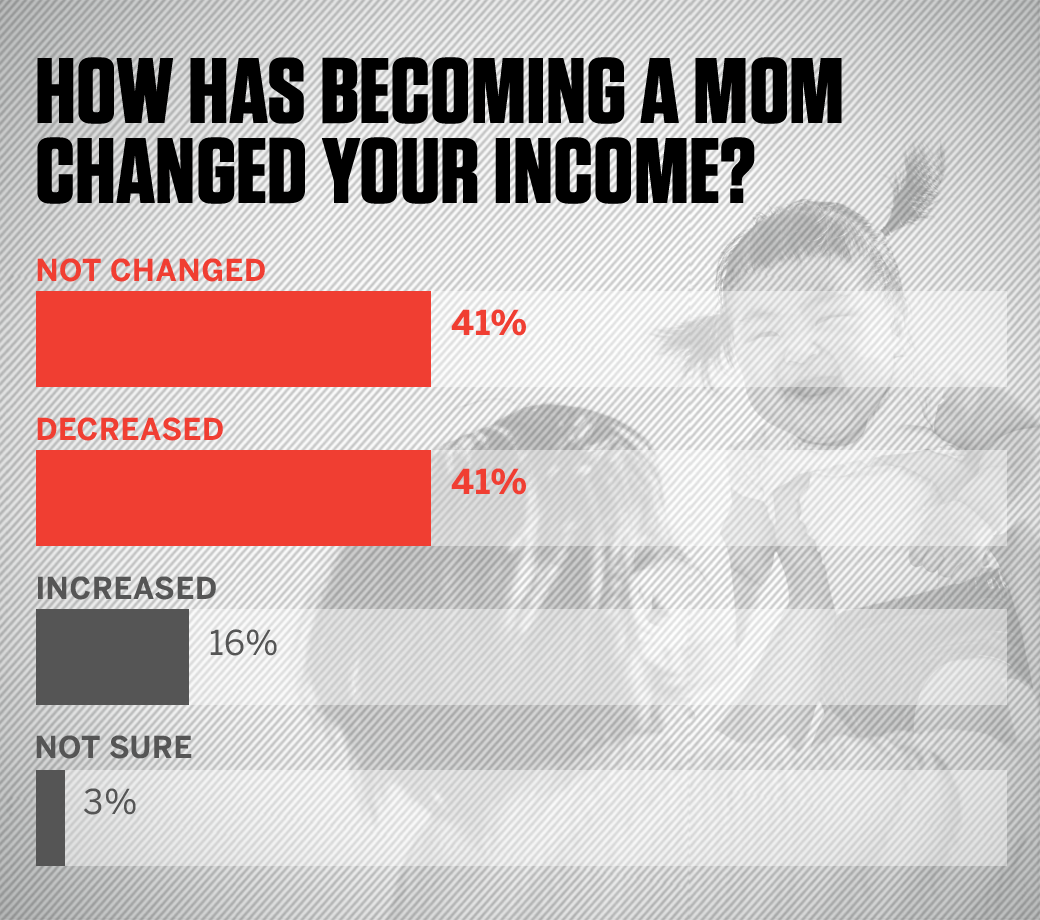 What the athletes said:
"No new real endorsements came out of being a mom, which I was surprised about. I thought there'd be opportunities there, but I got a lot of fun articles and interviews and awareness."
"I don't think it's really affected it at all. My career has obviously grown, so I've been paid more, and I guess as they get older, they also cost more [laughs]."
"It really is kind of a pitchfork in your butt to work hard and do right all the time and see what you can accomplish."
"It decreased because I had to prove myself again; that first year, everything that I did had to come out of my own pocket, to come back. Whereas if someone left the sport and came back without being a mom, I don't think that would be the case."
"I'd say increased -- having that added voice in the back of your head, that hustle to ensure that your kid's needs are met, to be able to provide the necessities and also the things you work so hard for. It really is kind of a pitchfork in your butt to work hard and do right all the time and see what you can accomplish."
"Oh gosh, definitely decreased; kids are expensive!"
"My sponsors have stuck with me, but only when I'm playing. I only get paid if I play, so I wouldn't say increase or decrease on that front; when I was pregnant and took maternity time, I didn't get paid, so I guess you would say decreased there."
---
Has parenting impacted your career positively, negatively or not at all?
Positively: 73%
Negatively: 5%
Both/Not at all: 22%
What the athletes said:
"I'd say positively impacted my career because it has made me take it more seriously and has given me motivation to want to make it."
"You get so focused on results, but to come home and realize my son was happy to see me whether I won or lost, it puts it all in perspective."
"If we have a science project due the night before a big game, I gotta stay up and do the science project."
"Sometimes, a little negative because you're exhausted or you're tired or you've had a few nights in a row when you're up in the middle of the night, and then you have a game the next day."
"I feel like bringing a kid into an athletic environment is -- if you are the same player as someone who doesn't have a kid, they will take the player who doesn't have a kid. It's a lot of work. I think why I play is different now, so my 'why' has changed; I don't care as much in the sense that my priorities have changed."
"I think it's balanced out. I don't think I'd be as great an athlete if I hadn't become a mom; the part of athletics that people sometimes overlook is the relationships and how you treat others. That's definitely made me a better person, being a parent, but in terms of the overall time I can spend and devote to [my sport], I have to balance. If we have a science project due the night before a big game, I gotta stay up and do the science project."
---
Do you take fewer on-field risks now that you're a parent?
Yes: 35%
No: 65%
What the athletes said:
"I think I take more risks when it comes to competing. Because now it's not just about my own personal glory, now my winnings have -- I'm not very monetarily driven, and now my money has different value. It's supporting a child. So I need the win, I need bonuses, and I'm a better athlete doing it for her. I know what's at stake."
"I feel like I probably think more before I take a risk. I definitely still take risks, though."
"I think initially yes, not just because of being a parent, but being wary of my body and not sure what I could do. But I can feel myself coming out of that more now."
"No, I feel like it's made me take more risks; I feel like I'm more aggressive and I have more to play for, so prior, diving on the floor and stuff, I love to do that now. It gave me an edginess."
---
True or false: I feel guilty when I have to go on the road.
True: 76%
False: 22%
Both: 3%
What the athletes said:
"I know she's taken care of. And now with technology, it helps out a lot. We get to see each other's face and talk about our days. And I'm never gone for long stretches at a time."
"No, I don't feel guilty, because I know I'm providing for them and I'm doing what is in their best interest and my best interest. It's easy for people to make you feel guilty, like family and things like that, but I remind myself why I'm doing it and the greater cause."
"I FaceTime a lot, all the time; it's not like it makes it easier, but I try to remember the purpose that I have."
"Oh yes, I do; that gets me. The first time, it tore me up a bit, because they kind of get attached to you, and it's like, 'Who will put them to sleep? They're used to me bathing them.' But now, I'm like, 'OK, I gotta go. I need some sleep!'"
"False, I don't. I'm sorry, it's like a break for us!"
"Yes, absolutely. That's my one thing that makes me question retirement, because I just don't enjoy being away from my child."
---
Our anonymous survey covered women who are currently competing at a professional level, so retired athletes who had children during their professional career, were not included. We surveyed 37 athletes across nine different sports, including women who naturally gave birth, who had C-sections, who adopted and whose partner had a child.
Not all respondents answered every question, and not all questions applied to every athlete. In those cases, those answers were not included in the results. For example, questions such as "Did you breastfeed?" were not applicable to mothers whose partners carried and gave birth to their child.