In December 2016, Kimmy Fasani won snowboarding's Rider of the Year award. Her career was riding high, and she felt great physically.
But only one month later, her mother died. Fasani had lost her father at 14; now, at 32, and without both of her parents, she realized how much she had focused on her career instead of family. Her husband, pro skier Chris Benchetler, had lost his father as well. "We had this realization of, 'Let's try and have a child if we're able to," Fasani said.
Five months later, Fasani found out that she was pregnant. She decided not to tell anyone until she was out of her first trimester, but around 12 weeks, the rumors began.
She knew she needed to call Donna Carpenter, CEO of her main sponsor, Burton Snowboards. But Fasani was nervous. She didn't know of any snowboarders who had gotten pregnant and then returned to the sport. And she didn't want her sponsors to judge her, or worse, drop her contracts. (Because the athletes are independent contractors -- not employees -- there is no legally mandated protection for pregnancy.)
When Fasani finally called Carpenter, the Burton CEO guessed the reason for the call before Fasani could even share the news. "Let's do this!" Carpenter said enthusiastically.
Said Fasani: "To have the CEO and company owner stand by me immediately with no hesitation just took so much stress off of me. We both knew we'd go down this new road that hadn't really been done [in snowboarding], and we got experimental with what it would look like."
Burton developed a contract for Fasani that fully supported her throughout pregnancy and postpartum, including no reduction or suspension in her contract for six months and covering the costs of a caretaker to accompany Fasani and her baby for any Burton-related appearances she made while she was breastfeeding her son.
"We saw what Kimmy was doing as pretty remarkable," Burton chief marketing officer Sarah Crockett said. "She'd seen what happens in the past with retirement being a part of the story, and she said, 'I'm not ready for that -- I want to show a different side.' She wanted to feel that there was a choice, and she's been on a journey to showcase what motherhood looks like."
That response from a sponsor should be typical, but unfortunately, it sometimes isn't.
On Mother's Day, The New York Times posted a much-talked-about video and written piece featuring Olympic middle-distance runner Alysia Montano. In the video, Montano said, "I was sponsored by Nike, and then when I told them I wanted to have a baby during my career they told me, 'Simple. We'll just pause your contract and stop paying you.' And we're not just up against our sponsors. The U.S. Olympic committee strips our health insurance if we do not stay at the top of our game during our pregnancy."
Montano goes on to say she left Nike and signed a contract with Asics, where she encountered a similar reaction. "I had my daughter," she says on the same video, "And when I was on my return, trying to recover from my pregnancy, they also threatened to stop paying me."
Last August, espnW published an athlete-mom confidential in which we anonymously surveyed 37 athletes. While many (73%) said that parenting had affected their athletic career in positive ways, 41% percent said their income decreased when they became mothers. One athlete said, "My sponsors have stuck with me, but only when I'm playing. I only get paid if I play ... when I was pregnant and took maternity time, I didn't get paid.""
2018 espnW Athlete-Mom Confidential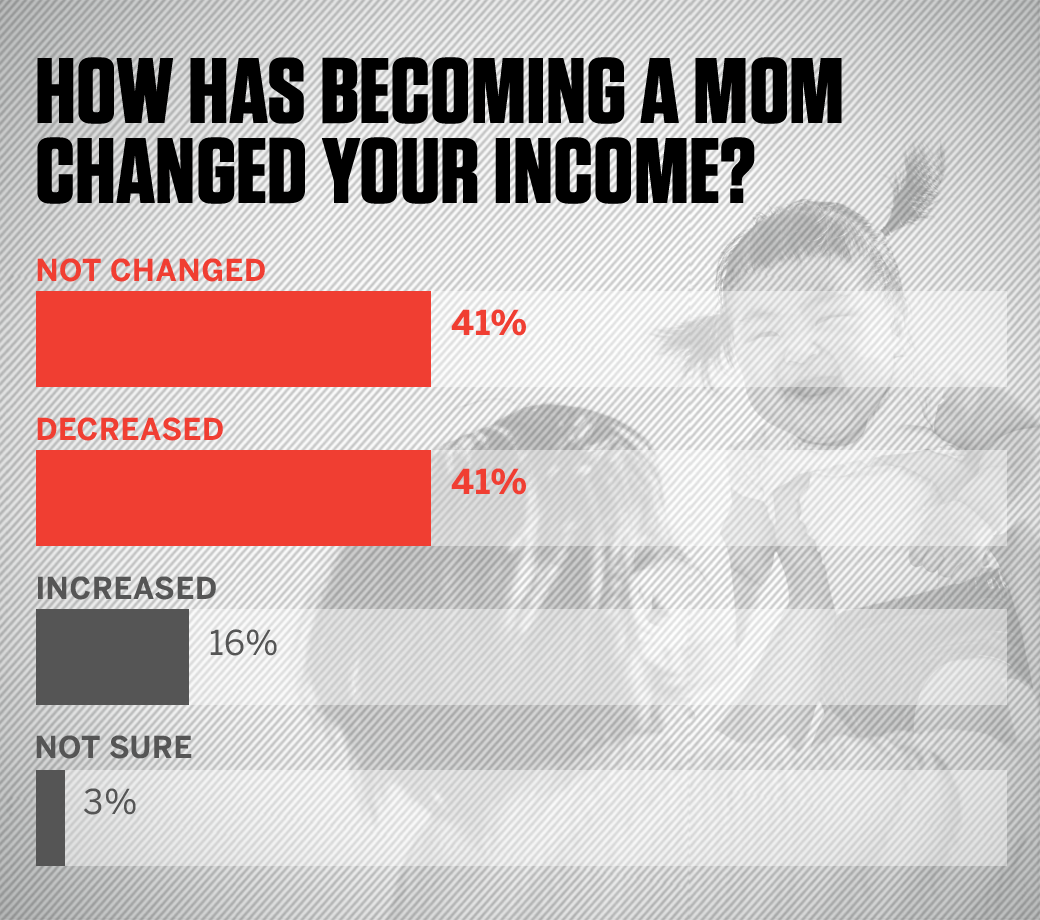 Expanding on that topic this spring, there were athletes we talked to who declined to comment; others asked to revisit the topic "in the future." But the majority relayed positive experiences with sponsors, even if they sometimes encountered other postpartum issues.
One point that all the athletes agreed on: More work needs to be done in supporting female athletes who aspire to both motherhood and postpartum athletic careers.
"We're always in danger of applauding women who get over these hurdles and break barriers," ultrarunner Sophie Power said. "But instead, we should be focusing on, 'How do we take down those barriers they're facing in the first place?'"
Some athletes echo negative sponsor experiences
Earlier in her career, Olympic gold medalist Allyson Felix noticed how her teammates and other female runners she knew weren't very open about their pregnancies. Over time, she understood their hesitation. "I definitely got the full picture as I got older -- just a sense of fear and uncertainty: How will it be received, what does it mean for my livelihood," Felix said.
Felix's contract with Nike was up in 2017. At the time, although she wasn't pregnant, Nike was offering her a 70% reduction from her previous contract. Already anxious as negotiations continued, Felix wanted protection for and throughout pregnancy and maternity leave, if and when she became pregnant in the future. But Felix said that Nike wouldn't guarantee that financial support. She did not re-sign with them. In November 2018, her daughter, Camryn, was born.
"This has to change," said Felix, who has resumed training for the upcoming season and is currently not signed with any sponsors. (Editor's note: On July 31, Felix announced she was signing a contract with apparel brand Athleta.) "I don't think you should have to make this big decision about your career. Most women in Olympic sports end up waiting a while to start a family. If there was more support, you wouldn't have to feel like you have to sacrifice everything to do that."
Former 5,000-meter national champion Lauren Fleshman, who first signed with Nike in 2003, had a similar experience. "I never felt like motherhood and pro sports were congruent," Fleshman said. When she and her husband, professional triathlete Jesse Thomas, decided after 2012 to try for a family, Fleshman said she even pitched a women's apparel line concept to Nike, hoping to innovate and provide value when and if she became pregnant. Ultimately, though, the sports marketing department didn't want the concept, and Nike told her it would freeze her contract for a year if and when she took a maternity break.
"It became painfully clear that Nike would never 'get it' until they had more women leading the departments that made the day-to-day decisions," Fleshman said. So Fleshman decided to break away from Nike, instead seeking a company that she felt was more supportive. She had long admired Oiselle, a female-centric athletic apparel company, led by founder and CEO Sally Bergesen. In their first meeting in 2012, Fleshman told Bergesen that she wanted to try for a baby in the next year. "She said, 'We think that's awesome,'" Fleshman said. "To them, it was a huge asset, and they wanted to work with me in telling my story and inspiring people."
Oiselle didn't pressure Fleshman to return to racing after she had her son, Jude, in June 2013. Six months later, she raced her first postpartum competition. (She is now retired from running and gave birth to her second child, daughter Zadie, in 2018.)
"Our view is that the old model, and the more male-dominated model, is that it's really only about how fast you go or results on the podium and where you're ranked in the world," Bergesen said. "We just knew right away that the way we wanted to work with athletes and tell athletes' stories was radically different."
Oiselle has never reduced contracts due to pregnancy or injury. Additionally, Bergesen said that they recently made the decision to restructure contracts to explicitly spell out what could happen if the athlete does become pregnant, to negotiate and discuss with the athlete whether she wants to be a "prominent pregnant athlete" or whether she'd prefer "not to be bound by a promotional contract when [she's] pregnant and becoming a mother."
Current Dallas Wings guard Tayler Hill, the fourth overall pick in the 2013 WNBA draft, learned that she was pregnant later that year. She had signed a contract with Nike and was told that her contract would be reduced while she wasn't playing. "I guess maybe I understood it, because they did my contract off of me playing," Hill said, "But I was still on the roster, so I wasn't inactive or on injured reserve."
Hill, then with the Washington Mystics, gave birth to her son in June 2014 and missed most of that season. When she returned to the WNBA in 2015, Nike resumed her contract. (She is no longer signed with Nike.)
Since Montano spoke out on May 12, Nike has responded publicly. In lieu of a full interview with espnW, a Nike spokesperson sent the company's revised policy, which was released on May 24. It reads:
"Our mission has always been to support athletes as they strive to be their best and compete at the highest level of their sport. At the same time, we are committed to supporting women as they decide how to be both great mothers and great athletes. In 2018 we created an official policy standardizing our approach across all sports, so no female athlete is penalized financially for pregnancy. While the specifics of each athlete and sport may be unique, we are waiving performance reductions for 12 months for those athletes who decide to have a baby. We've already begun connecting with all of our contracted female athletes and will include written terms of our policy in all our contracts. We've recognized Nike, Inc. can do more and there is an important opportunity for the sports industry collectively to evolve to better support female athletes."
But many athletes found sponsors supportive during pregnancy
While female professional golfers have balanced motherhood and sporting careers for years, the LPGA has experienced a "baby boom" of late -- eight babies were born to LPGA players in 2017 and 2018 -- and three more are scheduled to arrive in 2019.
Former world No. 1 Stacy Lewis, who had her daughter, Chesnee, this past November, was one of the first recent new moms to receive full support from all of her sponsors, including KPMG and Marathon Petroleum.
"All of my sponsors stepping up and supporting us financially through all of this -- just that response and how supportive people have been," Lewis said. "You realize how important families are to people in general."
Similarly, when she found out that she was due in September with a baby girl, Brittany Lincicome was elated when all of her sponsors, including CME Group and Diamond Resorts, offered their full contractual support, regardless of how long she stopped playing.
"They were all super supportive, and it was literally a dream come true," Lincicome said. "It's so cool to see them stepping up and honoring our contracts and realizing that this is what we do."
Professional climber Beth Rodden had no such road map to follow, though. When she found out she was pregnant in 2013, she was "terrified," because she thought she'd lose her career. She hadn't known any other climbers who had returned to sport postpartum; she also felt there was a stigma around pregnancy and climbing, "that you were giving up this dream, this idealistic lifestyle, to pursue this 'on the normal path' thing," Rodden said. "Climbing, when I started, was always pushing against that 'normal.'"
Rodden was nervous to tell her sponsors, and it took her several weeks to build the courage to call them. Before she called Outdoor Research, her main sponsor, she convinced herself that she'd be losing her contract; however, as soon as she shared the news, they asked how they might support her during her pregnancy. Relieved, Rodden called her other sponsors, all of whom echoed that support. They all honored her contracts, and Outdoor Research offered to adjust her postpartum schedule so that she could compete closer to home and modify as needed to have her son, Theo, with her.
"None of my sponsors said, 'Choose family or career,'" Rodden said. "It was, how can we work with you to continue your career and your desire to have a family?"
Olympic marathon runner Deena Kastor signed her first Asics contract in 2001. When she married her husband, Andrew, in 2003, they didn't think they would have any children. Thus, while Kastor had bonuses in her contract for performing well and reduction clauses for not doing so, she didn't factor in the possibility of pregnancy. "That being said, if I were planning on starting a family, I would not have signed a contract with specific reduction clauses, and I would have had discussions pre-signing on my value while pregnant and mothering," Kastor wrote in an email to espnW.
So, when Kastor found out she was pregnant in 2010, the same year she was scheduled to race the New York City Marathon, she called the head of athlete marketing at Asics. Kastor shared the news, adding that while she wouldn't be training or racing, she was happy to help in other ways. As such, she and Asics agreed that she would travel on behalf of the brand to major marathons, and participate in fun runs, incentives, giveaways and inspirational speeches, all of which "put me out in front of the brand even more than staying home and training," Kastor wrote. As such, Asics supported her throughout her pregnancy and did not to reduce her contract.
"While pregnant, Asics saw value in my ability to connect on behalf of the brand, and for that I am truly grateful," Kastor wrote.
Famed 1,500-meter runner Sarah Brown was sponsored by New Balance in 2015, when she learned she was pregnant (Brown, who had an IUD, was not trying to get pregnant at the time). Coming off of a strong 2015 spring season, Brown announced her pregnancy in September of that year -- as well as her intention to run in the July 2016 Olympic trials.
While Brown knew that her contract didn't include a reduction clause for pregnancy, "because [the pregnancy] wasn't planned, I was still a little nervous telling them," Brown said. "But their reaction was, 'Congratulations, you're having a baby!' I never felt any negative feelings or anything stemming from that."
Brown trained throughout her pregnancy. After having her daughter, Abigail, on March 4, 2016, she returned to running. Although she battled injuries in 2016 and did not make the Olympic team, she ran competitively during the 2017 and 2018 season before retiring earlier this year.
Like New Balance, Puma said they have traditionally supported their athletes throughout pregnancy and postpartum leave.
"When this first came up, honestly, I was flabbergasted," Adam Petrick, global director of brand and marketing for Puma, said. "When people have babies, they shouldn't be penalized -- and it shouldn't fall into the same category as an injury."
Petrick said that Puma has never reduced an athlete or ambassador's contract for taking time off for maternity -- "nor would we," he added. Until 2019, the company had never felt the need to write that official policy into a contract, as he said it was an understood agreement between the athletes and the company. When Dallas Wings' Skylar Diggins-Smith called to tell Puma, whom she signed with in 2017, that she was pregnant, they congratulated her and offered their support. (She declined to comment for this story.) "Because there's a discussion going on about it now, we're putting it into the contract," Petrick said. "But it wouldn't even cross our minds [to reduce or alter] contracts."
While espnW wasn't able to speak with any Adidas-sponsored athletes, an Adidas spokesperson wrote in an emailed statement: "The terms of our contracts, including compensation, with our female athlete partners are consistent throughout pregnancy."
Some sponsors even use the motherhood narrative in their relationships with their athletes. MMA fighter Sara McMann, who had her son, Lucas, in December 2018, signed with Renaissance Periodization -- a company that offers diet and training programs -- while pregnant. McMann's other sponsor, Usana, supported her throughout pregnancy and postpartum training.
The UFC and McMann's training team, Team Alpha Male, also showed their complete support. "My team was phenomenal, and the UFC was great -- they put no pressure on me to come back," said McMann, who returned to training two and a half months postpartum and will compete in her first postpartum fight on July 11. "Other girls asked me, 'What did they do with your contract?' and I said, 'It didn't change -- they're just extending it.'"
Challenges still loom
When Olympic swimmer Dana Vollmer had her first son, Arlen, in 2015, she had no sponsors. She returned to swimming in 2016, including competing at the 2016 Olympics, and signed with TYR. Vollmer talked publicly about wanting to have another child while also wanting to continue her career. She announced her second pregnancy, in April of 2017, by wearing a green TYR suit while competing at six months pregnant.
On July 4, 2017, Vollmer gave birth to her second son, Ryker. While TYR fully supported her throughout her pregnancy, Vollmer said, including guaranteeing her contract, she struggled physically with her postpartum return. She told TYR she didn't feel ready for nationals in 2018, knowing that her contract stipulated qualifying for the national team or else incurring a 50% salary cut. Vollmer said her contracts have always been designed this way, with stipulations based on qualifying for nationals each year regardless of pregnancy.
"Honestly, my entire life, I've known you're not going to make a fortune in swimming, unless you're Michael Phelps," Vollmer said. "Through the pregnancies and my training, I've been very fortunate to have a husband who has a wonderful job. If it was just me trying to support my family and the kids, there's no way."
Vollmer recalled the 2008 Olympic trials, when she stood on the blocks, terrified that if she didn't qualify for the Olympic team, "I couldn't pay rent and my health insurance would be taken away."
Earlier this month, the USOC said it is working on reforms to help athletes keep their health insurance coverage when they become pregnant. Traditionally, the USOC provides insurance funding to the national governing bodies for each sport, which then determine who receives what type of coverage. Most often, chosen recipients have been the top, elite athletes within the sport.
Cross-country skier Kikkan Randall won a gold medal in the team sprint at the 2018 Olympics after having her son, Breck, in April of 2016. While her sponsors supported her throughout her pregnancy, Randall understood what Kastor also acknowledged: without the athlete being able to compete, the sponsor essentially received no "return-on-investment." So Randall proposed alternatives: additional content creation for the brand and increased in-person interactions with fans, in lieu of competitions as her pregnancy progressed.
"Sponsorships are a two-way street: In return for this financial reward, I need to be fulfilling obligations," Randall said. "I saw it as a needing to substitute and show them that there's still value in supporting me in this year where I wouldn't be racing. I saw a ton of value in how I could showcase being an athlete and being a parent."
What more can be done
As her story has spread in recent weeks, Montano has continued to advocate for maternal rights. "Now, we've been able to make this conversation global," Montano said. "So female athletes across the world know, this is a question I can ask and I'm not in the wrong for asking it. When you sign these contracts straight out of college, the first thing on your mind is, 'Can I make the Olympic team,' not, 'Can I have a baby?' This is why it's so important for me to fight for future generations -- so they can look at a contract and say, 'I want to know I'm supported.'"
When asked what she might tell young runners today who are negotiating contracts with sponsors, Kastor had similar thoughts:
"My advice would be to have a conversation with your employer or sponsor. Great things can come from candid discussions. See yourself and sell yourself in a way that authentically represents who you are and what you can provide. And please, don't sign a contract that contradicts your future plans and reduces your worth in pursuing ideals outside [of your sport]. There is a contract tailored to you so that you can be your best self as an athlete, a promoter for the brand you proudly wear, and an advocate of the sport."
Among themselves, female pro athletes are working to expand that support network as well. When researching how to navigate her own journey as a pregnant woman and postpartum mom while also maintaining an elite athlete lifestyle, Randall found that resources were scarce. She had reached out to Fleshman for advice; otherwise, she felt that information was "hard to find" as female athletes often kept their pregnancy journeys hidden, perhaps influenced by the same pressures they felt from the sponsors who wanted to showcase them only as elite athletes offering peak performances and competitions.
Now retired and undergoing treatment for breast cancer, Randall -- recently elected to the IOC Athletes' Commission -- registered the domain eliteathletemom.com to aggregate stories, tips and ideas from pro athletes who hope to stay active in pregnancy and motherhood, while also creating an inspiring and encouraging community that celebrates these dual choices. Hopefully, both women and men will benefit from that empowerment.
"I think there's this feeling among women that because we entered a man's working world, we've been fighting for a place in that world," Fleshman said. "Now, we're on the cusp of changing the actual world, instead of changing ourselves to fit into it. In some ways, motherhood is the most obvious and powerful tool that we have, because it's such a common, shared experience."