Editor's note: Keith Malloy recently produced, directed and starred in his first film production, a movie about bodysurfing called "Come Hell Or High Water." If you haven't had a chance to see it you should.
Shooting 'Come Hell Or High Water'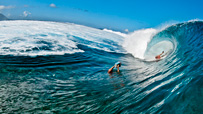 WIDTH="203" HEIGHT="114" BORDER="0" ALT="">
Check out Chris Burkard's amazing photos from filming "Come Hell or High Water." Gallery

Bodysurfing is enjoying a wonderful resurgence right now, thanks in part to the work of Malloy. If you needed any convincing, Malloy tells it like it is. And photographer Chris Burkard has the images to back it up, complete with legends such as Mark Cunningham and Mike Stewart. So with the drum roll complete, here's the lowdown:
When I was a kid, my friends and I would go down to the beach and kind of camp all day. When you're a kid the experience of being at the beach is just as good as actually surfing. We would leave our boards on the beach, go out and just get slammed, pull into the barrel and look at each other. You know, just that typical grom stuff.
As I got older I was full-on surfing, and I probably lost touch with bodysurfing for a while there, doing contests and everything. Unfortunately, the goal in a contest is to see how many turns a surfer can do on a wave. After doing that for so many years I grew to almost not enjoy surfing, riding a conventional thruster, doing as many windshield wiper airs as I could -- especially in that era, in the early 1990s, that's how contests were won. Whoever did the most flicks wins. I think it's gotten away from that today with the focus more on powerful, good surfing, but that's how it was back then.
So anyway, bodysurfing became an escape from surfing. It was riding a wave for the pure enjoyment of riding a wave, and not trying to do anything too incredible but enjoy the ride. About 10 years ago my brothers and I were living on the North Shore, using bodysurfing as an outlet to escape that whole "shred or die" mentality.
We'd already been kind of hanging out with Cunningham and the lifeguards on the North Shore who all liked to bodysurf. It was a crazy eye-opener because it went from whomping as a kid to riding good, big waves and making rides out of it. It was an education; bodysurfers are the real deal. At that point it kind of went from being a fun getaway from surfing to being something for which I was actually developing a real passion. Because of the crew we were bodysurfing with and the size of the surf we were riding, it just hooked me.
I did my first contest at Pipe in 2005. Cunningham convinced me. It was a great excuse to be in the lineup at Pipe with nobody out. The waves were pumping. I did it for a bunch of years after that, although I must say, it is ironic that I was competing in bodysurfing because my whole reason for getting into it in the first place was not to compete.
But there's that one contest at Pipe every year, and it was too hard to pass up. The huge thing about it is that as a bodysurfer you're the lowest on the food chain, you're so at the bottom of the totem pole that you can't even get near one of the good waves coming through. You are literally below the Brazilian bodyboarding chicks. You are at rock bottom. To be out at Pipe without 50 other people, that's the idea.
For me nothing compares with underwater bodysurfing imagery. It's so magical. We talked for 10 years about making a bodysurfing movie. Then about three years ago I got to a point where I felt like there weren't very many film projects I wanted to do, but I wanted to do this. Then I realized nobody's really done a bodysurfing film, and if I was going to do it I'd better do it now.
It's pretty neat because the guys who are lifetime bodysurfers, the guys who choose to do it, seem to be saying, "I don't give a damn about being cool, all I want to do is enjoy my experience in the ocean."
They're not looking for glory or attention. It's all about having fun and playing in the ocean … just for the passion.
Keith Malloy's film, "Come Hell or High Water," is available at Amazon.com.