Sunday night: The Super Bowl!
The Super Bowl was super awesome! I got VIP treatment as the guest of The Commish, Roger Goodell. We went to a special tailgating party that had really fancy food, cool music and fun things to do. They turned a parking garage into a party, and each level had a different theme. I held a live alligator (see below), danced to music and ate a lot of food.
We watched two concerts in the arena -- OneRepublic and Matchbox Twenty -- and then went to a party with the most important people in all of football. I hung out a lot with Steve Young's family since we are big BYU fans and he played for BYU.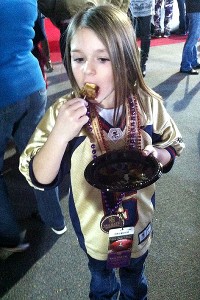 Eating food ...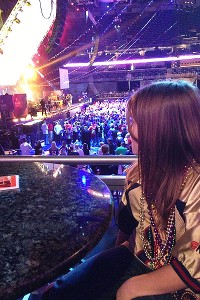 ... and listening to music before the big game.
Then, it was time to head to the game to sit with The Commish. We had some really important people sitting in the suite with us: New Jersey Governor Chris Christie, Tony Dungy, LSU coach Les Miles, Ohio State coach Urban Meyer, Jason Witten, the Harbaugh family and Jim Brown. Everyone was really nice!
I'm not going to lie -- just before the half, I felt like crying because my 49ers weren't doing well. And just then, they decided to show me with The Commish on TV! Ha! Not my best moment to be seen by the entire world.
At halftime, I watched the Beyonce show, which was awesome. After it was finished, I saw Jay-Z in the hall! I was looking around for Beyonce and they said she was coming up, but then the lights went out. She finally came up and was sitting in the box near ours. I got a picture, but it wasn't very good.
When the lights came back on, the Niners came to life. I got pumped up again and it was great to see them make it a close game, but I was sad they lost.
I can't thank The Commish enough for giving me such an awesome experience. The NFL has been great to me and I'm already excited for next season to start. Thank you again, Mr. Commissioner!
Your friend,
Sam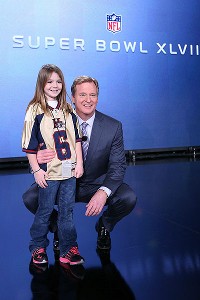 Thanks, Mr. Commissioner! :)
Sunday afternoon: Counting down to the game
We're counting down to the big game, and I'll be sending photos throughout the day. Here are a few for now:
Sunday morning: Reliving the NFL Honors red carpet/show
Saturday night was the NFL Honors awards show, and I didn't really get a chance to say everything about it, so here's a recap!
I got to choose my dress from six designed by Oscar de la Renta. I really liked the dress I wore and a lot of people said I looked cute in it.
Before the show, I wanted to eat something, so we went to a deli and I ordered spaghetti with meatballs and corn on the cob. My dad freaked out because he was worried I'd spill it all over my dress. He put five paper towels all over me and even helped feed me! Sheesh ... chill out, Dad. I only got a little bit of spaghetti sauce on my dress and my hair covered it, kind of.
When I arrived, I was taken to the start of the red carpet, where fans cheered me on! Down the red carpet, I got my photo taken by a lot of photographers.
Inside, I got to hang out, drinking soda and mingling with football players. I met Green Bay Packers quarterback Aaron Rodgers, who said I was adorable! I also met Jerry Rice, the second-best receiver to ever play the game. When I walked to my seat, I was right in between him and Steve Young!
During the rehearsals, the producer told me to make sure I went to the bathroom before the show so I didn't miss my part. Well, I didn't listen, and of course I needed to go pretty bad by the time for my part came along.
They showed my highlight video before my part and it was really cool that everyone cheered for me since these are the best players in the world.
Everyone thought I did great with Alec Baldwin and The Commish when I joked about taking over their jobs. Some famous football players wanted to say, "Hi" and shake my hand, but I needed to go to the bathroom so bad that I had to run out!
After the show, they served cute, little cupcakes and small cups of hot chocolate. Later, I went and ate my favorite meal: chips and queso dip and molten lava cake at Chili's. What a great day!
Can't wait for the big game later tonight!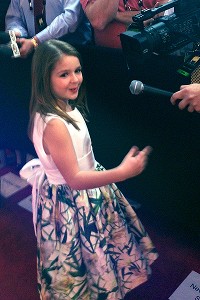 Answering reporters' questions on the red carpet.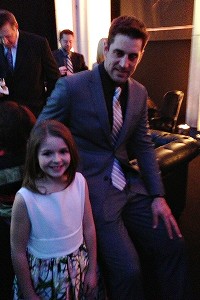 Meeting Packers QB Aaron Rodgers!
Saturday: What does my future hold?
Today got off to another great start. I slept in a bit and then ate beignets and hot cocoa for breakfast. I then explored the French Quarter and Jackson Square, picking up some gifts for my brothers and sister.
I went to a fortune teller and she told me I was going to be a doctor when I grow up (hopefully, a veterinarian). She also said I would travel a lot -- well, that is already true! -- and that I'll have three children, two boys and a girl, and all three will play football! Just kidding about that last part, but they probably will ... ha!
I then headed over to CNN's set for another interview outside. A lot of people gathered around and cheered for me, which was awesome! Next up, the NFL Honors award show and red carpet event. I don't usually wear dresses, but I was excited to wear one tonight because it was designed by Oscar de la Renta! (I'll post some pictures later tonight.)
I was able to say a part during the show -- they gave me lines to practice. I had it memorized, but to be sure I didn't mess up, I decided to read them.
I met a lot of famous football players and celebrities today; sometimes it's hard to believe this is all happening. Even though the past two days have been so cool, I can't wait for tomorrow to see the game. I mean, that's why we're here, right?
I was told The Commish has some really cool surprises for me tomorrow! I'll let you know!
[Editor's note: espnW's Kate Fagan spent some time with Sam on Saturday. Check out her story here.]
Friday night: The NFL Experience!
This afternoon, I got to have fun running around at the NFL Experience and Pro Camps. The NFL Experience was really cool; it had all sorts of games for kids to play, plus memorabilia and good food. We had gumbo, po'boys and sausages. It was really good.
I raced in the 40-meter dash against a group of girls who were there with their entire high school basketball team. They beat me, but give me a couple of years and I'll get faster!
I also did a bunch of drills at the NFL Rush Zone. That's an NFL cartoon, so they had a lot of cartoon characters.
We then drove to the NFL Honors rehearsal. The theater was only two miles away, but it took us 45 minutes to get through the French Quarter. That place was packed with people. I met Alec Baldwin; he was really funny!
I also went to a sports camp with NFL players, including Mark Ingram and Darren Sproles. We did drills and played games of two-hand touch. It was really fun. Then we had some pizza!
Now, it's back to the hotel to get rested for another big day!
Friday: Hats, NFL stars and the Commish
This morning, I woke up in such a great mood because I was excited to see the Commish and Brian McCarthy [public relations] from the NFL. I got ready listening to my favorite singer, Katy Perry.
On our way in to New Orleans from Gulfport, Miss., we listened to jazz music. Did you know that jazz music was first created in Utah and that's how the Utah Jazz got its name? Just kidding!
When we arrived at the media center for the Commish's news conference, I got to meet a lot of famous people, and it was really fun! I also got my own hat and a picture of Gatorade being dumped on me. They also had cake from Mardi Gras that was really yummy.
I got to talk with the Commish at the news conference. He answered a lot of questions, but I didn't understand most of them, though.
Now I'm off to the NFL Experience. I'll check back later, but here are some pictures with some of the people I met today: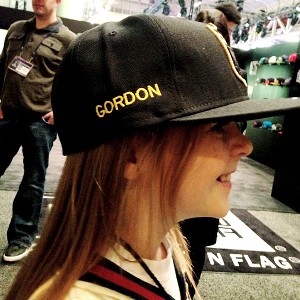 My own personalized hat!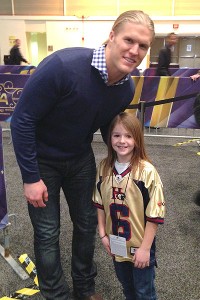 Green Bay Packers linebacker Clay Matthews!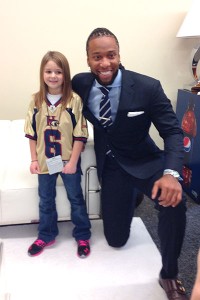 And Arizona Cardinals wideout Larry Fitzgerald!
Thursday night: Blogging and traveling to NOLA
espnW.com asked me, Sam Gordon, a 9-year-old girl, to share what it's like to go to the Super Bowl with NFL commissioner Roger Goodell. The Commish invited me because he thought it was awesome that I played tackle football with the boys.
My dad uploaded a highlight video of me on YouTube, and within three days, more than 4.9 million people had viewed it! The only place he shared my video link was on a BYU football message board. Check out the message that started it all.
The Commish called my dad when he saw my video and invited us to go to the Giants game with him in December. It was awesome because I got to hang out in the Commissioners Club before the game where they have a candy buffet, pizza, hot dogs and all sorts of good food. I also met espnW's Jane McManus at the game, who I found out is a hard-core roller-derby player! How cool is that?
After the Giants game, the Commish sent me a card asking if I'd like to be his guest at the Super Bowl. Of all the questions I've been asked, that was the easiest to answer. Who wouldn't want to go to the Super Bowl in New Orleans? I visited New Orleans a few months before Hurricane Katrina, but I was only 2 or 3 years old and can only remember visiting an alligator farm and looking at the Mississippi River.
This trip will definitely be memorable. The Commish and I have a lot of fun things planned. We will attend press events, make TV appearances, go to the NFL Honors Award Show, tailgate with VIPs and watch the game from some of the best seats in the stadium. I'm even up for an award for the Most Viral Player on the Hall of Game Show, which is hosted by Shaq. You can vote here.
On Friday, I plan on going to the Commish's news conference, where more than 1,000 reporters will ask him questions for an hour. Then I'll head to the NFL Experience, which is like Disneyland for football fans. Then I'm going to play football with some professional players at a pro camp for kids. I don't mind doing interviews, but c'mon! What kid wouldn't want to play football with pro football players? This should be really fun!
I'll keep you posted on everything I'm doing this weekend and take a bunch of photos of football players and famous people I meet! You can check out some of the photos on Instagram and Twitter too.
If you're wondering, I will be cheering for the 49ers. They invited me to a practice and let me lead the team in a cheer. Coach Jim Harbaugh asked me which team was my favorite, and I said, "Green Bay Packers." He thought that was funny but made me a deal: If the 49ers beat Green Bay in the playoffs, the 49ers would be my No. 1 team, and they did! After that, I changed my Twitter avatar to a photo of me and 49ers quarterback Colin Kaepernick.
Even though I'm cheering for the 49ers, I still want the Ravens to do well. My personal trainer is a former NFL player and is friends with Ravens D-lineman Haloti Ngata, who went to high school near where I live. I'm a BYU fan, so I also want to see former BYU tight end Dennis Pitta score a touchdown like he did in the AFC Championship Game after he got hit really hard on the prior play.
Getting to NOLA: Our flight to the Super Bowl took off from Salt Lake City at 1 p.m., so I was able to sleep in. I can seriously sleep a lot; I hate getting up early. It's a long story, but we are actually staying in Gulfport, Miss., which is about an hour drive from New Orleans. We took a flight to Atlanta and grabbed some dinner before taking a short flight to Gulfport.
The flight to Atlanta was not bad compared to the long flights to NYC. I have an iPhone that I watch movies and play games on during flights, so it went by fast. I play a lot of "Temple Run 2" and "Bike Race TFG" -- two of my favorite apps.
Utah has the "Greatest Snow on Earth," and we had got a lot of it the past few days, so I'm excited to get out of the snow and find warmer weather.
We landed in Gulfport late, but it is hard to get to sleep because I'm so excited for this weekend. I keep finding out more about everything I get to do and people I get to meet. It is all so awesome!
Sam Gordon will be blogging for espnW throughout Super Bowl weekend. Check out her next post Friday.