The road to BlizzCon begins in earnest Friday, as the Americas Winter Championship kicks things off as the first major event of the Hearthstone Championship Tour.
The Americas, representing the United States, Canada and Latin America, is one of four regions that will send players to the Hearthstone World Championship. Each region will send four players to represent them in the World Championship; three of those four players will be the winners of regional championships -- each preceded by preliminary qualifying events -- and the fourth comes from each region's eight player Last Call Invitational.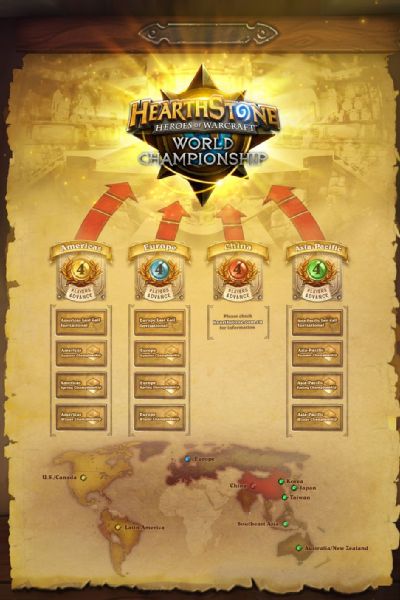 The Americas Winter Championship is the first official qualifying event of the Hearthstone Championship Tour, and by the close of the event's action the first qualifier for November's Hearthstone World Championship will have their spot locked up. Each region's Winter Championship runs during consecutive weekends this month, but the Americas tournament kicks things off on March 11 at 1 p.m. ET -- pitting the top eight players from Winter Preliminaries against one another in a battle for glory and a piece of the $100,000 prize pool over the course of three days.
Players are divided into two groups, squaring off in a double-elimination round robin using the Conquest format with a ban. The top two players from each group will advance to a single-elimination bracket, where the final four will battle for the Winter Championship crown.
Here's a brief look at the eight contestants and the success that's led them this far:
Bob "Nostam" Matson: After finishing ninth in the Winter Preliminary tournament, Nostam initially fell outside the Americas Winter Championship qualifying group. Fortunately for him, Fibonacci -- a winner in the aforementioned tournament -- will be unable to attend, giving Nostam a second chance at glory. Due to his performance at the qualifiers, though, it is unlikely he will make a mark on this event.
William "Amnesiac" Barton: This 15-year-old prodigy was recently picked up by Team Archon, after an impressive showing in the 2015 season in which he earned 150 BlizzCon qualification points and several top eight finishes along the way -- proving he has what it takes to be a world class player. He's been described as a "freaking genius" by Jason "Amaz" Chan, and this event could be a chance for him to truly showcase his advanced wit en route to a bid to the World Championship.
Keaton "Chakki" Gil: This Team Dignitas player has made an impact in the Hearthstone community for more than two years, but he's really come into his own this season, having recently claimed third place finishes at DreamHack Summer 2015 and the eSports Arena Invitational. He's hungry to finally claim a major victory, and Chakki is fresh off of his dominating 3-0 series win over Tailon to qualify for this event. If he can continue playing like he did in that last series, he will certainly be a terrifying opponent.
Chris "Chessdude123" Gu: One of the lesser known players at this event, chessdude put together an impressive Priest performance to qualify for the HCT Americas Winter Championships. He integrated "The Beast" into his deck questionably, but he was able to prevail and earn his spot at this tournament. I'd keep an eye on him, as some potentially unorthodox decks could either lead to his success, or to his utter demise.
Santiago "Snail" Bigatti: Snail had an impressive run through the qualifiers to this event. After losing in the first round, he made a miracle comeback through the loser's bracket -- sweeping two series before winning 3-2 in the final three rounds to qualify, including a loser's bracket final against Nostam. It's uncertain how he will shape up against his opponents here, as most of them were in opposite brackets during the qualifier, but if he is able to keep up his momentum he may be able to upset some of the higher-seeded players.
Tianying "Wtybill" Wu: Finishing top four at the qualifiers, wtybill is looking to continue his impressive run and punch his ticket to BlizzCon. There could be a rivalry developing between wtybill and Nostam, as the former was able to knock out his now-regional opponent during their Winter Preliminary matchup. His success hasn't been limited to the qualifier tournament, however, as he finished third at the Stone League S1 Code S. He is definitely a player to watch out for in this event, with the potential to finish among the top three.
Fred "Talion" Yu: After finishing rather low in the seedings for this tournament, Talion will have a tough road to qualify for the Hearthstone World Championship. Just to make it to this event, Talion was forced to climb through the Loser's Bracket of the Americas qualifier -- a trend he will hope to buck, come the Americas Regional Championship. Talion's consistently had the highest-rated decks on Hearthpwn, and he's finished top 20 ladder legend multiple times -- showcasing his ability to innovate and beat even the toughest opponents.
Ximeng "AlSkyHigh" Cao: AlSkyHigh was able to take a game off of the number one player, Fibonacci, in the qualifiers during their series - along with several other close games. His impressive performance using Freeze Mage allowed him to knock Admirable out of the tournament. AlSkyHigh's long, drawn out games may not be the most entertaining to watch, but his results show that he may be able to make an impressive showing in this tournament.
The Americas Winter Championship runs from March 11-13, with action kicking off at 1 p.m. PST Friday on the official Hearthstone Twitch channel.