The eight best college League of Legends teams will meet in Los Angeles at the North American League Championship Series studios to determine which school will be the 2017 College Champions.
The bracket -- headlined by powerhouse teams and former finalists University of British Columbia and Robert Morris University -- features five regional tournament winners (North, South, East, West, Big Ten) along with the three best second place teams that competed in a round-robin wildcard tournament in April.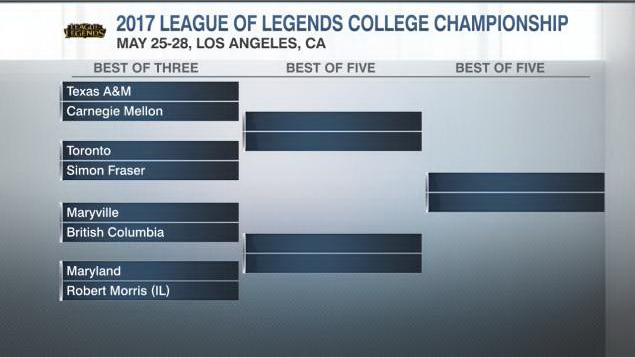 Top things to know
The University of British Columbia returns to the final bracket looking for its third straight collegiate championship. The school obtained a spot in this year's tournament via a wildcard seed after losing their West Region qualifier match against Simon Fraser University.
If heavily favored Robert Morris University wins its quarterfinal match against Maryland, RMU's semifinal will be the match to watch in this tournament. They will face either North Region rivals Maryville University (the schools split recent major tournament matches with Maryville winning the North Region qualifier tournament and Robert Morris getting revenge in the Midwest Campus Clash final) or two-time defending champions British Columbia.
Robert Morris and UBC have reached the final of the last two iterations of this tournament and British Columbia has emerged victorious both times. However, UBC returns only one starter from those championship lineups.
Maryland won the Big Ten regional qualifier tournament as the No. 3 seed, boasting a 7-0 record in the process. Maryland will look to continue its hot streak in the quarterfinals against perennial powerhouse Robert Morris.
Players to watch
Texas A&M vs. Carnegie Mellon
The Texas A&M bot-lane combo of support Anthony "bot with b ehere" Cui and AD Carry Joseph "chuck normis" Bowers lead their team in KDA and have fewest deaths per game.
In playoff matches, Carnegie Mellon mid-laner David "Yusui" Bloomquist leads all finalists with 5.2 kills per game (min. five games played).
Toronto vs. Simon Fraser
Toronto mid-laner James "jhEEsh" Swann is not afraid to play flashy, high-risk assassins like Katarina and Talon. He comes into the tournament with the second highest kills per game (4.6) in playoff matches (min. five games played).
Simon Fraser jungler Sam "FrozenNight" Yeung stands out on high-damage champions averaging a 5.1 KDA on Rengar and Kha'Zix during the playoffs while maintaining 1.1 KDA on all others.
Maryville vs. British Columbia
Maryville support John "Free Papa Chau" Le leads all finalists in KDA (5.35) in playoff matches. He went undefeated on the champion Karma in these matches.
Jason "ProofofPayment" Dong is the only returning starter from British Columbia's championship-winning teams. His experience could be the difference as UBC looks to win a third straight title.
Maryland vs. Robert Morris (IL)
AD Carry Zhisheng "Nano" Xue helped lead Maryland to a 3-0 sweep over Illinois in the Big Ten final amassing 20 kills and 7 deaths over those three games. He will need to have similar performances for Maryland to defeat Robert Morris.
One of the best top lane players in the tournament, Derek "West Coast Carry" Micheau (RMU) also features one of the most diverse champion pools of the finalists. Over 22 games during playoffs, West Coast Carry played 10 unique champions.