For this project, we compared the age of top-tier players for a variety of games with the age of professional athletes in the NBA, NFL, NHL and MLB.
Due to inconsistencies with data, we had different collection methodologies for each game. For bigger games like Counter-Strike: Global Offensive and League of Legends, we were able to collect information on more than 100 players. We created a formula that allowed us to easily determine age as of Sept. 18, 2017.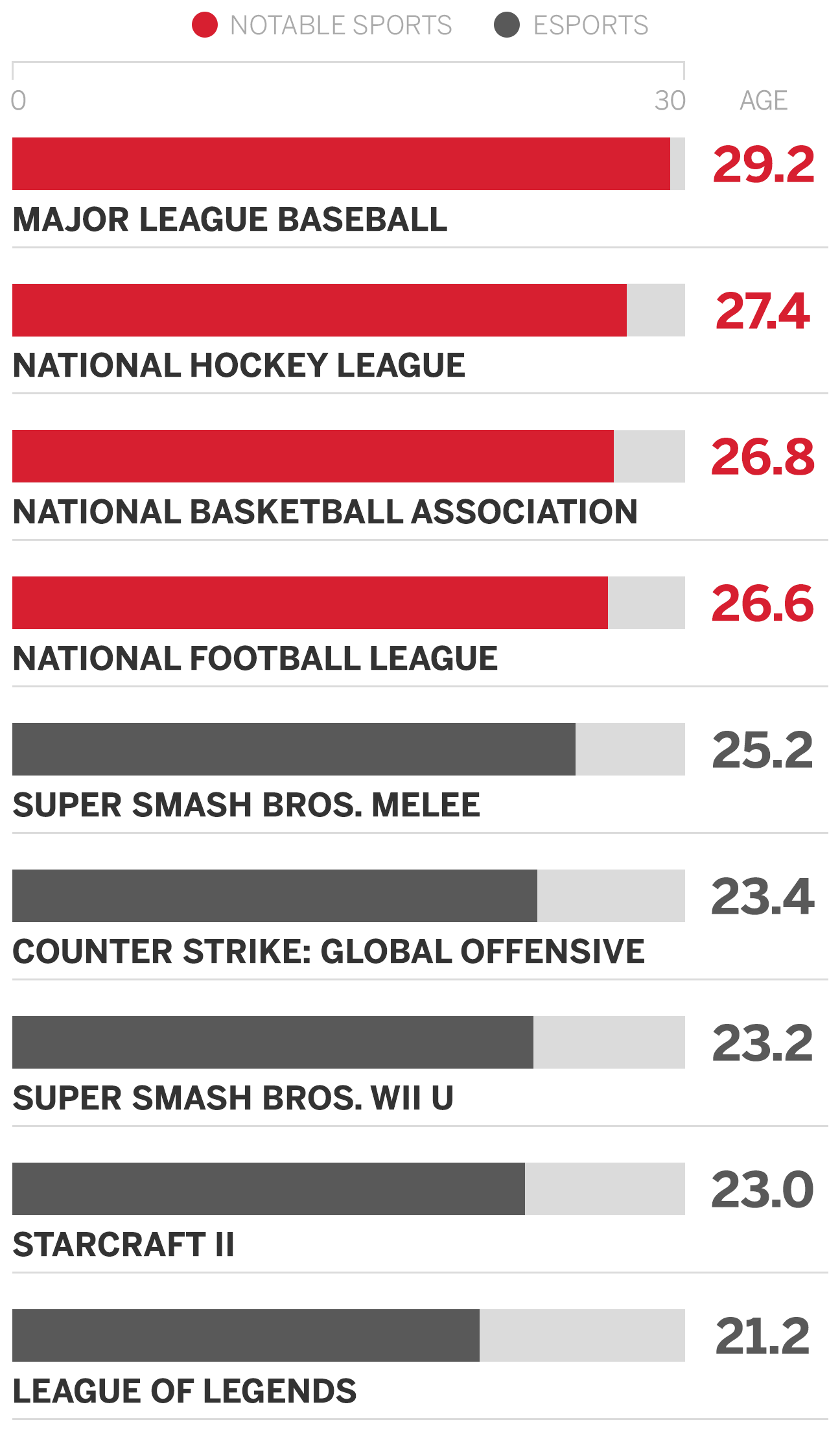 Stats by Elias Sports Bureau.
The age of professional play is varied, even when release date is considered. The oldest game in this group is Super Smash Bros. Melee, which released in 2001. The average age of top competitors in that game is 25.2 years old. However, League of Legends, which is the second-oldest game in this grouping, carries by far the youngest average age (21.2 years old).
Notable facts
Super Smash Bros. Wii U has a very interesting case of variance across ages. Ken Hoang participated in DreamHack Austin 2017 and is currently 31. On the same competitive circuit competes Zack "CaptainZack" Lauth, who won't turn 16 until Oct. 26.

In Super Smash Bros. Melee, Justin "Wizzrobe" Hallett is only 19. Born in January of 1998, Melee was released just over a month before Hallett turned 4 years old.

Counter Strike: Global Offensive is the "old man's game" in the group. Three of the five players we analyzed who will be at least 30 years old on Sept. 18 compete on the CS:GO competitive circuit.

The oldest League of Legends player we analyzed was Daerek Hart. Known as LemonNation, he is one of the longest-tenured and oldest players in professional League of Legends. A smash hit with Cloud9 from 2013 to 2015, Hart has served both as a support and a coach -- which is indicative of his strengths. The support role in League has not historically been the most mechanically demanding role but rather requires leadership, with Hart as an example of this. He is currently 28, a "grizzled veteran" on the professional circuit.
League of Legends has a large number of very young competitors. Fifty-two of the 117 competitors we analyzed (44.4 percent) will not be able to legally consume alcohol in the United States.
But overall, esports players are significantly younger than their counterparts in other major sports. The average age of the opening day rosters in the most recent season at the highest professional level in football, basketball, baseball and hockey was higher than the average age of any of the esports games we analyzed.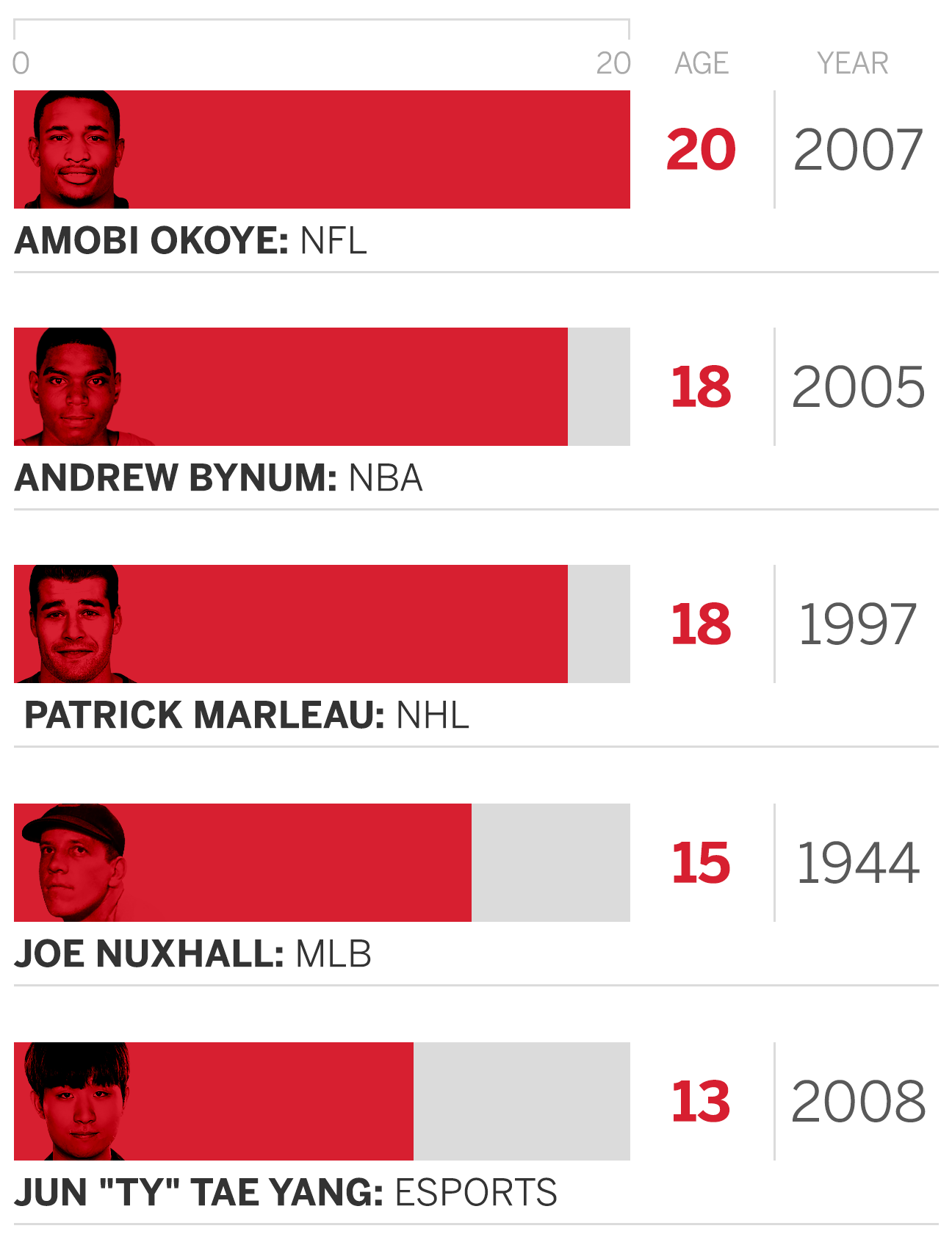 On this day, 23 years ago, Jun "TY" Tae Yang was born. Once known as "BaBy," TY is one of the youngest players to have ever debuted on StarCraft II pro stage -- joining a team at the age of 12 and competing in his first professional match at the age of 13.
Meanwhile, Daigo Umehara, 36, is an icon in the fighting-game community who debuted in the same year as athletes like Derek Jeter and Kevin Garnett. Best known for his time in the Street Fighter and Guilty Gear series, Daigo became a legend -- due to his moments like Evo Moment 37 in 2004 and six Evolution Championship Series titles -- in the 2000s and the early 2010s. Even with ups and downs, Umehara has shown to be a phenom at an older age, in comparison to his peers, taking second at the Capcom Cup in 2015 and fourth at Red Bull Kumite in 2017. Umehara continually defies rumors of age's effect in esports.