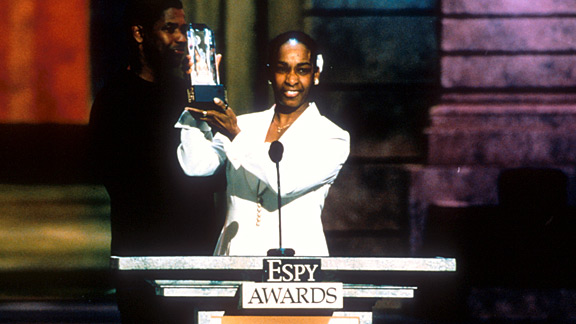 Loretta Claiborne was the middle of seven children in a poor, single-parent family. Born partially blind and mildly retarded, she was unable to walk or talk until age 4.
Eventually, though, she began to run. And before she knew it, she had crossed the finish line of 25 marathons, twice placing among the top 100 women in the Boston Marathon. She's carried the torch in the International Special Olympics, has won medals in dozens of events, and also holds the current women's record in her age group for the 5000 meters at 17 minutes.
Claiborne continues helping people with mental retardation and physical disabilities succeed. She advises them, "Find an opportunity and seize it. Be the best you can be, and never let anyone doubt you."
Arthur Ashe Award
The Ashe Award is one of the most prestigious in sports. Recipients reflect the spirit of Arthur Ashe, possessing strength in the face of adversity, courage in the face of peril and the willingness to stand up for their beliefs no matter what the cost. The award is inspired by the life that Ashe lived, using his fame and stature to advocate for human rights, although, at the time, those positions may have been unpopular and were often controversial. From speaking out against apartheid in South Africa to revealing to the world his struggle with AIDS, Ashe never backed away from a difficult issue, even though doing so would have been easier. Winners of the Ashe Award strive to carry on Ashe's legacy in their own lives - - inspired by those who do so each day.