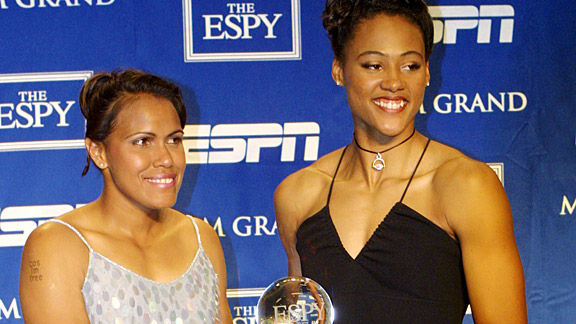 Cathy Freeman, chosen to light the Olympic torch at the 2000 Olympic Games in Sydney, represented the oppressed Aboriginal people of Australia.
Winning gold in the 400m, she became her nation's first indigenous person to win an individual Olympic Gold medal. She had been warned by the government not to make a demonstration on the Olympic stage, but ignoring the threats, she took the opportunity of her moment in the spotlight to speak for those who could not, a generation that had been lost to violence and oppression. Her action of carrying the aboriginal flag was seen by many as very controversial, but was ultimately a heroic act. She has done much work for the Aboriginal population to ensure that they have healthcare and are not forgotten by Australian government.
Arthur Ashe Award
The Ashe Award is one of the most prestigious in sports. Recipients reflect the spirit of Arthur Ashe, possessing strength in the face of adversity, courage in the face of peril and the willingness to stand up for their beliefs no matter what the cost. The award is inspired by the life that Ashe lived, using his fame and stature to advocate for human rights, although, at the time, those positions may have been unpopular and were often controversial. From speaking out against apartheid in South Africa to revealing to the world his struggle with AIDS, Ashe never backed away from a difficult issue, even though doing so would have been easier. Winners of the Ashe Award strive to carry on Ashe's legacy in their own lives - - inspired by those who do so each day.