Go to: Sleepers | Busts | Breakouts
---
The difference between winning and losing your league often comes down to a single decision on draft day. It could be taking a player whose production explodes, turning him into one of the elite players in the game. It could be selecting a player whom others slept on during the draft but far exceeded his preseason value. It could also be a player whom you intended to rely on but then flopped miserably.
To assist you in securing the best impact players and draft values -- while avoiding players who will wreck your roster -- the ESPN Fantasy Football staff offers its top sleepers, busts and breakouts as defined below:
Sleeper: a player who will far surpass his average draft position (ADP) in standard ESPN leagues for the 2017 season.
Bust: a player who is expected to be a solid starter in standard ESPN leagues but will fail to live up to those expectations this season.
Breakout: a player who will leap into or close to the upper echelon of players at his position for the first time because of a dramatic increase in production compared with his previous seasons (or a rookie who will burst on the scene).
Our panel is composed of these ESPN Fantasy writers and editors: Matthew Berry, Matt Bowen, Tom Carpenter, Mike Clay, Tristan H. Cockcroft, Ken Daube, KC Joyner, Eric Karabell and Field Yates.
Each analyst named a sleeper and a bust for each of the major offensive positions, as well as one breakout candidate. You can find their picks in the charts below, and then analysis and insight on a selection of players they felt most passionate about in each category. You'll notice in the chart that there were players -- mostly tight ends (Martellus Bennett, Hunter Henry, O.J. Howard) -- who were on one analyst's sleeper list and another's bust list.
---
Sleepers
These are the players our panel believes will exceed their 2017 average draft position and provide value for those who take a chance on them.
John Brown, WR, Arizona Cardinals
His 2016 season shouldn't matter, because he wasn't close to 100 percent healthy. His 2015 season tells us considerably more. That year, Brown proved to be a terrific downfield threat, showing he was capable of handling a larger role and consistently making big plays, including six catches of 40-plus yards. Assuming he is healthy, he's a perfect complement to a top running back in David Johnson and a receiver in Larry Fitzgerald, who rarely goes downfield. -- Karabell
Martellus Bennett, TE, Green Bay Packers
In Green Bay, Bennett is an upgrade for the Packers at tight end in an offense that caters to his abilities. He is slippery in the open field, averaging 7.5 yards after the catch in '16, and he can use his size to separate at the break. Now he becomes a prime target for Aaron Rodgers in the quick game. Plus, with his ability to work the middle of the field, along with the off-schedule plays that make Rodgers special, Bennett is in a position to produce consistent TE1 numbers this season for an offense that should score plenty of points. -- Bowen
Blake Bortles, QB, Jacksonville Jaguars
Despite Allen Robinson and Allen Hurns being classified as missing in action last season, Bortles overcame concerns about his mechanics to deliver the ninth-highest point total among quarterbacks. With an offseason to get back on track, look for the passing game to take a step in the right direction regardless of any impact that rookie running back Leonard Fournette has on the Jaguars' offense. -- Daube
Isaiah Crowell, RB, Cleveland Browns
I mentioned him as a big winner in the free-agency edition of "Love/Hate" because of all the great additions Cleveland made on the O-line. This is going to be a run-first team, and run they will with Crowell, a 225-pound bruiser who quietly had a top-20 season in 2016, when he averaged almost 5 yards a carry. He has RB1 upside at low-end RB2/flex prices currently and is poised to get the rock a ton behind a great O-line. Don't take my word for it. Take Browns head coach Hue Jackson's. -- Berry
Andy Dalton, QB, Cincinnati Bengals
The Bengals suffered through a disappointing, injury-plagued 2016 season, but Dalton still managed to post his third top-12 fantasy campaign in the past five years. In fact, you can call it four of the past five if you include a 2015 season in which he sat fifth before a Week 14 season-ending injury. Dalton quietly sits second among quarterbacks with 18 rushing touchdowns since he entered the league. This year, John Ross and Joe Mixon are in the mix, and A.J. Green, Tyler Eifert and eventually Giovani Bernard will return after combining to miss 20 games last season. Dalton has starter upside and can be had late in your draft. -- Clay
Josh Doctson, WR, Washington Redskins
An Achilles injury effectively ruined Doctson's rookie season, limiting him to two games, but all the scouts' raves at the time of his first-round selection stand if he can stay healthier in his second season. With Pierre Garcon and DeSean Jackson now elsewhere, Doctson also has a much greater chance of an expanded role, perhaps directly sliding into Garcon's "Z" role, which resulted in 111 targets and 79 receptions for Garcon. Doctson shouldn't cost much more than a late-round/bench-spot pick, but he has the potential to offer WR3 production. -- Cockcroft
Jack Doyle, TE, Indianapolis Colts
It's real simple. Over the past three years, tight ends have received 25 percent of Andrew Luck's completions, 24 percent of his passing yards and a whopping 37 percent of his touchdowns. New Colts GM Chris Ballard let Dwayne Allen go and instead signed Doyle to a $19 million deal, in part because no tight end had a higher catch percentage last season. He's not the deepest of sleepers, because I think he's going to be on everyone's sleeper list, but whatever, he was on mine in April, so screw it. I'm sticking with him. -- Berry
Quincy Enunwa, WR, New York Jets
Enunwa is the last man standing in the Jets' receiving corps after Gang Green parted ways with both Brandon Marshall and Eric Decker this offseason. Enunwa flew under the radar for most of last year, while finishing 40th overall in receiving yardage. With Josh McCown replacing Ryan Fitzpatrick and Enunwa as the primary receiving option, it's all but certain he finishes as a top-24 option this season. -- Daube
Mike Gillislee, RB, New England Patriots
On an offense that projects to lead the NFL in scoring, Gillislee figures to own a solid portion of LeGarrette Blount's former role. While most will remember Blount's 18 rushing touchdowns, don't forget he also had almost 300 carries. Even if Gillislee gets only two-thirds of those attempts, he'll project for almost 1,000 yards and double-digit scores. -- Daube
Austin Hooper, TE, Atlanta Falcons
Hooper was Atlanta's third-round pick last year and played fairly well as a rookie while averaging nearly 30 snaps per game behind veteran Jacob Tamme. Tamme is gone, opening the door for Hooper to play an every-down role in an offense that scored a league-high 58 touchdowns last season, including 10 to the tight ends. At 6-foot-4, 254 pounds, Hooper is a good athlete with big hands. He is one of the better breakout candidates at tight end and can be had very late in your draft. -- Clay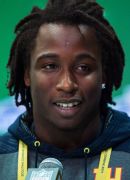 Kareem Hunt, RB, Kansas City Chiefs
Andy Reid has consistently made his lead backs fantasy-relevant, and Hunt, who was selected in the third round of April's draft, is next in line on an impressive list that includes the likes of Brian Westbrook, LeSean McCoy and Jamaal Charles. Over the past decade, Reid's tailbacks are averaging 4.4 yards per carry and 15.8 offensive touchdowns per season. Hunt is an impressive rookie with three-down ability and terrific elusiveness. He'll start out behind Spencer Ware, but our NFL Nation reporter Adam Teicher has already predicted that Hunt will lead the backfield in carries and targets. -- Clay
Doug Martin, RB, Tampa Bay Buccaneers
Since the start of the 2010 season, there have been just 11 instances of a player rushing for at least 1,400 yards in a season; Martin owns two of those seasons, and only Adrian Peterson has multiple such seasons in that span. A three-game suspension to start the year will discount his price. If he regains his previous form, there's tons of upside. -- Yates
Bilal Powell, RB, New York Jets
Early word is that Powell will be stuck in a time-share with Matt Forte, but don't let that dissuade you. Powell is a better, younger, more energetic and durable player, and he showed it in December with a huge final four weeks. Overall, Powell averaged 5.5 yards per carry, caught 58 passes and can handle a larger workload. Forte is on the way out, and Powell is primed for his best season yet. He's a potential high-end RB2 for PPR and standard formats. -- Karabell
C.J. Prosise, RB, Seattle Seahawks
Anything goes as far as running back expectations are concerned in Seattle, where Eddie Lacy's weight and Thomas Rawls' injury issues could open opportunities for players further down the depth chart. Prosise also wasn't the healthiest fellow during his first NFL campaign, but he's also head and shoulders ahead of the other two in one important regard -- receiving. He might vie for 50 catches if he can stay on the field. That alone should guarantee him a sizable role in the offense, and any sort of early success running the football could earn him a healthier share of the change-of-pace chores behind Lacy and/or Rawls, if not more if either of the two gets injured. -- Cockcroft
Adam Thielen, WR, Minnesota Vikings
In 2016, Thielen caught 69 of 93 targets (74.4 percent catch rate), averaged 14.0 yards per catch and posted five touchdowns. Yes, he did have three monster games that boosted his total fantasy production, but Thielen still finished with 195.20 points in PPR scoring last season (74th overall). With good size, clean route running and the game speed to get on top of the secondary, Thielen provides really good value as a mid-round pick in the Vikings' west coast offense. There's some upside here. -- Bowen
Sammy Watkins, WR, Buffalo Bills
Injuries and a run-first Bills offense have dropped his ADP into the fifth round. However, the upside of a highly talented wideout who is just 24 and entering a contract year with a good quarterback throwing him balls is a recipe for a WR1. Take the risk, and enjoy the payoff. -- Carpenter
Carson Wentz, QB, Philadelphia Eagles
The volume of passing attempts will go down (607 in 2016, fifth in the NFL) as a result of better offensive balance, but the targets in Philly are vastly superior in 2017. Alshon Jeffery, Jordan Matthews, Zach Ertz, Darren Sproles, Torrey Smith and others give Wentz weapons to succeed. -- Yates
Jameis Winston, QB, Tampa Bay Buccaneers
Winston played in the most vertically inclined passing offense in the league last year, and he now adds DeSean Jackson and O.J. Howard to the mix. Jackson ranked sixth in vertical receiving yards last year (759 on aerials thrown 11 or more yards downfield), and Howard led all Power 5 tight ends with 10 or more vertical targets in vertical reception percentage in 2016 (71.4 percent). That downfield upside will move Winston to mid-tier QB1 status or higher in 2017. -- Joyner
Robert Woods, WR, Los Angeles Rams
Look, someone has to catch the ball in Los Angeles. Kenny Britt, a top-30 WR last season who had a 24 percent target share and 21 percent reception share, has moved on, making Woods the No. 1 option on a team that should throw a lot more this year under new head coach Sean McVay. Woods, who put up solid numbers in Buffalo when Sammy Watkins was out, should also benefit from an offense that should be decent (not great, but not embarrassing). Woods is currently going as WR60 in ESPN ADP, making him a strong flex consideration going insanely late. -- Berry
---
Busts
Which players are destined to fall short of their draft-day expectations? Our panel suggests you stay away from these players who are sure to disappoint.
Jay Ajayi, RB, Miami Dolphins
There is talk in Miami that Ajayi could get 350 carries, but before jumping on that elite RB1 workload bandwagon, consider that Miami ranked 28th last year in my good blocking rate metric, which measures how often a ball carrier receives good run blocking (roughly defined as the offense not allowing the defense to disrupt a rush attempt). Center Mike Pouncey's ongoing injury woes are among the many question marks along the offensive line that will probably keep the Dolphins' run blocking below par and make Ajayi far too reliant on outlier elite games to make up for a lack of consistent production. -- Joyner
Keenan Allen, WR, Los Angeles Chargers
Allen is only 25 years old and has 100-catch upside, but there are too many drawbacks for me to feel comfortable picking him in the third round. Since his final season at Cal, he has suffered a torn PCL, torn ACL, broken collarbone, lacerated kidney, as well as hip, groin and ankle injuries. He has missed at least one game each of the past three seasons, including 23 over the past two years. Additionally, I expect the Chargers to be one of the league's better teams this season, and Allen will have more competition for targets than ever via Tyrell Williams, Mike Williams, Travis Benjamin, Antonio Gates, Hunter Henry and Melvin Gordon. -- Clay
Kelvin Benjamin, WR, Carolina Panthers
A major surprise as a rookie, Benjamin lost his 2015 campaign to a knee injury and fooled fantasy owners most of last season, as he was statistically quiet after the first two weeks, one of which was against San Francisco. Certainly, the occasionally erratic play of Cam Newton plays some role, but there's no guarantee that won't continue. Benjamin has the size but again came to training camp with questionable conditioning, and the Panthers added numerous weapons to their passing game. -- Karabell
Martellus Bennett, TE, Green Bay Packers
After seeing Bennett for a year and winning a Super Bowl with him, Patriots coach Bill Belichick, who seems to know a thing or two about football, was like ... yeah, we're good. Let's play a quick game:
Percentage of Rodgers completions that have gone to TE
2008-10: 19.6 percent
2011-13: 18.6 percent
2014-16: 17.1 percent
There's probably a reason Bennett is now on his third team in three years, but instead of worrying about that, ask yourself why Aaron Rodgers would suddenly start throwing to the tight end in a significant way when all of his receiving weapons from last season are back? (TMR Note: I don't consider Jared Cook a weapon) - Berry
LeGarrette Blount, RB, Philadelphia Eagles
Coming off an 18-touchdown campaign, it's hard to envision Blount falling far in drafts, especially because he is expected to carry a lead back role in Philly. But the early-round premium one will have to pay could prove dangerous. Aside from last year, Blount has just one other season with 1,000-plus yards and one other season with more than six rushing touchdowns. -- Yates
Julian Edelman, WR, New England Patriots
Edelman has been an underappreciated PPR play, as a shoo-in for 90-100 catches and 1,000 yards the past four seasons. My concerns this time around are that he still doesn't catch many touchdowns, is 31 years old, often dinged up and will be fighting for targets with Brandin Cooks and a currently healthy Rob Gronkowski. Edelman will still do his thing, but I expect there will be less of it to do. I don't think he lives up to his fifth-round ADP. -- Carpenter
Tyler Eifert, TE, Cincinnati Bengals
A touchdown machine the past two seasons, Eifert can certainly find the end zone. However, he's far from durable, and you won't find him among the tight end leaders in receptions and targets. Eifert's fantasy value is too dependent on touchdowns. Ankle and back woes curtailed his 2016 season, and offseason back surgery should affect his summer. Draft Eifert, and there could be a double-digit touchdown season pending, but he's not nearly as valuable in PPR -- and by the way, you'll need to secure another tight end for parts or most of the season as well. -- Karabell

Antonio Gates, TE, Los Angeles Chargers
Almost all of Gates' underlying metrics took a step backward in 2016, which is understandable for someone who played the season at age 36. Unfortunately, it was an ill-timed downturn, considering the unexpectedly productive performance of rookie Hunter Henry. Gates outscored Henry by one fantasy point -- bearing in mind the difficulty rookie tight ends have had historically adjusting to NFL play -- and Henry looks primed to assume more of the Chargers' workload this season. Another thought: Gates needs just one touchdown to break the all-time record for a tight end; might the team significantly reduce his targets afterward, knowing that he's at a stage of his career where he might offer more production from a lesser workload? -- Cockcroft
Hunter Henry, TE, San Diego Chargers
It felt like almost everything Henry caught as a rookie was a touchdown. Eight of his 36 receptions were in the end zone. That derived from his terrific skill set, but with a healthy group of pass catchers in Los Angeles, his red zone volume is bound to slide, and counting on uncommon touchdown production is unwise. -- Yates
Julio Jones, WR, Atlanta Falcons
Last year, vertical passes (targets thrown 11 or more yards downfield) accounted for 58.1 percent of Jones' fantasy points, a mark that was third-highest among the 24 wide receivers who posted 200 or more fantasy points in PPR leagues. That makes the Falcons' switch to new offensive coordinator Steve Sarkisian quite concerning, because Sarkisian's last four full seasons as a collegiate head coach or offensive coordinator displayed a lack of downfield throws. His Washington teams in 2011-13 ranked 37th among Power 5 teams in vertical attempts per game (10.3) and his 2014 USC team posted an identical rate of 10.3 vertical passes per game. -- Joyner
Lamar Miller, RB, Houston Texans
I've never really bought the hype on Miller, and I think we've already seen his best, which hasn't been all that impressive. With rookie D'Onta Foreman chipping into Miller's workload this season, I see a capped ceiling and a risky floor for a player going in the top-25 picks in late June. -- Carpenter
Dak Prescott, QB, Dallas Cowboys
Other than Tom Brady and Aaron Rodgers, only four quarterbacks since 2001 posted a TD:INT ratio above 5.0 for a season. The other four quarterbacks averaged a TD:INT ratio of 1.9 for their non 5.0-plus ratio seasons. Before you believe that Prescott will join the immortals, let him show he's not the next Nick Foles or David Garrard. -- Daube
Jordan Reed, TE, Washington Redskins
Which Jordan Reed shows up in 2017? This is an important question because Reed placed third in fantasy points in PPR leagues in 2015 (244.2), but his 11.8 points per game in his other three seasons ranks 10th among tight ends. He posted 10 games with double-digit points in PPR leagues in 2015 but has tallied only 18 games with double-digit PPR points outside of that campaign. Add in major durability concerns, and it's clear that a return to his 2015 form is far from a given. -- Joyner
Ben Roethlisberger, QB, Pittsburgh Steelers
Roethlisberger finished 18th among quarterbacks last season with 252.16 fantasy points, and we should expect him to get a little bump with the return of wide receiver Martavis Bryant. However, given Roethlisberger's tendency to play sub-par football on the road (50.6 total QBR, 9 TDs, 8 INTs in '16) and the injury concerns he carries at the position (missed six games in the past two seasons), I don't see him playing up to his ADP or our current ranking (QB11). You want more value and upside? Take a pass on Roethlisberger, and target QBs such as Jameis Winston, Matthew Stafford and Marcus Mariota. -- Bowen
Matt Ryan, QB, Atlanta Falcons
Ryan's 9.3 yards per attempt average led the league last season. New Falcons offensive coordinator Steve Sarkisian never had a passer average 9 or more yards per attempt in eight full seasons as a collegiate offensive coordinator or head coach. Add in Sarkisian's rush-heavy approach (54.1 percent rush rate in his college tenure), and it means Ryan is likely to significantly regress from his top fantasy quarterback status. -- Joyner
Emmanuel Sanders, WR, Denver Broncos
Sanders is an electric talent at the position with game-breaking ability on deep balls and the speed to slice up defenses after the catch. This guy can move, and he did produce 212.60 fantasy points in PPR scoring last season (58th overall). However, my concern for the '17 season goes back to the unproven QB situation in Denver. With a catch rate of just 58.1 percent in '16, five TDs and only eight games of more than 50 yards receiving, we shouldn't overvalue Sanders. Until quarterbacks Trevor Siemian and Paxton Lynch show me they can handle a deeper NFL game plan, Sanders is a WR2/flex with a lower ceiling than expected, despite his enormous skill set at the position. -- Bowen
Matthew Stafford, QB, Detroit Lions
In the second half of last season, Detroit was 11th in average time of possession and averaged the third-most plays per drive. Because of that ball-control approach, Stafford had fewer than two passing touchdowns in seven of his final 10 games, and in the season's second half he was 19th among QBs in fantasy points per game. An improved offensive line and the return of Ameer Abdullah will continue the trend of ball control for the Lions, not to mention three of the four games in Weeks 13-16 are outdoors. Those expecting anything close to last year's QB7 finish will be sorely disappointed. -- Berry
---
Breakouts
Who will join the ranks of the elite and help you win your league this season? Here are our expert picks for 2017's breakout stars.
Ameer Abdullah, RB, Detroit Lions
Abdullah's average draft position will continue to be held in check by the presence of passing-down stud Theo Riddick, and although Riddick certainly limits Abdullah's ceiling, Abdullah still will see enough opportunities to push for 250 touches. He missed all but two games last season because of a foot injury but has shown flashes of massive upside when active. A Nebraska product, Abdullah was a second-round pick in 2015 and just turned 24. He averaged a solid 4.2 yards per carry as a rookie and was off to a fast start (158 yards on 23 touches) last season. Abdullah is in the RB2 mix and can be had in the middle rounds. -- Clay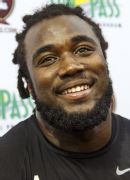 Dalvin Cook, RB, Minnesota Vikings
I usually look past rookies, but Cook's tape at Florida State and his skill set are an ideal fit for the pro game. With the speed to bounce the ball to the edge, the vision to find small creases of daylight and the receiving skills to produce in the passing game, Cook can develop quickly into a three-down back. Even with a crowded depth chart in Minnesota at running back, Cook has the natural ability to earn reps early in the schedule and become the primary ball carrier for the Vikings as the season progresses. -- Bowen
Brandin Cooks, WR, New England Patriots
Cooks ranked tied for 16th in vertical targets last season (53 aerials thrown 11 or more yards downfield), yet ranked fifth among wide receivers in vertical fantasy points (134.7) in PPR leagues. Combine this downfield impact ability with Tom Brady leading the league in vertical yards per attempt (14.8) in 2016, and it equals elite WR1 upside for Cooks in 2017. -- Joyner
Amari Cooper, WR, Oakland Raiders
When a player sees a spike in touchdowns, we often preach that it will regress, but sometimes it's just as important to foresee that spike before it happens. Cooper has 11 TDs in his first two seasons, partly because veteran Michael Crabtree has been siphoning off scores. However, as Crabtree turns 30 and Derek Carr matures at quarterback, I expect the 23-year-old (!) Cooper to explode in 2017, perhaps even matching his career total in touchdowns. -- Carpenter
Pierre Garcon, WR, San Francisco 49ers
Kyle Shanahan offenses make almost any starting quarterback fantasy-relevant and almost always include a superstar receiver. Garcon reunites with Shanahan in San Francisco and should have no trouble hoarding targets. When he last played for Shanahan, he led the NFL in catches with 113 in 2013. I wouldn't put another 110-catch season past him, making him a "re-breakout player" candidate. -- Yates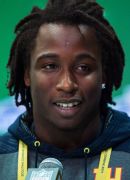 Kareem Hunt, RB, Kansas City Chiefs
Hunt joined the perfect team for his talents. The Chiefs want to run the ball and throw to running backs, and starter Spencer Ware proved pretty average in those respects last season. Ware's value was based on volume, but he scored only five touchdowns on 247 touches from scrimmage. Hunt comes off a prolific career at Toledo, and the Chiefs dealt several picks to acquire him -- plus, he might already be better than Ware. It might not happen by Week 1, but Hunt will end up starting. -- Karabell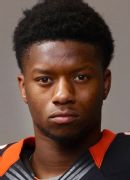 Joe Mixon, RB, Cincinnati Bengals
From the eye test, he's the most gifted runner of this rookie class, a true three-down back, and he's going to have a huge year. In each of the past four years, the Cincinnati Bengals and Carolina Panthers are the only teams with 440-plus rushing attempts. Cincy will continue to run the ball a tremendous amount, but with whom? Jeremy Hill has had two disappointing years and Giovani Bernard is coming off a major injury, so you don't take Mixon and all the off-the-field baggage he brings just for "running back depth." He's going to start for the Bengals this year, and he has a legitimate shot to be a top-10 running back. -- Berry
From a talent perspective alone, Mixon is, in my opinion, not only the best running back from this year's draft class, but also the most NFL-ready back. He is a versatile threat who combines 4.5 speed in the 40-yard dash with plus-rated receiving skills. He might be a poor man's Le'Veon Bell during his rookie campaign because of the presence of other backs on the Bengals' roster, but that's enough to project him as a low-end top running back. If he performs well enough to make the others irrelevant, watch out. -- Daube
Paul Perkins, RB, New York Giants
Though it's more a matter of opportunity than skill -- his raw talent and future ceiling probably aren't that of a high-end RB1 -- Perkins could take a big step forward and provide mid-range RB2 fantasy value (or more) at a significantly lower price tag. The Giants didn't add much in the way of competition in either the draft or via free agency this offseason, rendering him their de facto three-down back. Perkins did respond well to an expanded role late last season: He averaged 4.8 yards per carry in his final three regular-season games. -- Cockcroft