This is part of a 12-team series of fantasy women's basketball previews leading up to the 2022 WNBA season. For more information on ESPN's newest fantasy game, check out how to play fantasy women's basketball.
Head coach: Sandy Brondello (1st season)
2021 record: 12-20
2021 offensive efficiency: (96.1, 10th in WNBA)
2021 defensive efficiency: (104.3, 10th)
2021 pace: 97.8 (2nd)
---
Jump ahead: Offseason moves | Key stats | Top fantasy options | Sleeper
About the Liberty
The Liberty were one of the best teams in the Eastern Conference up until 2017, but they've struggled since. After a 2-20 record in 2020, they went 12-20 in 2021 to make the playoffs for the first time since 2017 despite injuries slowing some of their best players.
They brought in a huge influx of talent during 2020 and 2021, including both promising young players and championship-proven veterans, and appear poised to contend for a more extended playoff run this season.
---
Sign up for your free Fantasy Women's Basketball league today!
Prepare with projections and fantasy outlooks for the top WNBA players
---
Offseason moves
The Liberty made some moves this offseason, including bringing in center Stefanie Dolson and potentially bringing back Marine Johannes, who's been playing overseas since a promising rookie season in 2019. However, the biggest moves that could affect their fantasy production this season were made before the 2020 and 2021 seasons.
They drafted a generational talent in 2020, with No. 1 overall pick Sabrina Ionescu. They signed Betnijah Laney, the 2020 WNBA Most Improved Player, in February 2021. In that same offseason, they traded the 2021 No. 1 overall pick in part of a deal for three-time WNBA Champion Natasha Howard and subsequently traded for two-time WNBA Champion Sami Whitcomb. They also drafted 2021 Rookie of the Year Michaela Onyenwere.
Last season, both Ionescu and Howard dealt with injuries that had them either absent or severely diminished for long stretches of the season. This helped allow space for Laney and Whitcomb to both have career seasons. If Ionescu and Howard are healthy this season, they could each take a larger portion of the team's production and not leave as much for their teammates.
The Liberty are also a deeper team in 2022, with players like Dolson and potentially Johannes challenging the improving Onyenwere and veteran Whitcomb for their spots in the starting lineup. The Liberty shape up to be a strong team, but if healthy their depth could be a detriment to the volume statistics of the players on the team.
Key stats
The Liberty play fast, with the second-fastest pace in the WNBA last season. This makes sense, as they run an offense featuring two elite point guards in Ionescu and Laney.
Howard is an excellent rebounder, and with their strong frontcourt depth the Liberty should be able to crash the boards and help get the rock out to their guards in transition.
They were pedestrian in both team offense and team defense last season, but health could change both of those situations. A healthy Ionescu likely leads this team to a more efficient offensive unit, and Howard is a former WNBA Defensive Player of the Year that could help anchor a much more effective defense.
Top fantasy options
Natasha Howard, F/C (32.1 projected FP/G): Howard was traded to the Liberty last year, and brought her tremendous resume with her. Named All-WNBA First Team and Defensive Player of the Year in 2019, she's also a 3x WNBA champion with the Minnesota Lynx and Seattle Storm. She missed most of last season with a knee injury, playing in only 13 games, but averaged a strong 16.2 PPG, 7.2 RPG and 1.3 SPG to tie for 12th in the league in all three categories. The 6-3 forward/center is also able to operate with the ball in her hands and stretch the floor, contributing 1.7 APG and 0.9 3PG. Her shot-blocking has been down the last couple of seasons, but she was one of the dominant rim protectors in the league just two seasons ago, so if health allows she has upside there as well.
Sabrina Ionescu, G (30.1 FP/G): Ionescu was drafted first overall in 2020 after one of the most dominant careers in NCAA history, but she suffered a severe ankle injury in her third WNBA game that ended her rookie season. She returned last season and started well, but struggled mightily through the early-middle part of the season to the tune of only 6.3 PPG on 29.7 FG% in 25.3 MPG for the 13 games leading up to the Olympics break in July. Ionescu has since come out and said she was trying to play through her lingering ankle issue, and that she should have maybe rested instead. Ionescu was better after the break, averaging 14.8 PPG on 41.2 FG% with 6.7 APG, 5.6 RPG, 1.8 3PG, 0.8 SPG and 0.6 BPG in her last 12 games of the season. But, if healthy, her upside is even higher. Consider that as a rookie, in her first three WNBA games (including one cut short by the injury), she averaged 18.3 PPG on 45.2 FG% with 2.3 3PG. If she's healthy enough to increase her scoring while keeping her strong all-around game, Ionescu could challenge for the fantasy MVP this season.
Betnijah Laney, G (28.5 FP/G): Laney is set for her second season with the Liberty, the first time in her career that she's been with the same team for two consecutive seasons. Despite all of the franchise turbulence, Laney took a leap in her third season when she was named WNBA Most Improved Player as a member of the Dream. She continued that level last season in New York. Laney is a lead guard, even next to a maestro at the point like Sabrina Ionescu, and averaged a career-high 5.2 APG (8th in league) along with her other strong offensive contributions of 16.8 PPG (10th) and 1.1 3PG. Her steals fell pretty steeply, from around 1.5 SPG in 2019 and 2020 to 0.7 SPG last season, so she has bounce-back potential there. She's also solid on the boards, averaging at least 4.1 RPG in three straight campaigns. Laney had arthroscopic knee surgery in the offseason, but is expected to be healthy for the season.
Rebecca Allen, F (19.3 FP/G): Allen is a 3-and-D specialist for the Liberty, which has translated to stronger fantasy production than her reputation might suggest. She's increased her role in each of the last four seasons, up to a career-high 24.2 MPG while starting 13 of 25 games last season. She finished among the league leaders in all three categories in which the ESPN fantasy scoring system awards a bonus fantasy point: steals (1.6 SPG, T4th in league), blocks (1.2 BPG, T12th) and 3-pointers (1.9 3PG, 13th in league). Allen will be late joining the Liberty this season as she finishes her season in Spain, but when she returns she's expected to have a large rotational role where she competes with sophomore Michaela Onyenwere and newly signed Stefanie Dolson for a spot in the starting lineup.
Sleeper
Marine Johannes, G (16.8 FP/G): Johannes had a strong rookie season for the Liberty in 2019, averaging 7.2 PPG, 2.4 APG, 1.8 RPG and 1.3 3PG in only 18.2 MPG, but then went to play overseas. She is reportedly working on a deal to return to the WNBA this season after her season ends in France, and even if she does she would miss the early part of the WNBA season. That said, she has upside as a shooter/scorer that has shot north of 40 percent from behind the 3-point line in each of her last two seasons in Europe and has had multiple seasons of experience to improve from what she was able to show as a rookie.
Sami Whitcomb, G (15.5 FP/G): Whitcomb's projections rely on her playing a smaller role this season, with her projected 15.5 FP/G well below the 24.5 FP/G she averaged last season. Whitcomb will turn 34 years old in July, and could face a playing time crunch if Marine Johannes does return to the Liberty this summer. With that said, Whitcomb is coming off a career season, in which she averaged personal bests of 11.7 PPG, 5.0 RPG, 2.7 APG and a whopping 2.5 3PG that ranked second in the WNBA. Shooting is always a valuable commodity, and if she can maintain her role she has the upside to produce fantasy worthy numbers again this season.
Stefanie Dolson, C (13.9 FP/G): Dolson won a championship with the Sky last season in a reduced role, before joining the Liberty this offseason. Dolson has started about half the games she's played in for the last two seasons while playing about 19 MPG, and she'll be a late arrival for this WNBA season as she finishes her campaign with Sopron Basket in Hungary. When she returns, though, she is expected to compete for a starting spot at center. She's now five years removed from her statistical peak in 2017, when she averaged 14.5 PPG, 5.8 RPG, 2.6 APG, 1.3 BPG, 0.9 3PG and 0.5 SPG in 29.3 MPG, but she's still only 30 years old and has upside if her role allows for it.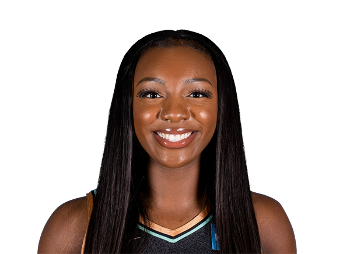 Michaela Onyenwere, F (12.6 FP/G): Onyenwere was named Kia WNBA Rookie of the Year in 2021 after averaging 8.6 PPG, 2.9 RPG and 1.2 3PG in 22.5 MPG. She started 29 of the 32 games she played, but is expected to have to compete for a starting spot this season. If she earns it, she has the potential to build on her rookie campaign and generate fantasy-worthy contributions as a sophomore.