Watching Tiger through a different lens
April, 9, 2011
04/09/11
9:05
PM ET
AUGUSTA, Ga. -- Kultida Woods took a few steps to the right and leaned for a better view of her son. She fanned herself with a pairing sheet, the blistering afternoon a sauna, she told her friends. She clutched a bag with her Masters souvenir cups inside. A big floppy hat kept her hidden as she followed Tiger around the course. She must've awoken this morning with high hopes. All his fans did. Maybe today, he could reclaim some of the things he's lost in the past year and a half. Just behind her, a step away, a fan said softly to a buddy, "This is supposed to be moving day, and Tiger's going in reverse."
A friend patted Tiger's mom on the back.
Everyone fell silent around the fifth green. Woods lined up his putt, a chance for a birdie that could get him back to 7 under and change the tenor of the day. It tracked, closing on the hole, and, like at least a half dozen putts during his disappointing Saturday, missed by an inch or two.
Kultida Woods saw how close her son had come, and she turned away.
"Oh, my God," she said.
___________
One day, Tiger Woods will be replaced by the generation of golfers he inspired. It's inevitable. The only question is when.
[+] Enlarge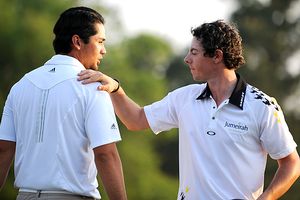 Robyn Beck/AFP/Getty ImagesRory McIlroy, right, pats Jason Day after they finished their round Saturday at the Masters.
How long can he hold them off?
On Saturday, the crowd at Augusta National found itself witness to one of those rare but beautiful moments in sports. The old and new would go head to head, trying to win, of course, but also fighting for something more elemental. The stage was set.
The next-to-last group featured Woods, whose back nine charge on Friday put him 7 under. That was just three back of Rory McIroy, and one back of Jason Day, who were 7 and 8, respectively, when Woods' historic win at the 1997 Masters lit something inside of them. Tiger grew up with Jack on his wall. Rory and Jason grew up with Tiger on theirs. So, with the three of them so close, the question was in the air as fans lined the fairways:
Would today be that day?
The galleries swelled as Tiger moved along the front nine. He hit the ball beautifully for the most part. That's the thing you notice up close. Woods' game, supposedly in free fall, isn't off by much. A lip out on No. 1. A lip out on No. 2. On No. 3, he birdied, and the crowd sensed something. When the ball dropped in, his PR guy, Glenn Greenspan, nodded and walked quickly to the next hole. At some point, his people hope, Tiger Woods will find his game again.
Would today be that day?
He stepped to the fourth hole, a par 3. His swing coach, Sean Foley, stood behind the tee. Tiger's mom walked past, and he reached out and touched her arm.
"I'm OK," she said, hurrying to get in position.
Tiger addressed the ball, the hole an amphitheatre of green and pastel before him. He hit it way left. The crowd groaned. A fan, Loel Heupel from Sacramento, Calif., recognized Foley and eased up next to him.
"Was that a 3-iron?" Heupel asked.
"Probably 4," Foley said, "because he was trying to hit a draw."
Foley walked off in the opposite direction, while Tiger's mom and her entourage continued the slow march around Augusta. They watched the leaderboard. They saw the new names. Was this how Palmer felt when he saw Nicklaus? How Nicklaus felt when he saw Watson? Day had birdied two of the first three holes and now stood tied with McIlroy. Tiger Woods' attorney turned to his agent. Everyone was scoreboard watching.
"Jason Day is at 10," he said.
Jason Day was 8 years old in 1997. He watched the Masters, saw a young golfer bludgeoning the old guys, opening a door to brash kids all over the world. One day, he decided then and there, he would play the Masters. Now, he was tied for the lead as Tiger's mom, agent and attorney watched the numbers go on the board.
Rory McIlroy was 7 years old in 1997. He's said time and again he's not afraid of Tiger. He's a kid; the other day, he got chided by his Augusta rental house neighbor for making too much noise throwing a football around. He's just 21 now, with a leggy girlfriend and a mop of hair. He and Day are part of the future, and their time is coming.
The afternoon slipped away, with fans moving between the two groups. Nobody really made a move. At the end of the day, McIlroy would make up two shots, Woods would drop two and Day would stay exactly the same. There were no fireworks or meltdowns, really, just two young guys trying to stay on track and Tiger Woods trying to keep himself in the hunt. That's sort of the perfect outcome, really.
Eras don't give way neatly. Generations lose their grip a little at a time, an inch here, an inch there, a failed draw, a lipped put. Every day, McIlroy gets a little closer to reaching his potential and Tiger, now 35, gets a little further away from the golfer he used to be. That doesn't mean McIlroy has fully arrived or that Tiger won't win another half dozen majors. But it is now clear in hindsight that time has always been Woods' most dangerous competitor. He once was better than anyone else who'd ever played the game. Is that person still inside him?
The old Tiger seems so close sometimes. On the front nine Saturday, he stood over yet another potential birdie putt. He lined it up and gave it a whack, the ball rolled straight at the hole. Something returned. He began a theatrical backpedal, ready to fist pump.
The putt lipped out.
Moments later, there was a huge roar. Jason Day has birdied to take a brief lead. Tiger Woods' mom walked down a hill to the next hole, leaving the echoes behind her in the trees.
___________
This is but the first of many battles. There will be no clean baton pass. Everyone knows how dangerous Tiger can be, which is why, near the end of the day, McIlroy's agent, Chubby Chandler, stopped dead in the middle of the ninth fairway. Rory seemed safe, at 11 under, soon to be 12, four shots up going into Sunday. And Tiger spent the back nine searching for rhythm. This seemed like another round that would begin with promise and end with a whimper. So Chandler was walking toward the clubhouse when a noise hit him, one of the loudest roars of the day. He stopped mid-step, like a cartoon character, and turned to listen.
[+] Enlarge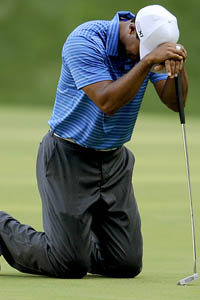 Timothy A. Clary/AFP/Getty ImagesTiger Woods reacts after missing a putt Saturday.
Tiger had birdied 13.
He was back to 6 under.
Two holes later, on the vulnerable par-5 No. 15, a ball flew over the water and landed on the green. Kultida Woods struggled to see over the wall of people in front of her. Who hit that shot?
"That's him," a man in her entourage said.
"That's Tiger," a woman said.
"That's makeable," his agent told her, "Twenty-five feet."
They held their breath. An eagle would put him at 8 under, in perfect striking position. This is his shot. A year and a half of scandal and a collapsed game. Can he finally leave that in the past?
He lined up the eagle putt. He missed. His mom asked how far for a birdie.
Four to five feet, they told her.
Kultida Woods stood still and watched her son hit the putt.
He lipped it out.
Wright Thompson is a senior writer for ESPN.com and ESPN The Magazine. He can be reached at wrightespn@gmail.com.