At TPC Scottsdale, 16th is not so sweet
February, 23, 2010
02/23/10
11:08
AM ET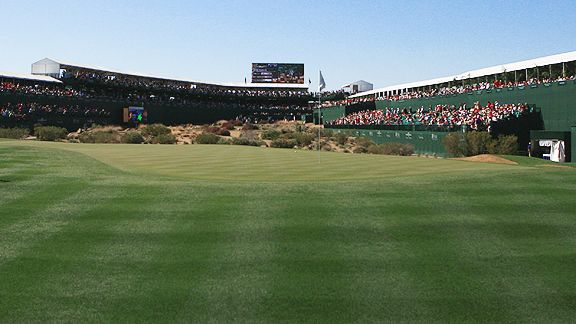 Kenneth E. Dennis/Icon SMIThe 16th hole at TPC Scottsdale makes even the best golfers squirm.
One of the most famous, exciting, non-golf-like holes in all of golf will be on full display this week at TPC Scottsdale. The 16th hole, a 162-yard par-3, has some of the most -- let's say, memorable -- ambience on the PGA Tour. The hole feels like equal parts college football, bullfighter-entering-the-arena and overgrown block party. It makes for an exciting environment all week, regardless of who's standing on the tee box.
But what about the actual golf played on that hole? The numbers say No. 16 has gotten more difficult in recent years. In each of the last three events at this venue, the percent of birdies has gone down. Last year, the hole played to an average above par for the first time since 2005.
A few more interesting notes about No. 16: The winner has played No. 16 under par every tournament here since 2000 except once (J.B. Holmes, who played it to even par in 2006). The last tournament winner to bogey the hole at any point during the week was Mark Calcavecchia in 2001. No winner has played the hole to over par for the week since Phil Mickelson in 1996.
---
Speaking of Mickelson, you'd be hard-pressed to find anyone more beloved than Mickelson at this event. The two-time winner here played college golf at Arizona State and his first foray into golf course design was Whisper Rock, located in North Scottsdale. In 18 career starts as a professional at the event formerly known as the Phoenix Open, Mickelson has finished in the top 10 half the time he's teed it up.
How has Mickelson fared on the course's most famous hole? Not well in recent years. His last birdie at No. 16 came in the final round of the 2006 FBR Open. Since then, he's bogeyed the hole four of the eight times he's stepped to the tee. When Mickelson last won this event in 2005, he played the 16th hole in par-birdie-par-par for the week.
Mickelson's best round of his career came that year at this event, when he fired the only 60 he's ever shot on the PGA Tour.
---
Trivia question
Kenny Perry looks for his first win since the Travelers Championship in June when he defends his title this week at the Waste Management Phoenix Open. Who was the last back-to-back winner of this event? (Answer below.)
One name to watch this week is Kevin Na, who is still winless on the PGA Tour but has had a handful of his most successful weeks at this event. Na has finished fourth or better in three of his four starts here, accounting for a quarter of his 12 career PGA Tour top-five finishes. Na is the only player in the field this week to have finished in the top 15 in each of the last two years.
Na has fired eight straight rounds of better than par here, and 11 of his 16 career PGA Tour rounds at TPC Scottsdale have been in the 60s. Na's 1.500 putting average last year was good enough for fifth in the field as he drained 21 birdies en route to his best finish of 2009.
---
It's been a shade over two years since Ian Poulter graced the cover of the UK edition of Golf Digest with a golf bag the only thing shielding him from the camera. His bold comments in that magazine have been well-documented and rehashed in the last few days: Poulter claimed then that when he reached his full potential, it would be just him and Tiger Woods atop the golf world.
When the magazine was released, Poulter was ranked 22nd in the world and his comments seemed more like false bravado than an actual prediction. After last week, it's tough to not take his statement seriously. With his first win on U.S. soil coming last weekend at the WGC-Accenture Match Play, Poulter has now vaulted to a career-high fifth in the world rankings.
Poulter's ascension wasn't immediate. He struggled in both Europe and the United States for most of '08, with just one top-10 finish on either the European or PGA tours. That one successful event was a doozy, though: He finished runner-up to Padraig Harrington at the Open Championship.
The last 14 months have been much kinder to Poulter. He began 2009 as the 26th-ranked golfer in the world. In 25 PGA and European tour events since the beginning of 2009, Poulter has now won twice (last weekend and '09 in Singapore), finished in the top five six times, and in the top 10 a total of 11 times.
So how close is Poulter to breaking through with a major championship? With almost the lone exception being his performance in the 2008 Open Championship, he has struggled in majors. He has only two top-10 finishes in 27 career major starts. Last year, Poulter finished in the top 20 in three of four majors, but not higher than a T-18 finish at the U.S. Open.
How does Poulter stack up against the other "best players without a major"? Last year, we created the "Almost Index," a way to gauge the success of the careers of golfers who had yet to win a major championship. The formula uses PGA and European tour victories, top-10 percentage and success in majors to create a picture of the man in question's career on the course.
Trivia answer
Question: Kenny Perry looks for his first win since June at the Travelers Championship when he defends his title this week at the Waste Management Phoenix Open. Who was the last back-to-back winner of this event?
Answer: Johnny Miller in 1974 and 1975.
At the time prior to the 2009 PGA Championship, Sergio Garcia -- with a score of 30.649 -- was running away with the dubious title. Following the Spaniard were Kenny Perry (22.434), Lee Westwood (21.997), Steve Stricker (17.144) and Rory McIlroy (17.332).
Today, Sergio's Almost Index score is 30.659. Poulter's lack of big performances in majors leaves him with a number that isn't close -- 11.367. Poulter hopes that list is one he never has to climb.
Justin Ray has been a studio researcher for ESPN since June 2008, and is the lead researcher for "The Scott Van Pelt Show." He is a 2007 graduate of the University of Missouri School of Journalism, where he studied convergence media. Send comments and suggestions to Justin.Ray@espn.com.