Rekindling Jack Nicklaus' glory
April, 3, 2011
04/03/11
8:35
AM ET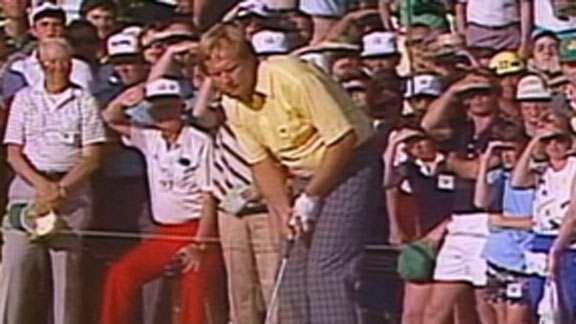 Masters Moments: 1986
The 1986 Masters moved people unlike any other golf tournament before or since. It had die-hards and casual fans alike on the edge of their seats, stopping in airports, calling friends and relatives, weeping.
At the source of their joy, amazement and wonder was a 46-year-old man contending to win a golf tournament, the Masters of all things, at storied Augusta National Golf Club, coming from behind, shooting 65 and beating a cast of future Hall of Famers.
To this day, Jack Nicklaus, now 71, remains stunned 25 years later at the reaction the 50th Masters still generates, how winning a sixth green jacket touched so many people. "I don't care where I go, I always run into somebody who says I had to do this or I had to do that or I had to this or I had to stop that," Nicklaus said. "Amazing the number of people who told me those kind of stories."
Perhaps even more remarkable are the memories of those who were there, including some of the players Nicklaus defeated that day. They, too, were striving for a piece of history and yet, in retrospect, remain honored to be part of it in a different way.
"It was one of the highlights of my golfing experience, my golfing life," said Nick Price, who a day earlier set the course record of 63 and was in the final pairing with Greg Norman and eventually finished fifth. "Because there was so much going on that day."
April 13, 1986 -- one of the most memorable days in golf history.
Nicklaus had shot rounds of 74-71-69 and was tied for ninth at 2 under par, four strokes behind leader Norman. The 17-time major winner was in the fifth-to-last pairing along with 1985 British Open champion Sandy Lyle. Price, defending champion Bernhard Langer, Seve Ballesteros, Tom Kite and Tom Watson were all ahead of him on the leaderboard.
Although four strokes is not much to overcome, especially at Augusta National, it is interesting to note that CBS never showed or mentioned Nicklaus until 39 minutes into its final-round telecast. It didn't have Nicklaus' birdie putt at the 9th hole live. It didn't have what had occurred moments before -- hole out eagles on the par-5 8th by both Kite and Ballesteros -- broadcasted at all.
Kite: "[Nicklaus] was not even a factor in the golf tournament throughout a large part of that round. Then starting on No. 9, he lit it up. It changed the whole thing. But quite honestly, it was between Seve and Greg Norman and myself. That was basically who you thought was going to win the golf tournament. Probably not one person thought anything differently."
Nicklaus hit driver, 4-iron to set up a 25-foot birdie putt at the 10th (also not shown live), which he made, to go 4 under par and trail Ballesteros by four. Then CBS took notice. He hit driver, 8-iron to 20 feet at the 11th and made that, too. With three birdies in a row and a Ballesteros bogey at No. 9, Nicklaus had pulled within 2 strokes. Gary Koch, now an NBC analyst, played with Bob Tway in the group in front of Nicklaus.
Koch: "You knew something was going on obviously by the noise being made in the gallery. We started to look back before we played our shots; it had gotten that loud. If you were in the middle of a stroke and he hit something, it would have been disturbing."
But Nicklaus bogeyed the par-3 12th, pulling a 7-iron to the back left fringe, chipping to 6 feet then missing his par putt as the ball nicked a spike mark. Nicklaus angrily tapped it down, and many figured he was done, that the unlikely comeback story was over.
Nicklaus said the bogey angered him into playing more aggressively, and he nearly paid the price with a pulled drive at the par-5 13th. He hit a 3-iron to the green and two-putted for a birdie getting him back to 5 under par, two strokes behind Ballesteros, one behind Kite and tied with Jay Haas, Payne Stewart and Norman, who had double-bogeyed the 10th. Nonetheless, CBS's Ken Venturi seemed to think even birdie with just five holes left to play would be too little, too late, calling it a "valiant try today," as Nicklaus walked to the 13th green.
Lyle: "I had never played with him before in any kind of tournament. You are witnessing an incredible moment in history. The crowd was unlike anything I've experienced. When you're in that kind of sunken bowl, tall trees and lots of people, and at the top of their voice … it can almost blow you over with the vibrations coming in. You've got to be in that situation to feel it."
The 14th was rather routine -- if there can be such a thing. Nicklaus hit a 6-iron to the back fringe and chipped up close for his par. Behind him, Ballesteros made his second eagle of the day, hitting a 6-iron to the 13th. Kite was just two back after a birdie. As he teed off at the par-5 15th, Nicklaus was 4 strokes behind, tied with Norman.
CBS's Jim Nantz, who was working his first Masters telecast: "The moment was so gigantic. I've tried to explain this to people through the years. And part of this of course is a young impressionable 26-year-old announcer working the Masters for the very first time … mortified by the idea of making a mistake and being late in the game in the 16th tower. We had announcers from 10 on in. 'How are you going to tell the story? What are you going to say that hasn't already been said? What's going to happen here?'"
Nicklaus hit a good drive at 15 and was left with 204 yards. "How far do you think a 3 [eagle] would go here?" he asked his son and caddie, Jackie, before settling on a 4-iron that he knocked to 12 feet.
As he looked over the putt, CBS went to Tom Weiskopf, who was in the Butler Cabin, for his thoughts. The former British Open champion would prove to be brilliant. "Never needed an eagle more," Weiskopf said. "He's just too far behind. He really needs to make 3 here. That's a must for Jack Nicklaus, I feel."
Nicklaus rolled in the putt, Jackie leapt in the air and all hell was breaking loose.
CBS' Ben Wright with the call: "Yes sir! The battle is joined. My goodness. There is life in the old Bear yet."
Lyle: "The eagle at 15 really kind of set things in motion as far as having an outside chance. He knew from experience, been there done that, if you get in the clubhouse with the lead, and to sit there and people might come back to you. … The crowd, the noise was coming from all angles. From above, the side, behind. It echoes around that area for ages. It was a sense that Jack had a chance. And I think it might have put Seve off as well.
Price: "Greg and I were in the last group, we got back on 13 tee and there you normally look down 13 fairway and there's a swath of people. And there were like 30 people watching us. It was like a Monday practice round. In fact, there's more people on Monday. … I think the turning point was when he eagled 15. It was, 'Oh, here comes Jack, and he means business.' You just had roar after roar after roar."
Curtis Strange, who tied for 21st: "As a player, if you're not winning, you finish the round, I don't care where it is on Sunday, and you escape as quickly as possible. Well, that afternoon I, along with all of my colleagues, sat in that locker room in the player dining there with a lot of press and were riveted to the TV. We didn't leave. It was truly amazing.''
Nicklaus was 2 strokes back headed to the par-3 16th, and Nantz, despite being a rookie announcer, set the stage perfectly. He noted how Nicklaus had made a big birdie putt at the hole on his way to winning his first green jacket in 1963 and that he had holed a long putt at the 1975 Masters on his way to a fifth.
"If anyone has owned this hole, it would be Jack Nicklaus," Nantz said.
When Nicklaus backed off for a moment, it allowed Nantz to ask Weiskopf a question about what must be going through Nicklaus' mind. "If I knew the answer to that question, I'd have won this tournament!" Weiskopf said to nervous laughter. "No, he's just going to fire at the pin … you're destiny is right here." And that is exactly what happened, as Nicklaus struck a 5-iron that soared through the air. "Be the right club," Jackie implored. "It is," Jack said, not even following the flight of the ball.
Nantz: "The moment was so large. There was so much energy. The place was abuzz. We use that term 'electric,' but it really, really was. The air was thick with electricity. … It came spinning off the hill and for a moment there, I thought it was going in."
Ben Crenshaw, who won the Masters two years prior and would again in 1995, finished his round early but stuck around: "That was the day that raised the hair on your neck when you watched it. It was amazing … when he hit that tee shot on 16, right up next to the hole, that might have been the loudest roar ever at Augusta."
The ball came to rest 3-feet below the hole. Lyle still had to hit his tee shot and knocked it on the green about 15 feet below the pin. They made the trek to the green, and CBS kept the camera on Nicklaus for the entire walk as he waved to the crowd. Nantz said nothing, and all you could hear was wild cheering.
Incredibly amid all of that, Lyle rolled in his birdie putt. Then Nicklaus did, too. He had moved to 8 under for the tournament and was just one back. "The Bear has come out of hibernation," Nantz said as Nicklaus walked off the green.
Kite smiled in disbelief standing in the 15th fairway as the noise reverberated around him. He and Ballesteros were preparing to play their second shots to the green. Kite knocked his to 20 feet, but Ballesteros, from 198 yards with a 4 iron, was between clubs. A combination cheer/groan soon followed. "I knew exactly what had happened," Nicklaus said. The ball was in the water.
With Kite making a birdie, there was a three-way tie for the lead. Nicklaus played his drive -- which he pulled well to the left, into the seventh fairway -- then a tricky pitching wedge second shot to the par-4 17th green, leaving himself an 18-footer for birdie.
Lyle: "That was a very, very nasty putt. You could putt 30 balls from that spot and you'd be lucky to make two of them. I was trying to read it, too, and it was incredible. It seemed to go both ways. Even he had a spot of bother trying to read it, but you wouldn't think it. It looked very easy on TV, but from a player's point of view that was as good of a putt as you'll see."
CBS' Verne Lundquist's call: "This is for sole possession of the lead." After more than 10 seconds elapsed, Nicklaus made contact with the ball, using an oversize putter called the Response. As it rolled, Lundquist again: "Maybe. … Yes sir!"
Price: "We were walking past 17 green on 15 fairway when Jack made that putt. The green is up a little bit so we can sort of see Jack's head and we saw the putter go up and we knew it was going in, and the loudest roar I have ever heard on a golf course right there and then.
"And of course, on the back of the patron's badges, [it says] do not run. Well, people were running everywhere. You saw all of the guys just running, trying to find a spot because they knew it was something magical that was happening."
For the first time in 11 years at Augusta National, Nicklaus had the lead to himself at the Masters. His mother, Helen, was in the gallery, her first visit to Augusta National since Nicklaus' first year there, 1959. His sister, Marilyn, too. "Why would they pick 1986?" Nicklaus wondered recently.
Nicklaus hit a 3-wood off the 18th tee to avoid trouble, leaving him a long second shot in. From there, he hit a 5-iron that stayed on the bottom portion of the green. From 40 feet, he knocked the first putt to within inches of the hole, tapped in and walked with his arm around Jackie to deafening noise.
Lyle: "He very carefully manipulated his way around that golf course. Even on the last hole, it was a very solid hit; he was very focused. He was only about 2 yards off his landing area with a 5-iron and [that] putt there only needed another few inches of roll."
Jackie: "It seemed like a longer putt than it was, and I remember telling him to keep his head still. He said, 'I think I can handle this one.'"
Barbara Nicklaus, Jack's wife: "I have my own little route out there. The question most everybody has asked me is about 18, and I have never seen the 18th green. I know where the ball hits on that green. And they say, wasn't that sweet watching Jack and Jackie walk off the green? But I didn't see it until the next morning."
Now it was off to sign the scorecard. A final-round 65, which included a 30 on the back nine. Birdies at 9, 10, 11, 13, 16 and 17. An eagle at 15. A bogey at 12. And then he had to wait.
Ballesteros' bogey at the 15th had shaken him, but Kite was still right there, only a shot back. And Norman, seemingly out of it after a double bogey at the 10th, had stormed back, making consecutive birdies at 14, 15, 16 and 17 to tie. But Kite agonizingly missed a birdie putt at the 18th. And Norman sprayed his approach shot into the gallery, leading to a bogey on the home hole.
Kite: "No question about it, I had a great chance. I was excruciatingly close and that was a big disappointment. I performed really well coming down the stretch. I had some great opportunities. Eagle putt on 13, eagle on 15, both from makeable range that could have gone. Certainly the putts on 14 and 18 … any one of those putts would have been key to turning the thing around."
Norman: "I made a mental mistake. I had been aggressive with my irons all day but decided to back off a 4-iron a little bit. It was bad judgment on my part."
Norman attempted a chip shot that ran past the hole on 18, and he failed to make the par putt. Nicklaus, in the Butler Cabin, was the oldest winner of the Masters at 46. He had his sixth green jacket, his 18th professional major and what would turn out to be his 73rd and final PGA Tour title.
Price: "It was just incredible atmosphere. Even when I won my majors, it didn't feel anything like that, that atmosphere. … I remember seeing Sandy Lyle in the locker room afterward. I was in there and he had played with Jack. I said, 'What was it like?' It was like he was speechless. He couldn't describe it."
Lyle: "It was a great thrill. I loved to see him do it at that stage."
Nicklaus: "They are all very special to me. And you can't really rank them, but I think it's obvious that one stands out simply because most of the other ones were during the bulk or the basic part of my career, and I expected to win. … In '86, I don't even know why I was playing golf then. I didn't want to quit playing golf but I really didn't have any goals. … It was a neat win and one that I guess nobody really expected me to be in contention at that point in my career, particularly even me."
It remains one of those days sports fans remember what they were doing, how they came upon the final round, how much Nicklaus' victory meant to them. Even those he beat thought it was special, despite their own disappointment.
Nantz, who will work his 26th Masters for CBS this week, probably summed it up best.
"I think a lot of people would have to say it's the greatest moment in the history of the game," he said. "It was the greatest championship in the history of the game. His encore victory. Unexpected. His sixth green jacket.
"And at the time, 46 years old sounded like 60 of today. It was unthinkable. It was absurd to even consider that a 46-year-old could win the Masters golf tournament.
"So many things that took it to another level. Jackie being on the bag. Jack not having won a major in six years, not won a tournament in two years. Shooting what he shot on the second side.
"And then you think about the principals who were in the mix there. From Seve to Tom Kite to Greg Norman. Nick Price shot 63 on Saturday. There were a lot of factors that made that maybe the greatest tournament of all time."
For an interactive timeline of classic moments in Masters history, check out Masters.com.
Bob Harig covers golf for ESPN.com. He can be reached at BobHarig@gmail.com.