Category archive:

Jason Day
January, 1, 2011
01/01/11
6:16
AM ET
When it comes to expectations of immediate success for the current crop of elite young 20-somethings and teenagers, allow me to proffer four words of caution: Don't believe the hype.
[+] Enlarge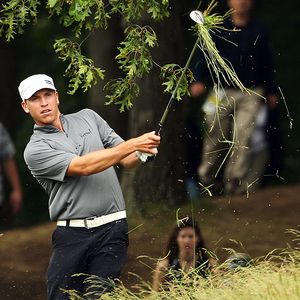 Andy Lyons/Getty ImagesFormer U.S. Amateur champion Ricky Barnes finished tied for second at a soggy 2009 U.S. Open at Bethpage Black.
Oh, don't get me wrong. I think Rory McIlroy can win a major title any day now, Rickie Fowler has the gumption of a superstar twice his age, and Matteo Manassero might become a modern-day Seve Ballesteros.
Unlike other sports, though, where top draft picks can often parlay amateur stardom into professional superstardom, young golfers usually need a few years to mature. It has less to do with talent than experience -- getting comfortable playing weekly events at the highest level, learning about the courses, even knowing where to stay, where to park and where to eat.
All of those factors are reasons we rarely see fab freshmen vault to the top of this profession. Personally, I look for players in their third, fourth or fifth year as a PGA Tour member to figure these things out and gain enough experience to find success. Hunter Mahan, Jeff Overton, Nick Watney and Bubba Watson are all players who weren't overnight sensations, but they recently crossed the threshold into the next echelon at this point in their careers.
The following six players are hardly unknown commodities. Some have already won tournaments and some have contended for major championship titles. But each one is still on the rise. If you've got a fantasy golf squad, stock up on these guys, then sit back and watch 'em rake in the big bucks for you. And if not, well, at least you can impress the other guys at the local 19th hole.
Ricky Barnes: He was a can't-miss kid coming out of the University of Arizona, where he shared the Ben Hogan Award and won the 2002 U.S. Amateur. And then, he missed.
The ultra-athletic Barnes toiled on the developmental Nationwide Tour for years before finally getting called up to the big leagues in 2009. His struggles that season were counterbalanced by a surprising runner-up finish at the U.S. Open, and then he followed with six top-10s in 2010. Expect another major spike in success as he becomes more comfortable in his surroundings.
Jason Day: If golfers were stocks, this 23-year-old Aussie would be a blue-chipper on the verge of making a lot of people very rich. Instead, he's the one about to prosper.
In his third year on tour, Day won the Byron Nelson Championship and finished fifth and second, respectively, at the first two FedEx Cup playoff events. That's a breakthrough season for most young players, but for him it's just a sign of bigger things to come. Don't be surprised if Day is among the biggest earners on the entire circuit this season -- and for many years to come.
Martin Laird: Members of boy bands and Hollywood starlets have spent less time around Justin Timberlake the past few years than this Scotsman via Colorado State University. Laird won the entertainer's eponymous tournament in 2009, then lost in a playoff last season. The latter came just two months after kicking away a title at The Barclays, then losing that one in extra holes, too. Chalk it all up to experience, as Laird will continue to grow in his fourth year on the PGA Tour.
Steve Marino: Best player without a career victory? Marino is definitely in the discussion, as he has pulled in nearly $7 million since joining the PGA Tour in 2007. While his earnings and ranking increased in each of his first three seasons, the University of Virginia alum witnessed a slide in his fourth year.
Don't let it dissuade you from being bullish on his future, though. When Marino is on -- as he was with top-five finishes in back-to-back weeks at Riviera and Pebble Beach last season -- he can hang with the best of 'em.
Andres Romero: Admit it: Even though he had finished T-8 at the Open Championship one year earlier, you had never heard of Romero until he took the lead at Carnoustie with a few holes left to play in 2007. Don't feel bad; you're hardly alone. He followed by winning the Zurich Classic and Rookie of the Year honors the next season, but has struggled ever since. Buying a home in the U.S. is in the works -- currently the Argentina native doesn't have one -- and should help his comfortability on the PGA Tour.
Webb Simpson: There are some pundits -- OK, me -- who believe Simpson should have won the Rookie of the Year award in 2009. He had one more top-10 and the same amount of top-25s as winner Marc Leishman, but the Aussie took the honors based largely on a late-season runner-up at the BMW Championship. No matter. While Simpson faded in those two categories and in money earned during his sophomore season, the Wake Forest product has too much talent to keep him from the winner's circle for much longer.
Jason Sobel is a golf writer for ESPN.com. He can be reached at Jason.Sobel@espn.com.
September, 5, 2010
09/05/10
8:14
PM ET
NORTON, Mass. -- You can learn a lot about a player by observing how he bounces back after a disappointing result.
One week ago, Jason Day had a share of second place following three rounds at the Barclays, only to post a final-day even-par 71 that left him tied for fifth when the tournament was over.
What have we learned so far this week? The 22-year-old has a pretty tough inner resolve, as he has once again climbed the leaderboard, in charge at the Deutsche Bank Championship by a stroke going into the final stanza Monday at TPC Boston.
[+] Enlarge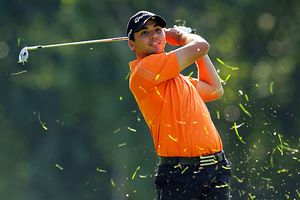 Mike Ehrmann/Getty ImagesFor the second straight week, Jason Day owns the 54-hole lead in a FedEx Cup playoff event. The Aussie leads by a stroke at the Deutsche Bank Championship.
Of course, you can only learn so much about a player by watching him compete and tracking his results. Sometimes it takes a more personal approach.
Which leads to this notion: You can learn a lot about a player by walking 18 holes with his significant other.
Ellie Day is the Ohio-born wife of the Australian golfer, and as often happens with these pros she knows him better than anyone else. They met five years ago when she was waitressing at a restaurant in Twinsburg, Ohio, but didn't start seriously dating until coincidentally running into each other a few years later.
The couple travels to events with their two dogs in an RV trailer that features such accessories as a washer, dryer and convection oven. Post-tournament evenings often consist of Ellie cooking dinner while the two keep a low profile.
"We're so normal," she says, "it's ridiculous."
Ellie can back it up with plenty of examples. Like the fact that Jason currently has a hankering for 1980s music, even going as far as to start planning an '80s theme party for the upcoming offseason. His biggest obsession? The band Journey, even telling Ellie that "Faithfully" should be their song.
Or the fact that his favorite pastime is video games. While Ellie studies for online classes, he plays a game from a catalog that includes plenty of non-sports titles. Which ones? "Oh, lord," she says. "They all look the same to me."
Or this: The current tournament leader -- a guy who's banked more than $2 million in earnings already this season -- shops at Target. He recently purchased an iPad at the retail store, but only after comparing prices for a few months.
Ellie isn't exactly the shy, reserved type, so a day on the course can elicit plenty about her husband, too.
If this touring pro gig doesn't work out for Jason, don't expect a second career as an instructor. "He's a terrible teacher," insists Ellie, who once hit balls under his watchful eye for three days without getting one airborne.
The couple is planning to purchase a house in Columbus, Ohio, soon. When it's suggested that the Days take their talents to South Beach like a certain NBA superstar, she says with the utmost sarcasm, "Yeah, that's definitely our scene."
But spend time with Ellie Day and you can learn a lot more about one of the world's best young players than just his hobbies and living arrangements. You can garner some insight as to whether he has what it takes to reach the upper echelon of golf's elite.
For instance, he's a changed man. "The first year he was out here," Ellie recalls of the 2008 campaign, "he'd be chucking clubs or dropping F-bombs. But he's much more comfortable in this environment now."
That goes for all aspects of the job. Not only is there an increased comfort level with his game, but Day is fitting in nicely with his peers -- most of whom have a few years on the youngster.
"It used to just be me and him eating all our meals together," Ellie says. "Now we know more people and it's more comfortable. I think that helps him on the course, too."
She then offers a notion that makes your ears perk up. It's an idea that all the great ones have, but very few can execute.
"His biggest thing is that he wants to keep everything normal on the course," Ellie intimates. "It doesn't matter how he's playing, he wants to keep it the same. He's grown up so much the past few years it's not even funny."
Jason Day is growing up every week, it seems, right before our eyes. We've come to glean plenty about him during recent events, but playing with the 54-hole lead on Monday at TPC Boston, we'll learn more about whether Day can withstand the final-round pressure of a big event.
Either way, his wife will be walking all 18 holes, right by his side.
Jason Sobel is a golf writer for ESPN.com. He can be reached at Jason.Sobel@espn.com.
September, 3, 2010
09/03/10
3:56
PM ET
NORTON, Mass. -- Ryan Palmer walked off the course following his opening round of the Deutsche Bank Championship with a smile across his face, but good-naturedly shaking his head, too.
[+] Enlarge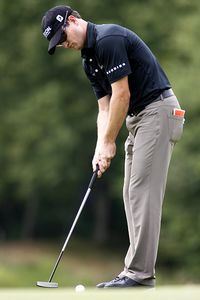 AP Photo/Stew MilneZach Johnson certainly bolstered his chances of earning a captain's pick for the U.S. Ryder Cup team with his opening-round 63 on Friday at TPC Boston.
It's a good thing he doesn't have a self-esteem problem. After all, Palmer posted a sublime score of 7-under 64, leaving him in an eight-way tie for third place … and it was still the worst total in his threesome on Friday.
That's because playing partners Zach Johnson and Jason Day both fired rounds of 63 to jointly lead with 18 holes completed at TPC Boston.
"I made a couple of birdies in a row and I felt like I was sprinting trying to keep up," Palmer said. "It was cool, it was fun."
If you're scoring at home, here are the eye-popping numbers:
• The group combined to shoot 23-under-par.
• They totaled 26 birdies against just three bogeys.
• At least two of them birdied the same hole on eight separate occasions.
• Their best-ball score would have been 14-under 57.
"I've never been a part of this kind of round," said Palmer, who has posted four sub-70 scores in his past five rounds. "I've been in 'em where a couple of guys shot well and somebody struggled, but as far as all three of us shooting 23-under-par, I've never been a part of that. It seemed like every hole, someone birdied then someone else birdied, so we were all just kind of feeding off each other."
"I think I probably have, but it was not remotely on a golf course of this magnitude," Johnson said. "Maybe I haven't. I mean, there could have been a mini tour week here or there, but nothing on the Nationwide or PGA Tour. ... That was pretty impressive all around, I think."
No, this wasn't some kind of best-ball or scramble or shamble format. They didn't have amateur partners playing off sandbagged handicaps. There were no windmills guarding the holes or offers of a free game for making a putt on the 19th hole.
That's not to say conditions weren't easier. In anticipation of heavy wind and rain from Hurricane Earl, greens were only single cut and a lift, clean and place policy was in effect.
And yet, things weren't as easy as Johnson, Day and Palmer made 'em appear. Tiger Woods (1 over), Dustin Johnson (2 over) and Sean O'Hair (3 over) were among the notable players who struggled in the first round -- a notion which must have appeared foreign to the leaders.
It might not have been a coincidence that the threesome played so well together, though. Each said he considers the other two to be good friends and they all seemed to be relaxed and rooting for each other throughout the round.
"It's nice to play with friends," Johnson said. "When we're all playing decent, it makes it that much better. Yeah, joking around, just a casual round of golf. It was nice."
"When you get to play with guys you know real well and you're friends with and you get on a run like that, you just feed off each other," Palmer said. "We're all in good moods, we're all talking, laughing, cutting up. And yet, we're all making birdies, as well."
All of which leads to a chicken-or-the-egg type of conundrum: Did the trio play well because they were having fun or did they have fun because they were playing well?
"I think it was a little bit of both," Day said. "I try and have as much fun as possible when I'm out there because it puts me in a good mood, and you can't play golf cranky. It's a little hard to do that. But the two guys that were with me today, they're a bunch of fun. I've known those guys for a few years now and they're just a good bunch of guys to just have fun out there. It was just a really good, fun day."
It was just a little more fun for Day and Johnson than Palmer. One stroke more, to be exact.
Of course, there's plenty of time to get that back. The three players will be grouped together once again in Saturday's second round. If the momentum continues, expect another guy with a low score to once again be shaking his head after walking off the final green.
Jason Sobel is a golf writer for ESPN.com. He can be reached at Jason.Sobel@espn.com.